WOODY SEZ Brings Guthrie's Music to People's Light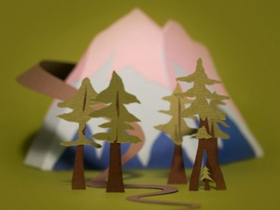 Four wildly talented actor-musicians deliver a toe-tapping, hand-clapping, sing-along summer experience for all generations in Woody Sez: The Life & Music of Woody Guthrie, back by popular demand at People's Light. Folk revolutionary Guthrie showed you can strum a revolution with joy. Current troubadour David M. Lutken and friends celebrate the fascinating, beautiful, and sometimes tragic life of the legend who inspired Dylan, Springsteen, DiFranco, and an entire songwriting tradition. Featuring 15 instruments, 25 songs, and comprised almost entirely of Guthrie's own words, Woody Sez runs August 1-26 on the Leonard C. Haas Stage in Malvern.
Guthrie is revered as a people's poet who gave voice to a working class devastated by the Great Depression, the Dust Bowl and World War II, wielding a guitar that famously proclaimed, "This Machine Kills Fascists." His influence on both music and political activism extended well beyond his death in 1967.
David M. Lutken stars as Guthrie in Woody Sez and co-created the production, which he hopes captures the man's essence: the jaunty resistance and quiet moral force that Guthrie exuded as he traveled the country in the middle of the twentieth century. "It's Woody's personal history, his restless, prodigal, triumphant, gut-wrenching, and defiant life, that gives depth and dimension to his achievements," Lutken says.
People's Light Producing Director Zak Berkman believes the power of Guthrie's music will captivate audiences. "His music is rebellious, heartfelt, and most of all, joyous. His call to arms came with an embrace," Berkman says.
And to Berkman, no one could be better equipped to offer that embrace than David Lutken. "David is also an American treasure," Berkman says. "He brings Guthrie's spirit to life in ways that our passionate and thoughtful audience will relish."
BIOS
Nick Corley Director/Deviser
People's Light: Woody Sez: The Life & Music of Woody Guthrie (2014). Theatre Includes: Directing: Worldwide productions of the award-winning Woody Sez (also co-wrote), Flight (Callaway Directing Nom.), About Face (NYMF Best Director Nom.), Tall Grass, Tim and Scrooge, Mother Russia (Carnegie Hall), and regional productions at Savannah Repertory Theater (Associate Artistic Director), Sacramento Music Circus, Milwaukee Rep, Cleveland Playhouse, St. Louis Rep, Houston's Alley Theatre, Adirondack Theater Festival, Lyric Oklahoma, and Vermont's Commons Group. He co-wrote and directed A Young Lady of Fashion (Fulton Opera House), Eliot Ness...in Cleveland (Denver Theater Center) and the upcoming Woody- A New Fairy Tale. Acting: Broadway: You Can't Take It With You, On The 20th Century, Drood, Mary Poppins, Christmas Carol, She Loves Me. Film/Television: Kissing Jessica Stein, Law And Order, Mysteries of Laura, High Maintenance, and Submissions Only (opposite Audra McDonald).
Sherry Lutken Production Restaging
People's Light: Ring of Fire: The Music of Johnny Cash. Theatre Includes: Off-Broadway/Regional musical staging, choreography and directing: Lost Highway, The Million Dollar Quartet, Stand By Your Man: The Tammy Wynette Story, The Bourgeois Gentleman, Pump Boys and Dinettes, Stars in Your Eyes, Anything Goes; Associate Director of Woody Sez at the Northlight Theater, Theater J, and its 2013 UK tour. Sherry was part of the regional reinvention of Ring of Fire in 2009 at North Carolina's Flat Rock Playhouse and subsequent productions at the Merry-Go-Round Playhouse, Arts Garage, Adirondack Theater Festival, Arrow Rock Lyceum and the Ivoryton Playhouse. Acting: Crimes of the Heart, The Last Night of Ballyhoo, Brighton Beach Memoirs, and Abigail in the 2008 Off-Broadway revival of Arthur Miller's The Crucible.
Mimi Bessette Performer
People's Light debut. Theatre Includes: Broadway/Off Broadway: Bonnie & Clyde, The Best Little Whorehouse in Texas, Little Shop of Horrors, Smoke on the Mountain. First National Tours: Parade, Big River, Keep On the Sunny Side, The Best Little Whorehouse in Texas. Regional Favorites: Cowgirls, Duck Commander Musical, Always...Patsy Cline, Hank Williams Lost Highway, Blood Brothers, Pump Boys and Dinettes, and Woody Guthrie's American Song. Film/Television Includes: Difficult People (opposite Andrea Martin), Annie (opposite Jamie Foxx). Mimi sang with Bruce Springsteen as part of a Woody Guthrie Celebration with The Rock and Roll Hall of Fame. She is featured on four cast albums, including Woody Guthrie's American Song. Her self-produced album Lullabies Of Broadway, available at CDBaby.com, was nominated for Best Children's Album (New York Music Awards). Lullabies of Broadway Act II will be released this fall. Website: mimibessette.com
Darcie Deaville Deviser/Performer
People's Light: Woody Sez: The Life & Music of Woody Guthrie (2014). Theatre Includes: Writer, actor, and musical director; Tornado in Slo Mo (her own one-woman show), Woody Guthrie's American Song, Oil City Symphony, Back Bog Beast Bait, Cottonpatch Gospel, and Always, Patsy Cline. Darcie has toured worldwide as a roots-based musician since 1973. She has played with a wide range of artists including Ani DiFranco, John McEuen, The Austin Lounge Lizards, Eliza Gilkyson, Jimmy LaFave, Ray Wylie Hubbard. Darcie has appeared on hundreds of recordings and produced several, as well as releasing five CDs of her own. She is also a music coach, a published columnist, and is currently working on two books.
David M. Lutken Deviser/Music Director/Performer
People's Light: The Road: My Life with John Denver, Ring of Fire: The Music of Johnny Cash, Woody Sez: The Life & Music of Woody Guthrie (2014). Theatre Includes: David has performed in London's West End, at Carnegie Hall, Lincoln Center, the 92nd St.Y, across Great Britain, Europe, the Middle East, China and on The Louisiana Hayride. Broadway: Inherit the Wind, Ring of Fire, The Civil War, The Will Rogers Follies. Off-Broadway: Southern Comfort, Stars in Your Eyes, Winter Man, The Portable Pioneer and Prairie Show. Paul Bunyan (New York City Opera). Regional: Man of La Mancha, Big River, Elmer Gantry, Finian's Rainbow, Pump Boys and Dinettes, Dark Of The Moon, The Man Who Came to Dinner, and more. For his performance as Woody Guthrie, David received the Helen Hayes and Joseph Jefferson awards for Best Actor.
Helen J. Russell Deviser/Performer
People's Light: Ring of Fire: The Music of Johnny Cash, Woody Sez: The Life and Music of Woody Guthrie (2014). Theatre Includes: Helen was nominated for a Helen Hayes Award for Best Lead Actress for her role in Woody Sez, which she has traveled extensively with over the years. She co-founded The City Singers, an acapella choir / performance group featured on the Blues Traveler platinum album, Save His Soul. Her own debut CD, Holly Days, was released in 2008. She currently resides in Vienna, Austria, where she is an actor, teacher, musical director and publishing technology consultant.
Spiff Wiegand Performer
People's Light debut. Theatre Includes: National tour of War Horse (National Theatre). New York: Red Roses, Green Gold (Minette Lane), Enemy of the People (Barrow Group), New York Animals (Bedlam Theatre Company), Much Ado About Nothing (Theatre for a New Audience), Fame on 42nd Street (Little Shubert Theatre). Regional: Ring of Fire (Infinity), Cyrano de Bergerac (Fulton), Godspell (Walnut Street), Seven Brides for Seven Brothers (Goodspeed). Spiff was born with 2 thumbs on his right hand. He plays over 20 instruments and up to 7 simultaneously as a one-man band (videos on YouTube). Jimmy Fallon and Brad Pitt have lip-synced to his yodeling, and his accordion playing was featured on John Oliver. His children's songs were commissioned by and performed at Carnegie Hall. Website: www.SpiffWiegand.com

CONNECT, ENGAGE, INTERACT AT PEOPLE'S LIGHT
ACCESSIBILITY & ENGAGEMENT
Open Caption performances of Woody Sez will be August 15 at 2 & 7:30pm and August 19 at 2pm. At these performances, an LED screen near the stage displays the actors' lines simultaneously with the action of the play to assist patrons with hearing impairments, as well as those who are learning English.
Sunday, August 19 at 2pm will be a Relaxed Performance, which invites and encourages (but is not limited to) individuals with Autism, ADD, ADHD, Dementia, and sensory sensitivities. For this performance, a comprehensive range of adjustments and provisions ensure that everyone can participate in the joy of live theatre. Visit peopleslight.org for more information.
Service animals are welcome at all performances at People's Light. The theatre offers a designated relief area for their comfort.
Join Resident Dramaturg Gina Pisasale and a member of the artistic team for Scoop on Wednesdays (August 8, 15, & 22). Participate in a lively pre-performance discussion about the world of the play and the context behind the production at 6pm in the Leonard C. Haas lobby. Now only $5 and available for purchase online.
Join the cast for Hootenannies, BYOI (bring-your-own-instrument) musical free-for-alls with the cast following Thursday evening performances (August 9, 16, & 23). All musicians and music enthusiasts are welcome to hoot, holler, and sing along.
BISTRO & FARMHOUSE
Enjoy prix fixe Dinner & A Show packages at the Farmhouse Bistro prior to select Wednesday through Sunday performances. Pay $81 for a Wednesday evening, Thursday evening, Saturday matinee, or Sunday evening package, or $85 for a Friday evening, Saturday evening, or Sunday matinee package. That's a savings of up to 15% off the single ticket price. Call the Box Office at 610.644.3500.
Located next to the Bistro is a full-service catering venue, The Farmhouse at People's Light, perfect for weddings, corporate events, and special celebrations. Contact the Farmhouse Sales Team at 610.647.1631 x156 or thefarmhouse@peopleslight.org.
TICKET INFORMATION
Woody Sez previews begin on Wednesday, August 1 at 7:30pm and run through Friday, August 3. The play opens on Saturday, August 4 at 8pm and runs through Sunday, August 26.
Standard single tickets start at $39. For tickets, call the Box Office at 610.644.3500. Special discounts are available for groups of 10 or more. For more information or to purchase group tickets, call 610.647.1900 x111 or email benedict@peopleslight.org.
$29 Community Night tickets are available for the Wednesday, Thursday, and Friday preview performances on August 1, 2, and 3 at 7:30pm.
8-play subscriptions are now available for the 2018/2019 Season and start at $196. Productions include Such Things as Vampires (September 20 - October 31, 2018), Cinderella: A Musical Panto (November 14, 2018 - January 6, 2019), Sweat (January 16 - February 10, 2019), Nina Simone: Four Women (February 27 - March 31, 2019), For Peter Pan on Her 70th Birthday (April 10 - May 12, 2019), Endgame (May 15 - June 9, 2019), Mud Row (June 26 - July 28, 2019), and Our Town (July 31 - August 25, 2019). Visit peopleslight.org or call 610.644.3500 to order.

Actors, prices, productions, performance dates and times are subject to change. Additional service charges will apply. Contact the Box Office for more details.
ABOUT PEOPLE'S LIGHT
Now in its 43rd season, People's Light, a professional, not-for-profit theatre in Chester County, Pennsylvania, makes plays drawn from many sources to entertain, inspire, and engage our community. We extend our mission of making and experiencing theatre through arts education programs that excite curiosity about, and deepen understanding of, the world around us. These plays and programs bring people together and provide opportunities for reflection, discovery, and celebration. Founded in 1974, we produce eight to nine plays each season, in two black box theatres with 340 and 160 seats respectively, mixing world premieres, contemporary plays, and fresh approaches to classic texts. Through two new play initiatives, New Play Frontiers and The Harmony Labs, People's Light currently has nine active play commissions. Of our 436 productions, over a third (166) have been world or regional premieres.
---
Join Team BroadwayWorld
Are you an avid theatergoer in Philadelphia? We're looking for people like you to share your thoughts and insights with our readers. Team BroadwayWorld members get access to shows to review, conduct interviews with artists, and the opportunity to meet and network with fellow theatre lovers and arts workers.
Interested? Learn more here.
---