Click Here to Visit the College Center

Blogs are the opinions of the authors and do not necessarily reflect the opinions of BroadwayWorld. BroadwayWorld believes in providing a platform for open and constructive conversation.

Student Blog: 5 Questions for Producers
The questions we have all been asking for when theatre returns.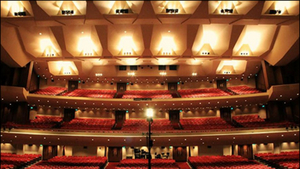 Many West End and Broadway shows recently announced plans to reopen throughout 2021. Broadway shows have intentions to open in late 2021, such as Diana The Musical, whereas West End shows, such as Heathers: The Musical and & Juliet, plan to reopen as early as this summer or fall. These announcements have left us all wondering how exactly the reopening process will occur. There has been success in Australia with the opening of Frozen: The Musical, but will Broadway and the West End be able to implement the same safety measures? Here are five questions for producers that audiences are begging to know the answers to regarding the reopening of theatre.
1. What will seating look like?
Will chairs be removed from theaters to increase space between audience members? Will only every other seat be sold? Can immersive seating experiences, like Can Can! table seating at Moulin Rouge!, still exist? Will people who live in the same household be able to sit next to each other? Going to the theatre can be a social event, so people will naturally want to sit by the family and friends they came with. However, social distancing procedures must be in place during performances to ensure the safety of audiences and performers. A clear, detailed searching plan is necessary to calm the nerves of theatre fans eager to see new productions.
2. How will tickets be priced?
Since even less seats will be available than normal, will ticket prices sky rocket? The theatre industry is a business, so producers will aim to make profit with reopening their shows. But at what cost? Will only those with lots of money to spare be able to attend? Theatre should still be accessible to everyone when it comes back, so producers must guarantee that ticket prices remain reasonable.
3. Will audience members be permitted to eat and drink during the performance?
Audience members love to snack or drink during performances, and productions rack up a huge sum of money from concessions. Nevertheless, audience members will likely need to keep their masks on during the entirety of their time in the theatre. How will ushers ensure audience members keep their mask on, and will people be allowed to remove masks for eating or drinking like on an airplane?
4. How will all areas of the theatre be kept clean and sanitary at all times?
Preventing the spread of disease means germs must be eradicated at all possible exposure sites. Consequently, every seat in the house, all railings, all doors, all areas of the lobby, and all restrooms must be sanitized after every performance. How much time will this take, how many more employees will be necessary, and how will cleaning supplies be afforded? Will only one performance be allowed to take place in a theatre on a given day to provide ample time for cleaning?
5. What will happen to the stage door?
Many audience members race to the stage door to meet actors after performances and get their playbills autographed, but will this be allowed when theatre returns? Will it be safe for performers to meet herds of fans everyday? Unfortunately, this is one element of the theatre experience we may have to say goodbye to for a while, but could a VIP experience for limited audience members be an option?