Review Roundup: WE SHALL NOT BE MOVED at The Wilma Theatre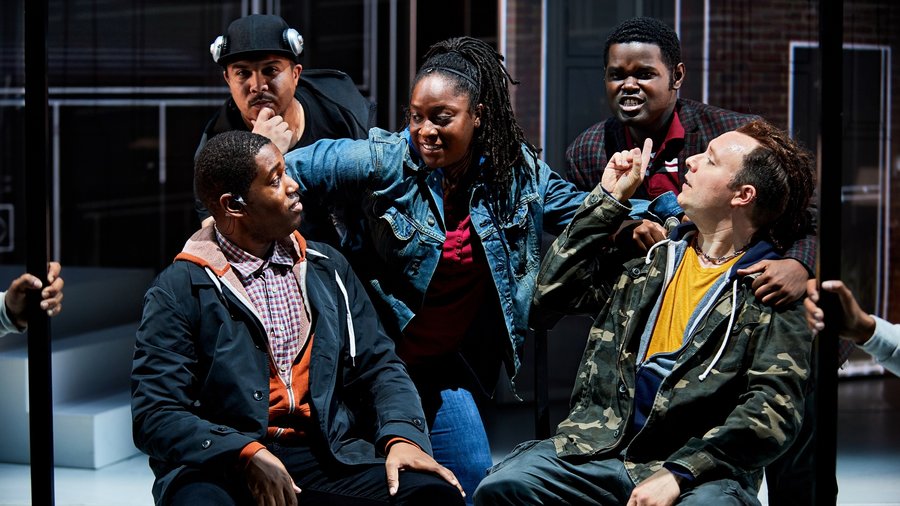 On the run after a series of tragic incidents, WE SHALL NOT BE MOVED follows five North Philly teens who find refuge in an abandoned house in West Philadelphia at the exact location that served as headquarters of the MOVE organization, where a 1985 standoff with police infamously ended with a neighborhood destroyed and 11 people dead, including five children. This self-defined family is assuaged and even inspired by the ghosts who inhabit this home and begin to see their squatting as a matter of destiny and resistance rather than urgent fear.
WE SHALL NOT BE MOVED made its world premiere on September 16, and will play through September 24 at The Wilma Theatre as part of Opera Philadelphia's O17 Festival.
With composer and librettist Daniel Bernard Roumain and Marc Bamuthi Joseph, conductor Viswa Subbaraman, and director, choreographer, and dramaturg Bill T. Jones, WE SHALL NOT BE MOVED is not to be missed.
The cast stars Lauren Whitehead as Un/Sung, Kirstin Chavez as Glenda, John Holiday as John Blue, Daniel Shirley as John Little, Adam Richardson as John Mack, Aubrey Allicock as John Henry, and Michael Bishop, Duane Lee Holland, Jr., Tendayi Kuumba, and Caci Cole Pritchett as OGs (Original Ghosts).
Let's see what the critics had to say!
Hillary Stroh, Bach Track: Un/Sung, the superb Lauren Whitehead was the spoken-word artist, the female leader of the teens, dominating the stage by her rhythms of poetic speech, her extraordinary mix of massive courage and deep fear throbbing beneath defiance. Against (alongside?) her was Glenda, Kristin Chavéz, a glowing mezzo soprano, separated only by the lintel of a doorframe, the narrowest of separations, and the barrel of a gun, the widest... Daniel Bernard Roumain's genre-bending score played by a barely seen ensemble in the shadowy backstage was a thing of intense power and pathos. Embracing a kaleidoscope of sonic worlds, opera to jazz, hiphop to Haitian, the whole is nonetheless convincingly integrated, and appealingly funky.
Howard Shapiro, NewsWorks: "We Shall Not Be Moved" has the tragic plot elements and coincidences that are the spines of much traditional opera. Its music, eclectic and sometimes thrilling, is by Daniel Bernard Roumain, and Marc Bamuthi Joseph wrote its muscular libretto. The opera is all the more powerful for its choreography and detailed staging by the celebrated Bill T. Jones.
David Fox, Philly Magazine: All of this serves to underscore the disheartening truth that the issues here began long ago, and they're still with us. The piece itself will likely stay with you long after the powerful final image fades. We Shall Not Be Moved is brilliantly staged and performed, and I found it grew in power throughout the evening. The ensemble cast of singers, dancers and actors is excellent, with the two principal women-Lauren Whitehead as Un/Sung, one of the local residents, and Kirstin Chávez as Glenda, a police officer-especially strong. But the standout for me was John Holiday, whose supple, beautiful countertenor and poignant acting really carried the night.
Cameron Kelsall, Broad Street Review: Joseph's intelligent libretto blends traditional aria, spoken-word performance, poetry, and rap into a seamless garment of storytelling. Roumain occasionally infuses his writing with elements alien to traditional operatic orchestration, as when a thumping bass line converses with strings in the work's opening moments... Opera Philadelphia has assembled an extraordinarily good cast for this world premiere... What cannot be denied is that We Shall Not Be Moved is a smart and deeply affecting work that puts Philadelphia's past in dialogue with its present. It shows that opera still has much to teach us about our world.
Photo: Dave DiRentis
More Hot Stories For You