Review Roundup: NEXT TO NORMAL at The Media Theatre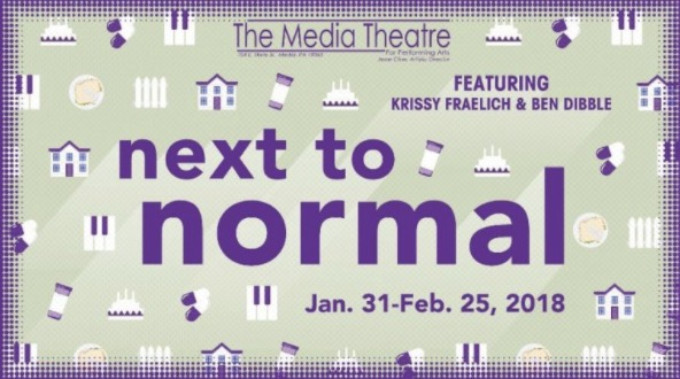 The Media Theatre presents Brian Yorkey and Tom Kitt's Pultizer Prize winning musical, NEXT TO NORMAL. This deeply moving rock-musical follows a typical suburban family, haunted by past trauma that manifests itself in matriarch Diana's bipolar disorder. NEXT TO NORMAL opened on January 31st and runs through February 25th.
Let's see what the critics had to say!
Mark Cofta, Broad Street Review: Even among this generation's small-cast musicals, 2008's Next to Normal, currently in production at Media Theatre, is a fascinating anomaly. Six actors - including one who plays two roles - keep composer Tom Kitt and playwright-lyricist Brian Yorkey's Pulitzer-winning rock musical intimate. More striking, though, is Next to Normal's subject: a suburban housewife's mental illness. This isn't a musical with cheery anthems, rousing chorus numbers, or explosive dances. It nevertheless succeeds, as Media's well-cast revival, directed by Geoffrey Goldberg, shows. It's better described as a play with mostly sung dialogue and near-constant live underscoring by music director Ben Kapilow's capable six-musician band.
Pati Buehler, BroadwayWorld: Director/Choreographer Geoffrey Goldberg returns to the Media after his wonderful work on Media's Billy Elliot to take the helm of this award winning emotionally charged production. Surrounded by an outstanding principle cast led by Philly area favorites Krissy Fraelich and Ben Dibble (Diana & Dan), this brave production unfolds. Far from a 'feel good' show and more of a 'feel everything' experience, Next is To Normal the musical is the portrait of a manic-depressive mother, the people she loves and the pain that cripples her and prevents a typical suburban family from living a "normal" life.
Hugh Hunter, The Inquirer: Krissy Fraelich shines as the mercurial Diana, a woman with bipolar disorder. Full of humor, fear, and sorrow, her shifting, hallucinatory world transforms the lives of everyone around her. Diana stirs up a batch of problems in long-suffering husband Dan (played by Barrymore winner Ben Dibble). Same for teenage daughter Natalie (Molly Sorensen) and her relationship with boyfriend Henry (Christopher Infantino). Diana's son Gabe (Ronnie Keller) plays a special role in the show's ingenious storytelling and dramatic irony... With this cast, everyone in the family has a strong, clear voice.
Ellen Wilson Dilks, Delco Culture: Goldberg's production is amazing from top to bottom. The vocals are powerful and the acting is superlative. The entire cast leaves their souls on the stage. You laugh along with them, you cry and you ache as this family's struggles unfold. Goldberg is to be commended for his deft touch in guiding his ensemble through the story-and not allowing it to get maudlin or preachy. The actors inhabit their roles beautifully. Patrick Ludt handles the dual roles of Dr. Madden and Dr. Fine with great versatility. Christian Infantino is daughter Natalie's boyfriend Henry, bringing wonderful sensitivity to a high school slacker falling for a girl with so many challenges in her life. Molly Sorensen's Natalie is grounded in such truth; for one so young, she totally captures her character's angst. Another young performer to watch is Ronnie Keller, who plays Gabe-the couple's son. We find out that he died as an infant, which triggered Diana's illness. She sees him as an 18-year old in her delusions. Keller captivates, delivering a solid performance. As husband and father Dan, Ben Dibble skillfully navigates his character's ups and downs in handling his wife's issues. He has been there for her throughout, but Dibble also gives us small glimpses of a man who is confused and troubled by his inability to make everything right-the way it used to be. The anchor of the production is Krissy Fraelich's gut-wrenching performance as Diane. Fraelich bares her soul taking the audience on Diana's journey. She fearlessly shows us the full range of what being bi-polar can be. Pulling the audience skillfully into Diana's world, Fraelich doesn't apologize or equivocate in her commitment to the role... I have to say, I don't stand at the end of performances often-I strongly feel it has to be something that has truly transported me before I bestow what I consider to be the ultimate honor in the theatre. I stood at the end of Next to Normal.
Photo Courtesy of The Media Theatre.