BWW Review: Media's 'NEXT TO NORMAL' is Next to Perfect!
Director/Choreographer Geoffrey Goldberg returns to the Media after his wonderful work on Media's Billy Elliot to take the helm of this award winning emotionally charged production. Surrounded by an outstanding principle cast led by Philly area favorites Krissy Fraelich and Ben Dibble (Diana & Dan), this brave production unfolds. Far from a 'feel good' show and more of a 'feel everything' experience, Next is To Normal the musical is the portrait of a manic-depressive mother, the people she loves and the pain that cripples her and prevents a typical suburban family from living a "normal" life.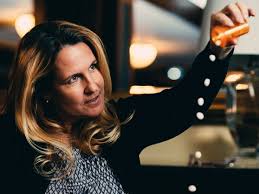 This is Krissy's third time playing the housewife with bipolar disorder suffering years of "episodes" at the hands of a battery of medications and medical treatments. She painstakingly transforms herself through fantasies and visions from the past to touching, tender, lucid moments with her family. In real life this super talented multi talented actress/ soccer mom of 3 must go home hugging her family after each performance of this heart breaker.
Diana's ever present, ever loyal husband Dan played by Philly favorite Ben Dibble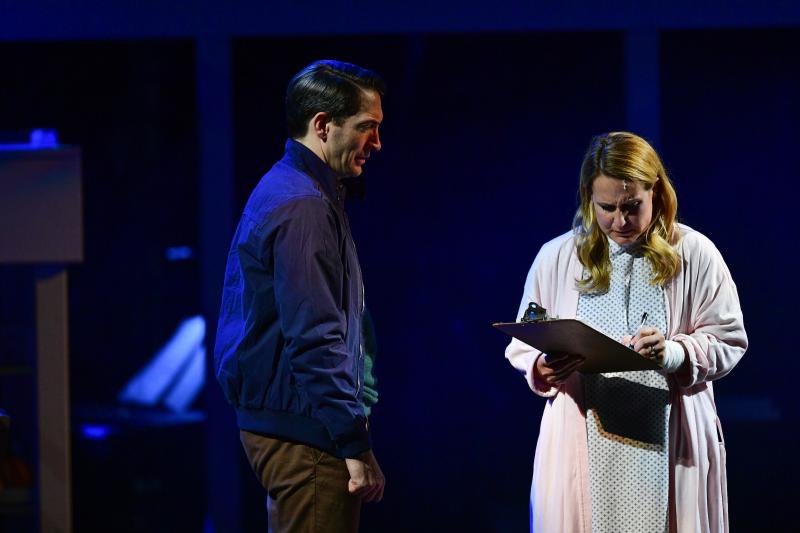 makes a steadfast and impressive attempt to hold the family in place. Dibble's brilliant portrayal of the ever hopeful husband is tested beyond what is "normal". He slowly fades into hopelessness as he witnesses Diana realization of her loss and the loss deeply affects him as well. Fraelich and Dibble have not played opposite each other in over 12 years and one would never guess this as their chemistry is riveting. His final scene with Diana is so well played leaving the heart aching for them.
The supporting cast is equally impressive. Diana's doctor is well played by Patrick Ludt who says," there is no textbook solution for what she suffers from." As a result its affects are seemingly contagious as Diana's daughter Natalie, played by Molly Sorenson loses herself in her own private world as a result of the numbing attempt of surviving in a nightmare. Sorenson, a junior in high school is so outstanding in this role and years beyond her youth in talent. Look out for this young lady to make her mark in theater!
Unfortunately she drags her sweet new boyfriend/ stoner Henri (Christopher
Infantino), who is both supportive and likable into this web of insanity. Poor Henry hangs pleasantly, sanely by her side insisting that "he can handle crazy and that they are perfect for each other". Without giving away all the details about what triggers Diana's illness and its impact on the entire family, let's just say that her son Gabe played by Ronnie Keller as the teenage son is both angel and demon to his mother. Both young Infantino and Keller are charismatic, melancholy and a pivotal part of the production.
The musical opened on Broadway in April 2009. It was nominated for eleven 2009 Tony Awards and won three, Best Original Score, Best Orchestration and Best Performance by a Leading Actress in a Musical for Alice Ripley. It also won the 2010 Pulitzer Prize for Drama, becoming just the eighth musical in history to receive the honor. The previous musical to win the Pulitzer was RENT, in 1996. Brian Yorkey's lyrics and Tom Kitt's score - while sustaining the energy of a rock opera such as The Who's "Tommy" and "Spring Awakening". Next To Normal joins the ranks of musicals about love and pain changing shapes and spectrums of moods with fast- paced jaggedness that sometimes challenges the audience's ability to process all that is happening. While there are a few lovely songs, "I Miss the Mountains "and "How Could I Ever Forget", the score is more of a kaleidoscope of feelings and madness being transferred from one character to another. Still the music seems to set the pace and captures the essence of what's in the heart.
Pull back from "Next to Normal," and you start to see that this plot isn't so difficult to see as a reality. Diana is right when she sings that "you don't have to be happy at all to be happy you're alive" and I guess musicals don't always have to have to bubble with joy to transport an audience as this one does. You walk away (hopefully) from Next To Normal saying "Wow, I really am alright".
NEXT TO NORMAL plays at the Media Theatre, Media PA through February 25. For tickets and more information visit www.mediatheatre.org or call 610.891.0100
Photos by Greg Carroccio