Quintessence Theatre Group Extends LONG DAY'S JOURNEY INTO NIGHT Through 10/29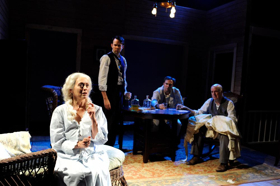 Quintessence Theatre Group began this week with the announcement that they are extending Eugene O'Neill's masterpiece, Long Day's Journey into Night. They are adding four performances and will close Sunday, October 29. Long Day's Journey into Night has been a certified hit, with excellent reviews. It is also Barrymore Recommended. Tickets cost $15-$35. Tickets are available online at www.quintessencetheatre.org or at the Box Office at time of performance. Quintessence performs at The Sedgwick Theater located at 7137 Germantown Avenue in Mt. Airy.
"It is a once in a life time opportunity to see an ensemble of this caliber fearlessly tackle an American drama of this magnitude. Not a single word of O'Neill's Pulitzer Prize winning magnum opus has been cut, and the production and the performances have continued to deepen and intensify. Quintessence proudly extends our most powerhouse production in order to allow a greater number of Philadelphians to experience the poetry and catharsis from one of America's greatest playwrights," said Quintessence Artistic Director and the play's director Alexander Burns.
Considered one of the finest American plays of the 20th Century, Long Day's Journey into Night is an unashamedly autobiographical account of O'Neill's own life "written in tears and blood." In this powerful marathon of a play (it clocks in at 3 hours and 45 minutes with an intermission and a pause), the Tyrone family gathers in New London, Connecticut, one fateful summer day, bound to a past they are unable to forgive or forget. James and Mary Tyrone and their two sons fight for the stability and survival of their family, but are caught in a hopeless cycle of love and resentment. As day turns to night and the family indulges in its vices, the truth unravels, leaving behind a quartet of ruined lives.
This production stars Barrymore Award Winner E. Ashley Izard as Mary Tyrone. Paul Hebron plays James Tyrone. Josh Carpenter and James Davis are cast as James Jr. and Edmund Tyrone. Cassandra Nary is cast as Cassandra. Quintessence continues to establish an ensemble of actors devoted to the classics in Philadelphia. As they present their first modern American classic, the theatre is showcasing the work of four of the ensemble's finest actors: E. Ashley Izard, Josh Carpenter, Paul Hebron and James Davis.
Long Day's Journey into Night is directed by Quintessence Artistic Director Alexander Burns. He also designed the set. Ellen Moore is the Lighting Designer and Jane Casanave is the Costume Designer. J. Alex Cordaro is the Fight Choreographer.
Extension Performance Schedule
Thursday, October 26 @ 7pm
Friday, October 27 @ 7pm
Saturday, October 28 @ 7pm
Sunday, October 29 @ 2pm.

About Quintessence Theatre Group
Quintessence Theatre Group is a professional classic theater dedicated to the performance and adaptation of epic works of literature and drama for the Contemporary Stage. Its approach attracts both nationally-recognized and local actors who find challenge and inspiration in Quintessence's thought-provoking, innovative productions. It is building an acting ensemble with a rotating repertory at the historic Sedgwick Theater in the Mt. Airy neighborhood. As Quintessence Theatre Group's home, the Sedgwick, a 1928 art deco movie palace designed by William Lee, has regained its place as a jewel in Philadelphia's cultural landscape.
Photo credit: Shawn May