Philadelphia Artists' Collective Presents 'TIS PITY By John Ford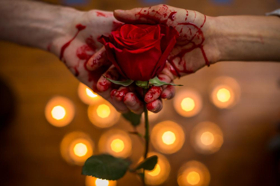 Philadelphia Artists' Collective (PAC) continues its 2018-19 season with 'Tis Pity She's a Whore by John Ford. Likely performed between 1629 and 1633, this play has been one of the most controversial in English literature, even being omitted from a collection of John Ford's work published in 1831. The play that has been scandalizing and tantalizing audiences for over four centuries. A tale as passionate as Romeo & Juliet, but Giovanni & Annabella are brother and sister. Desire is writ large as these lovers decide on the price they are willing to pay for love. Jessica Bedford will make her PAC debut directing one of PAC's largest casts with thirteen actors - Monroe Barrick, Brandon Castillo, Trevor Fayle, Nathan Foley, Stephanie Hodge, Annette Kaplafka, John Lopes, Eric Mills, David Pica, Ebony Pullum, Amanda Jill Robinson, Abdul Sesay and Josh Totora. The show runs Thursday, March 28 through Sunday, April 14, 2019, with opening night set for Saturday, March 30, 2019 at 7:00pm. The show will take place at Philadelphia Boys Choir, located at 1336 Spring Garden Street near 13th street in Center City, Philadelphia. Tickets are available for $25 for general public or $10 with student discount. For tickets and more information, visit www.philartistscollective.org or call the PAC box office at (267) 521-2210.
"'Tis Pity has been a show on our radar for a number of years," says Co-Founding Artistic Director and producer Damon Bonetti. "We approached Jessica to direct a reading a couple of years ago when we produced a season of Jacobean plays and she picked this script. From the reading, one of our most successful, we knew we had to do this play and we had found our director. Jessica is incredibly insightful and has a tremendous vision for the show. We are excited by her ideas and this excellent team of artists assembled. We are thrilled to have her make her PAC directorial debut."
When 'Tis Pity debuted around 1629 and 1633, audiences were scandalized by the downfall of a brilliant man who could not control his lust. Twentieth century audiences, while still unsettled by the subject matter, have been kinder to the play, preferring to examine the unstoppable forces that come into play when people are well and truly matched, even given their common source.
Imagine, if you can, if Romeo & Juliet had been brother and sister. Their passion no less palpable, Giovanni and Annabella pursue their love in a world of Jacobean tragedy and decadence. Scandalizing and tantalizing audiences for over four centuries, this is a tale of desire writ large - and the price we are willing to pay for love.

"'Tis Pity explores the messier side of man and the bifurcating effects of urban isolation; both within the chambers of the body (the carnal and the cerebral) and the chambers of a house (the bedroom and the banquet hall)," said director Jessica Bedford. "Though Ford, a lawyer by trade, was far more influenced by Marlowe than Shakespeare, there is an undeniable parallel between the story of his young lovers - Giovanni and Annabella - and Shakespeare's Romeo and Juliet. But Ford holds the mirror up darkly and its most significant reflection is an absence: there is no Prince in Parma as there was in Verona. It was no longer clear to society if the old structures of power still held steady or if this new authority could be trusted. Ford asks us to look at what happens to social order when the infrastructure of authority can no longer be trusted, when those in sacred offices aren't up to the task at hand, and the corrosive effect on a society when toxicity starts at the top. These questions bear a sadly fresh resonance in 2018. "
Bedford added, "Against this larger back drop, we are given the story of two kids in love. The scholarly Giovanni is said to be based on Marlowe's Faust. A wunderkind master of logic, Giovanni must contend with newly awakened desire; his brain suddenly very aware of his body and its troublesome want: Annabella; prize of Parma, a wit herself and his own sister. With Annabella, Ford presents the purest soul in the play, navigating a man's world as best she can with limited options. In fact, that's all any of 'Tis Pity's female characters do. Which brings us to the final question 'Tis Pity explores: what does it mean to be a woman in a world dictated by men's tempers and desires? What do you know? That question still feels relevant, too."
'Tis Pity She's a Whore opens Saturday, March 30, 2019 at 7:00pm, with previews on Thursday, March 28 and Friday, March 29, 2019 at 7:00pm. The show runs for a total of 12 performances through Sunday, April 14, 2019 at 6:00pm. Tickets are on sale for $25 (or $15 with student identification) by calling (267) 521-2210 or visiting www.philartistscollective.org.

Young Giovanni is a young and brilliant scholar in Parma who has just returned from university. In the very first scene, he confesses to his confidante, Friar Bonaventura, of his love for his sister, Annabella, both trying to justify them and repent for them. Meanwhile, Annabella is pursued by many suitors, including the boorish Grimaldi, the foolish Berdetto and the wily Soranzo. Giovanni loses his battle to stay away from Annabella and the two pursue a secret relationship, while the machinations of a busy Parma swirl around them. Plots for revenge, jilted lovers and murder bring this classic Jacobean tragedy to a boiling point.

John Ford (1586 - c. 1639) was an English playwright and poet of the Jacobean and Caroline eras born in Ilsington in Devon, England.


Jessica Bedford (Director) is a Philadelphia based actor theatre artist. Jessica was formerly the Associate Artistic Director at Montgomery Theater, where she directed God of Carnage, Bad Dates, and The Twelve Dancing Princesses. She recently directed Collected Stories for Act II Playhouse and Henry V for Delaware Shakespeare and served as Associate Director for A Christmas Carol at the McCarter Theatre. Jessica was a finalist for the 2018 F. Otto Haas Emerging Artist award. Love to SC.


'Tis Pity is directed by Jessica Bedford, and features Monroe Barrick (previous PAC credits include Maria Marten, or, the Murder in the Red Barn and All's Well That Ends Well) as Donado; Brandon Castillo as Grimaldi (Titus Andronicus and The Cherry Orchard at Rowan University); Trevor Fayle as Giovanni (Mamma Mia - Center Theatre; Hapgood - Lantern Theater); Nathan Foley as Florio (with PAC - Timon of Athens, Mary Stuart, He Who Gets Slapped); Stephanie Hodge as Annabella (Twelfth Night at the Powel; All's Well That Ends Well - Pennsylvania Theatre Festival); Annette Kaplafka as Hippolita (with PAC - Timon of Athens, He Who Gets Slapped); John Lopes as Friar Bonaventura/Cardinal (with PAC - Duchess of Malfi, Changes of Heart, The Sea Plays, Mary Stuart, The Captive, All's Well That Ends Well, The White Devil, and Mary Rose); Eric Mills as Richardetto (Much Ado About Nothing - Delaware Shakespeare Festival; Two Trains Running - Langston Hughes Theater); David Pica as Soranzo (with PAC - The White Devil); Ebony Pullum as Putana (The Color Purple - Theatre Horizon; Red Velvet - Lantern Theater); Amanda Jill Robinson as Poggio/Philotis (Broken Biscuits - 1812 Theatre; Winter Wonderettes - Walnut Street Theatre); Abdul Sesay as Vasques (Theatre in the X; Delaware Shakespeare Festival); and Josh Totora as Bergetto (with PAC - He Who Gets Slapped).

The incredible design team charged with bringing this sumptuous world to life includes lighting designer James P. Lewis (with PAC - Maria Marten, or, the Murder in the Red Barn); costume designer Millie Hiibel (PTC, Opera Philadelphia); scenic and prop designer Dustin Pettegrew (74 Seconds to Judgment - Arden Theatre; Dishman Springs - Hedgerow Theatre); fight choreographer Eli Lynn (recognized Advanced Actor Combatant); and production stage manager Lize Mieisenzahl (with PAC - Maria Marten) will bring this gory but entrancing tragedy to the stage.