Main Line Singers Celebrate The Joys Of Dancing With Dancing Classrooms Philly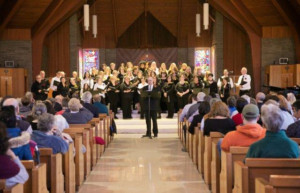 The Main Line Singers will perform their "Better When I'm Dancin'" Spring Concert with Dancing Classrooms Philly (DCP) at 3pm ET at Rosemont Chapel, 1229 East Lancaster Ave, Rosemont, PA on April 28, 2019.
Main Line Singers is a new community chorus, founded in 2018, based in the Western suburbs of Philadelphia. The concert features upbeat music for children and adults under the direction of Dr. Edward Latham, Artistic Director and Youngjin Joo, Accompanist. The show will feature performances by the Dancing Classrooms Philly Allstars under the artistic direction of Andrew Polunin.
Kim Carr, Main Line Singers founder says, "Our program for this concert consists of really fun songs that all relate to our dance theme. We have been rehearsing for months to bring this exciting show to our community. We're going to sing, the DCP Allstars will be dancing and we think everyone is going to have a ball!"
"Dancing Classrooms Philly is honored to have been chosen as a charitable beneficiary for this concert. We admire the work of the Main Line Singers, and are grateful for this concert that centers around the joys and benefits of dance, as that aligns perfectly with our mission," said Kate Lombardi, DCP's Managing Director. "We are also excited for our Allstars to perform, a group that aims to share their love of dance with others."
Half of the proceeds of "Better When I'm Dancin,'" an afternoon of Broadway, jazz and pop that celebrates the joy of dancing, will go to support Dancing Classroom Philly. The ticket price is $10 so that everyone can have access and encourage donations above the ticket price. For more information visit bit.ly/mlsconcert.
About Main Line Singers - Main Line Singers is a new community chorus, founded in 2018, based in the Western suburbs of Philadelphia. Our goal is to produce excellent musical performances for the community audience while providing an artistic outlet for their busy, stressed out, musically-minded neighbors. The latest research regarding the emotional, physical and social benefits of choral singing is exciting and undeniable. We also partner with different local charities each year to share concert proceeds and increase exposure for both non-profits.
About Dancing Classroom Philly - Dancing Classrooms Philly's mission is to foster self-esteem, social awareness and joy in children by providing the opportunity to learn and perform ballroom dance. Through our ballroom dance instruction, we help to improve the climate of school communities across the Philadelphia region by building confidence in students, breaking down social barriers, and inspiring respect for all individuals. We envision transformative arts programs in all school communities that nurture creativity, build confidence, and promote a culture of mutual respect and well-being. For more information, please visit www.dancingclassroomsphilly.org.