MATILDA Continues Walnut Street Theatre 210th Season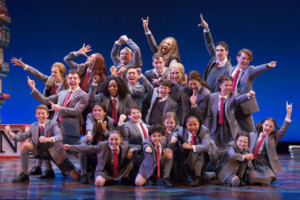 Walnut Street Theatre continues its landmark 210th season with Roald Dahl's MATILDA THE MUSICAL. Directed by Linda Goodrich, with choreography by Michelle Gaudette, MATILDA THE MUSICAL begins previews on November 6th, opens on November 14th, and runs through January 6th on the Walnut's Mainstage.
Based on the beloved Roald Dahl novel, MATILDA THE MUSICAL is the story of the courageous little girl with an unbounded imagination who proves that despite the odds, you can do anything you put your mind to-and change your destiny. Children and adults alike will be thrilled and delighted by this Broadway hit and winner of 16 Best Musical awards!
The 1988 children's novel of Matilda recently celebrated its 30th birthday! Written by British writer Roald Dahl (James and the Giant Peach, Charlie and the Chocolate Factory), it received critical acclaim and in 2016 became Dahl's top-selling book. In 1996, the novel was made into a film that was directed by Danny DeVito and starred a young Mara Wilson. In 2010, Matilda the Musical opened at the Royal Shakespeare Company (RSC) in London. It featured a book by playwright Dennis Kelly and music and lyrics by Australian comedian Tim Minchin (who went on to write the music for Groundhog Day in 2016). Due to its success at the RSC, the following year it transferred to the West End - where it still runs to this day. In 2013, it opened on Broadway at the Shubert Theatre and was nominated for 11 Tony Awards. The musical has since gone on national and international tours and has opened productions in the Philippines, Australia, New Zealand, Toronto, and Korea. In London, it holds the record, along with Hamilton, for the most Olivier Awards won by a musical (7).
Linda Goodrich returns to direct MATILDA THE MUSICAL, after choreographing both Christmas Story (2015) and Mary Poppins (2014). She has directed and choreographed for theatres throughout the United States, Europe, and Japan, including Goodspeed Opera House, Paper Mill Playhouse, Cincinnati Playhouse, PCLO, the MUNY, and St. Louis Rep. She also choreographed the European tour of Cabaret and the U.S. and Japanese tours of Singin' in the Rain. She is currently a Musical Theatre professor at the University of Michigan. Michelle Gaudette joins Goodrich as choreographer. Gaudette has choreographed numerous productions for the Walnut, including Holiday Inn, Annie, South Pacific, Music Man, In the Heights and Fiddler on the Roof. John Daniels returns as music and vocal director. Daniels' Walnut credits include Holiday Inn, Mamma Mia!, Annie, The Buddy Holly Story and South Pacific.
The title role of Matilda will be shared by Ellie Biron of Philadelphia, PA and Jemma Bleu Greenbaum of Elkins Park, PA. Biron returns to the Walnut after her performance as Molly in last season's production of Annie. Greenbaum makes her Walnut debut with this production!
Ian Merrill Peakes will play the infamous, hulking headmistress Miss Trunchbull. This show marks Peakes' 10th at the Walnut (Harvey, Ideal Husband, Baskervilles, Of Mice and Men) and 127th professional production. Laura Giknis returns to the Walnut as the kind-hearted kindergarten teacher, Miss Honey, having recently performed as Sophie in last season's Mamma Mia! Her other Walnut credits include Sister Act, High Society, Bad Jews, and Grease. Demetria Joyce Bailey will make her Walnut debut as the magical librarian, Mrs. Phelps. She has performed throughout the U.S., Philippines, and Japan as a professional artist and vocalist, and recently released her debut CD, Takin' A Chance.
Husband and wife Christopher Sutton and Lyn Philistine will play Matilda's parents, Mr. and Mrs. Wormwood. With their dynamic and engaging personalities, this duo has previously performed opposite of each other in the Walnut's productions of Mamma Mia!, Annie, A Christmas Story, The Buddy Holly Story and I Love You, You're Perfect, Now Change. Mark Donaldson will make his Walnut debut as their son, Michael Wormwood. Jacob Tischler (Holiday Inn, Saturday Night Fever) will play the ballroom dancer, Rudolpho; Ellie Mooney (Forum) will play the Acrobat; and Elliot Styles will be the Escapologist and Doctor. Dan Olmstead (South Pacific) will play both the Party Entertainer and Sergi.
The ensemble includes Chali Cooke (Saturday Night Fever), Casey Elizabeth Gill (Holiday Inn), Billy D. Hart (Holiday Inn), Adam Hoyak (Grease), Maria Konstantinidis (South Pacific), Kevin Kulp (The King and I), Cary Michele Miller (Holiday Inn), Kathryn Miller (Mamma Mia!), Tara Tagliaferro (Mamma Mia!), and Kevin Toniazzo-Naughton (A Christmas Story). Nick Brown will make his Walnut debut in this production. Ensemble member Billy D. Hart will also take on roles behind-the-scenes as assistant choreographer and dance captain.
Playing Matilda's classmates and fellow "revolting children" are Alanna Stein (Annie) of Voorhees, NJ; Myra'Cal West (Annie) of Burlington, NJ; Miranda Zeno (Annie) of Mickleton, NJ; Naomi Serrano (Annie) of Marlton, NJ; Sean O'Neill (Christmas Carol) of Wallingford, PA; and Melania Zalipsky (Annie) of Huntingdon Valley, PA. Making their Walnut debuts in the children's ensemble will be Eva Burkholder of Pottstown, PA; Nicky Intrieri of Haddon Heights, NJ; Veronica James of Voorhees, NJ; JoJo Schlecht of Wilmington, DE; Akiva Schostak of Cherry Hill, NJ; Maren Schriver of Meadowbrook, PA; Eddie Sims of West Chester, PA; Matthew Goodrich of Hammonton, NJ; Jonas Hinsdale of Princeton Junction, NJ; Caleb Rosenfeld of Wynnewood, PA; Sloan Avery Salvatore of Wenonah, NJ; Charlotte W. Taylor of Wallingford, PA; and Peter Gomez and Kate Bove of Cherry Hill, NJ. The youngest members of the cast are all local to the Philadelphia area and students of The Theatre School at Walnut Street Theatre.
Playing off Matilda's deep love of reading with a completely book-covered set is Robert Koharchik (Noises Off, Importance of Being Earnest, Harvey) as set designer for MATILDA THE MUSICAL. Koharchik is joined by Costume Designer Mary Folino (Holiday Inn, Annie, Forum), Lighting Designer Stuart Duke (Noises Off, Importance of Being Earnest) and Sound Designer Elizabeth Atkinson (Noises Off, Importance of Being Earnest).
MATILDA THE MUSICAL runs at the Walnut November 6 through January 6. Open captioning will be available for the Sunday, December 2, 7pm performance. The Wednesday, December 12 performance will be ASL interpreted and Audio Described. This production is sponsored by Stradley Ronon. Media Partners are 6ABC and Metro Philadelphia. For tickets and information, call 215-574-3550 or 800-982-2787. Tickets are also available online 24/7 by visiting www.WalnutStreetTheatre.org or Ticketmaster.
---
Join Team BroadwayWorld
Are you an avid theatergoer in Philadelphia? We're looking for people like you to share your thoughts and insights with our readers. Team BroadwayWorld members get access to shows to review, conduct interviews with artists, and the opportunity to meet and network with fellow theatre lovers and arts workers.
Interested? Learn more here.
---