HONK! JR Opens Walnut Street Theatre for Kid's Season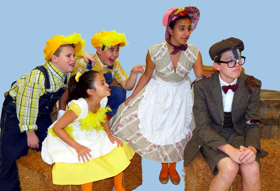 Kids and their adult friends and families will love the WST for Kids' production of HONK! JR.. Based on Hans Christian Anderson's classic fairytale, The Ugly Duckling, this hour-long musical will be performed LIVE at Walnut Street Theatre September 23 through October 8, 2017.
Ugly is one odd looking baby duck that doesn't quite fit in, a fact soon noticed and mocked by the other farmyard animals. With the help of a whole flock of unique characters, Ugly sets off on a wild adventure where he soon learns to accept and love what makes him different.
The full-length musical fable HONK! premiered in London's West End in 1999, becoming the first new British musical to be produced at the prestigious National Theatre. In 2000, the show won the Laurence Olivier Award for Best New Musical, with other nominees including The Lion King and Mamma Mia!. Since then, HONK! has taken flight across the world with over 8,000 productions. Following the show's ongoing success, HONK! JR. was created, an hour-long adaptation, perfect for young audiences.
The score for HONK! JR. features music by George Stiles, with lyrics by Anthony Drewe. The multi-award winning songwriting team has worked together for over 30 years and has written scores for The Wind in the Willows, Half A Sixpence, Peter Pan: A Musical Adventure and additional music for Disney's hit Broadway adaptation of Mary Poppins. Stiles and Drew have also completed a trilogy of 50-minute musicals for younger audiences that include Goldilocks and the Three Bears, The Three Billy Goats Gruff, and The Three Little Pigs.
Jesse Bernstein returns to the Walnut to direct HONK! JR.. Bernstein recently directed the Walnut's Independence Studio on 3 production of Shipwrecked: An Entertainment and will return later this season to direct It's a Wonderful Life. As part of the Walnut's Touring Outreach program, he directed The Return of Nick Nutrition and The Boy Who Cried Bully. Bernstein has also performed at the Walnut in numerous shows including last season's Laughter on the 23rd Floor, Brighton Beach Memoirs, Biloxi Blues and Broadway Bound. Chris Burcheri will join Bernstein as Music and Vocal Director, along with Nate Golden as Choreographer for this production. Golden has choreographed multiple WST for Kids productions including Skippyjon Jones, Zombie in Love and Miss Nelson has a Field Day.
Creating Ugly's duckyard home with big barrels of hay, bright corn stalks, and a sun-dappled farmhouse, is a creative team is led by Scenic Designer Greer Duckworth. Duckworth's most recent design for the Walnut was seen on stage during last season's Skippyjon Jones. Joining him are Costume Designer Susan Benitez (Beauty and the Beast Jr.), Lighting Designer J. Dominic Chacon (Peter and the Starcatcher) and Sound Designer Ryan Peavey (South Pacific).
The actors playing HONK! JR.'s unique bunch of feathered and furry friends are all local to the tristate area, and are all members of the Walnut Street Theatre School. Christian Tuffy of Huntingdon, PA will play Ugly and Zoey Schaeffer of Lumberton, NJ will play The Cat. Ugly's mother Ida will be played by Fionnalua Meister of Philadelphia, PA and his father Drake will be played by Jack Sullivan of Abington, PA. The cast continues with Scott Angelides (Greylag/Beaky/Froglet) of Paoli, PA; Jennifer Lepore (Grace/Dot) of Havertown, PA; Julianna Zannikos (Turkey/Bullfrog) of Doylestown, PA; Ella Hampton (Fluff/Goose/Froglet) of Cherry Hill, NJ; Samantha Deutsch (Downy/Goose/Mother Swan) of Wyndmoor, PA; and Ethan Jih-Cook (Billy/Jay Bird/Goose/Froglet), Domenica Passio (Maureen/Goose/Froglet); and Hannah Fink (Henrietta/Penny) of Philadelphia, PA.
The Walnut Street Theatre for Kids Series is celebrated for its commitment to encouraging parents (and grandparents) to read to their kids. Families can read together, and then discover a whole new level of imagination when they see the shows live onstage. The Walnut takes pride in bringing families together and beginning a creative conversation through reading and the arts.
HONK! JR. is an ideal outing for all kids with weekend matinee performances September 23, October 7 and October 8, 2017. The media sponsor is Courier Post and Real 106.1. Tickets are $15 - $18 with group discounts available for groups of ten or more. For tickets and information, please call 215-574-3550 or 800-982-2787. Tickets can also be purchased online at Ticketmaster or by visiting the Walnut's website at www.WalnutStreetTheatre.org.
Photo courtesy of Walnut Street Theatre
More Hot Stories For You