Interview: Todd Ellison Conducts The Philly POPS Best of Broadway Concert at The Kimmel Center
This weekend, the curtain goes up on The Philly POPS' Best of Broadway concert, presented as a part of the POPS' 39th season at The Kimmel Center for Performing Art's Verizon Hall. The event features recognizable favorites from more than twenty Broadway shows, as well as music from Disney. This special concert series runs from March 9-11, 2018 and tickets starting at $35 can be purchased at http://www.phillypops.com/broadway
For this theatrical endeavor, the Philly POPS 65-piece orchestra will be joined by Broadway stars Debbie Gravitte (Jerome Robbins Broadway, They're Playing Our Song, Blues In The Night, Perfectly Frank, Zorba, Ain't Broadway Grand?, Chicago, Les Miserables), Susan Egan (Thoroughly Modern Millie, Cabaret, Triumph of Love, State Fair, Disney's Beauty and the Beast), and Christopher Seiber (Spamalot, Shrek the Musical, La Cage aux Folles, Into the Woods, Chicago, Thoroughly Modern Millie, Triumph of Love, Disney's Beauty and the Beast), and will be led by guest conductor, and prolific Broadway musical supervisor, music director, conductor, and arranger, Todd Ellison.
I had the opportunity to talk with Ellison recently as he prepared for his engagement with The Philly POPS, and the first thing I wanted to know was when he remembered having an initial interest in conducting.
Ellison described to me that since he was a child, he had a total love for music. He told me that his parents have a home-video of him at only two years old conducting an imaginary orchestra with a stick in his hand. "I used to pour over their record collection," Ellison told me. "I always knew what I wanted to do. I always knew."
Ellison started playing piano at age six. "At my request," Ellison clarified. He told me how his stomach went "whoosh!" when he realized what he liked. Although Ellison studied classical music in college, he explained that he always really wanted to do show music. And his dream has come true; Ellison most recently worked as the Music Director of the twelve-time Tony nominated production of An American in Paris, and has been a part of 17 Broadway productions including Michel Legrand's Amour, Monty Python's Spamalot (Best Musical Tony Award), La Cage aux Folles (Best Musical Revival Tony Award), 42nd Street (Best Revival Tony Award), Elton John's Lestat, Annie, The Wild Party, On The Town, Once Upon a Mattress (starring Sarah Jessica Parker), How to Succeed (starring Matthew Broderick), She Loves Me, Taller than a Dwarf, and A Class Act.
With his textbook blend of classical training and Broadway experience, Ellison is the perfect person to lead the Philly POPS in their homage to the Great White Way. Ellison described to me the difference between conducting a small Broadway pit orchestra, usually comprised of only five sections, compared to a complete, complex symphonic orchestra, like the POPS. He explained the euphoric feeling of conducting a symphony: "It's such a rush," Ellison said, "being bathed by the sound, and being swept away. It gives me goosebumps."
Ellison has been hailed by The Pittsburgh Post-Gazette as "the closest thing to Marvin Hamlisch we've discovered." It makes sense that Hamlisch would be an influence for Ellison since he worked closely with Hamlisch, acting as his Music Director for Ballroom and The Nutty Professor directed by Jerry Lewis.
Ellison admitted to me that Hamlisch was a huge inspiration in his career, and taught him not only how to handle an orchestra, but how to handle people. Hamlisch told Ellison, "You have that thing that you need to do POPS evenings. I'm going to talk to my agent about you." And lo-and-behold, Hamlisch was instrumental (pun intended) in sending Ellison on the path of conducting symphony orchestras.
Ellison also told me that Peter Howard, the original Music Director of Annie, gave Ellison his first job on Annie 2. It was the contacts he made when he worked Off-Broadway at that time that led him to book his first Broadway gig with She Loves Me.
Considering his amazingly fulfilling career, I asked Ellison to tell me his outstanding experiences as a conductor. "The show you're working on in the moment is always the most important at the time," he said. Currently, Ellison is the Musical Supervisor/Conductor/arranger of the Broadway-bound musical Roman Holiday, and he is the composer of the award-winning new musical The Black and White Ball with Stephen Cole.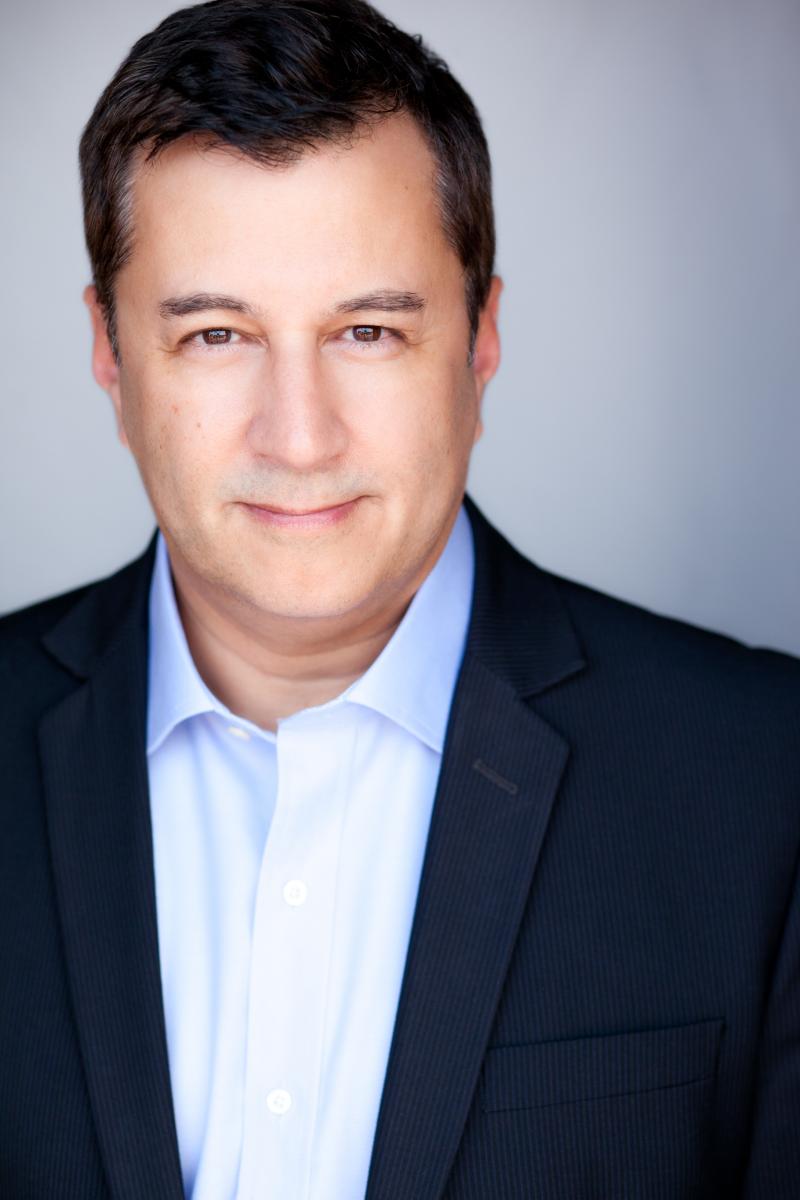 Ellison also described to me the significance of the show 42nd Street in his career. "42nd Street was and continues to be a fantastic experience for me," Ellison explained. Ellison as Musical Supervisor helped to bring 42nd Street to the Drury Lane Theater in London. With excitement in his voice, Ellison proudly painted the picture of the production opening with 42 tap dancers onstage and the euphoric feeling of marrying the rhythm and music to the tempo of so many tappers.
Meanwhile, down the street, simultaneously Ellison opened An American in Paris at the Dominion Theater. The music in An American in Paris is "difficult but rewarding," Ellison said. "It's some of the most challenging music someone has to do in a Broadway production eight times a week. Show music is usually not that complicated."
Another stand-out show in Ellison's career, he told me, was Monty Python's Spamalot. Ellison worked with Mike Nichols and said that he "never laughed so hard" and had "so much fun for five years." Ellison told me about how Nichols challenged him to be the best he could possibly be.
The Philly POPS Best of Broadway concert will feature music from all three of these Ellison favorites-42nd Street, An American in Paris and Spamalot-as well as additional songs that were chosen by Ellison and the three guest vocalists, Debbie Gravitte, Susan Egan, and Christopher Seiber. All of the songs in the program were chosen for their personal connection to Ellison and the vocalists. Ellison told me that this personal connection is what will make a deeper experience for concert-goers because the audience will feel the emotional resonance the artists have for the songs.
I asked Ellison which pieces in the program are specifically significant to him that he is excited to share with the Philly POPS and the audience. One of Ellison's favorite moments in the program, he said, is when the percussionists will become the tap dancers in an incredibly fun rendition of 42nd Street. By using taps mounted on wood, the percussionists take tap shoes and create rhythms. He also looks forward to the medley of songs from A Chorus Line because it is a tribute to Hamlisch, and the concert's fun ending with "Always Look on the Bright Side of Life" from Spamalot.
The Best of Broadway program will also feature a medley from An American in Paris, which also holds special meaning for the POPS since music from the show was also performed at the inaugural Philly POPS concert in 1979.
Ellison has been acclaimed by the New York Times as one of "Broadway's electric conductors" and, since Ellison has worked with so many Broadway productions and symphonic orchestras, I asked him what he specifically was looking forward to regarding working with the Philly POPS. Ellison told me, "I am excited to be making the greatest music with the greatest musicians... The Philly POPS are one of the swingingest orchestras around!" Ellison described that he is specifically thrilled to bring his love of theatre to the concert world with his friends (Gravitte, Egan, and Seiber), and to find a moment to be theatrical and make beautiful art at the same time. "The POPS marries everything I ever learned from the classical world to my love of the musical genre. The evening is great fun!!
To find out more information about the program, to purchase tickets, and to read more about Ellison and the three guest vocalists, please visit, http://www.phillypops.com/broadway
*** Photo credit to Ronnie Nelson ***