Latest News on Leslie Laredo
Leslie Laredo News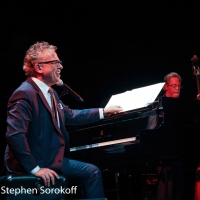 Billy Stritch & Gabrielle Stravelli Play The Kravis Center
by Stephen Sorokoff - Jan 15, 2022
Billy Stritch & Gabrielle Stravelli couldn't see it from the stage, but behind every audience member's mask at the Kravis Center last night was a smiling face. Reason being… it's a rare treat when artists of this caliber join forces for an evening of song.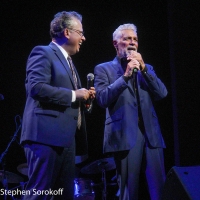 Photos: Clint Holmes and Billy Stritch Bring STRAIGHTEN UP & FLY RIGHT to The Wick Cabaret Theater
by Stephen Sorokoff - Jul 9, 2021
Last night on the Wick stage these celebrated entertainers presented their tribute to Nat King Cole titled "Straighten Up and Fly Right" and it was a masterclass in musical expertise and show biz excitement.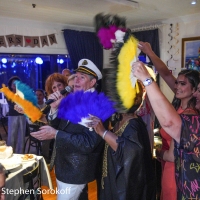 Photo Coverage: Rob Russell Celebrates His Birthday with a Performance at Pelican Cafe Cabaret
by Stephen Sorokoff - Jun 17, 2021
It was a "Love Boat" for (Captain) Rob Russell at the Pelican Cabaret last night as fully vaccinated fans joined in the act to help Mr. Palm Beach celebrate his birthday.  The entertainer and designated spinner of tunes in DIck Robinson's dugout of Legends Radio Hosts had much to celebrate.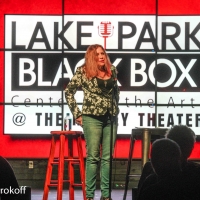 Photo Flash: First Look at MICHELE BALAN IS TOURING AND FLORIDA HAS BECOME A BIG JOKE
by Stephen Sorokoff - May 7, 2021
Sometimes happenings in Florida are no laughing matter but that was not the case this weekend. Stand Up Comedian Michele Balan flew into Florida for a few gigs.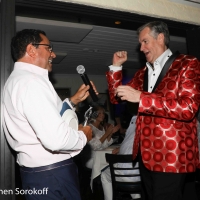 Photo Coverage: Rob Russell Returns to the Pelican Cafe Cabaret
by Stephen Sorokoff - Apr 22, 2021
Rob Russell survived the pandemic and two heart operations this past year so his return to the stage caused a joyous celebration last night at the Pelican Cafe Cabaret.   His Palm Beach fans gave him a standing ovation as they sang "It's so nice to have you back where you belong" to "Mr. Palm Beach".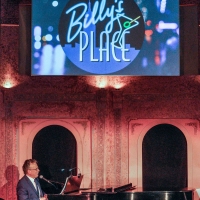 Photo Coverage: Billy Stritch Returns to the Wick Cabaret
by Stephen Sorokoff - Apr 2, 2021
Although the official location of Billy's Place is located on Manhattan's Central Park South it's now transforming itself into anywhere that Mr. Stritch sits at the piano and croons in his musically elegant style.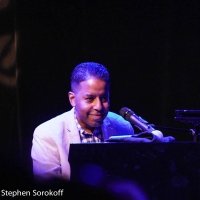 Photos/Review: Bemelmans Mainstay Loston Harris Excites The Arts Garage
by Stephen Sorokoff - Sep 29, 2019
Loston Harris brought his elegant piano and vocal interpretations a thousand miles from his usually perch in The Carlyle Hotel's Bemlmans Bar to Delray's Arts Garage last night. The jam packed Arts Garage audience might have been dressed a little more casually then Manhattan's urbane jazz lovers, but this jazz savvy Delray turnout had the same appreciation and enthusiasm for the talented pianist/singer as New Yorkers do. Loston gets you in three ways, his inventiveness at the keyboard, his sophisticated vocals, and his vivacious personality. He is the consummate musician/entertainer in the true tradition of Bobby Short. Loston brings a unique rhythmic percussiveness to his fluent melodic lines which may be due to the fact that he started his music life as a drummer. Luckily for his fans worldwide he switched to piano.
Photo Coverage: Chita Rivera Attends Friars Salute To Bobby Short
by Stephen Sorokoff - Apr 20, 2017
Yankee Stadium has it's 'Legends Seats' and Monuments prominently displayed in the 'House That Ruth Built'.  Then the current team takes the field and future legends start to play ball.  In the Friars Club show biz past and present are always in the house.  Their photos are on the wall and names are engraved on the chairs in the Frank Sinatra Dining Room.  Then as so often happens an 'insiders' great show is produced for the members and those legends current and future entertain their fellow Friars.  So it happened last night as the Friars Club honored Bobby Short, the legendary cabaret singer/pianist who was best known for his three decade plus music residency at Cafe Carlyle in New York City.  The music of Bobby Short was brought to life by some current Cafe Carlye and Bemelmans Bar stars in a spectacular evening produced and hosted by Friar Jeff Leibowitz and Co-Produced by Friar Will Friedwald.