Latest News on Bob Diamond
Stage Credits
  [Off-Broadway]
1974
Cop/ Pee Wee
Bob Diamond News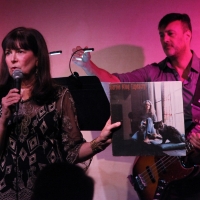 BWW Review: Deborah Zecher Takes Don't Tell Mama Crowd to Schul with JEWISH CAROLING
by Stephen Mosher - Dec 7, 2021
Deborah Zecher's new cabaret show is a tribute to three women... and community.
Burman and Wallowitch Winners Announced
by Stephi Wild - Nov 17, 2021
The Burman Award finalists were: Bob Levy and Alyce Finell. The Wallowitich Award finalists were: Alex Goldie Golden and Billy Recce.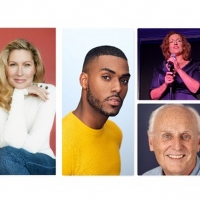 PIANO BAR LIVE! Continues Live-Streaming on Facebook on June 9
by Stephi Wild - Jun 6, 2020
Piano man Michael McAssey hosts Piano Bar Live! this Tuesday, June 9th at 7:15 pm ET, following New York City's 7 O'Clock Cheer. This week's guests will be Luba Mason, Phyllis Pastore, Nina Gabianelli, Bob Diamond, Bob Egan, Jovan E'Sean and a weekly secret guest!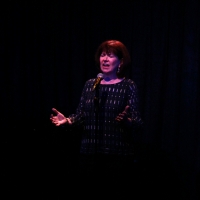 BWW Feature: Stephen Mosher's Pandemic Playlist Number Fifteen
by Stephen Mosher - Apr 3, 2020
Catch up on another list of great cabaret artists to search on Youtube and to catch in person one day, as a new Pandemic Playlist is released.
BWW Feature: MAC AWARD RECIPIENTS ANNOUNCED On Facebook Live
by Stephen Mosher - Mar 31, 2020
On Monday, March 30th, the 2020 MAC Awards were broadcast via Facebook Live from the living rooms or Lennie Watts and Amy Wolk/Lorinda Lisitza in a split-screen presentation in which The Three Stooges of Cabaret made their community of artists laugh with many hi-jinks, giggles, grins, silliness, and an ongoing series of the new MAC Award theme song, penned by Wolk and Lisitza themselves. The intent was to bring some levity to a difficult time in the world and, judging by the comment scroll during the home-made telecast, the hardworking trio tickled the funnybones of many. As names were announced, recipients called in to say a few words (apropos to the proceedings, Mr. Watts' telephone ringtone is the Benny Hill theme song) and particularly moving speeches from the proceedings came from Lisa Viggiano, Meg Flather, and Jeff Harnar. The entire show can be seen on Broadway World HERE. Results of the voting can be seen below.
VIDEO: Watch the 30th Annual MAC Awards!
by Nicole Rosky - Mar 30, 2020
With the Coronavirus stopping all social gatherings and causing the closing of Don't Tell Mama for the duration, MAC has made a change from the previously announced event which was to be held at the club.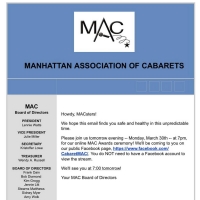 BWW Feature: MAC AWARDS Will Be Announced Live Via Facebook Monday. March 30th at 7 pm
by Stephen Mosher - Mar 29, 2020
The MAC Awards were scheduled to be celebrated on March 30th at Sony Hall. Instead they will be announced via Facebook Live from Lennie Watts' home. The times are a little different now, but the celebration of art is the same.
Andrea McArdle and Donna McKechnie, Max von Essen and More Nominated for MAC Awards
by Chloe Rabinowitz - Feb 25, 2020
The Manhattan Association of Cabarets (MAC) has announced the 2020 MAC Award nominees. The nominees were determined by votes cast by the active MAC membership, except for the four song and recording categories, which were determined by special committees.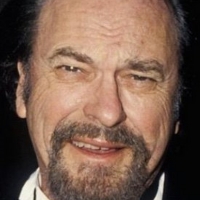 Rip Torn Memorials to Be Held in Los Angeles And New York
by Chloe Rabinowitz - Jan 3, 2020
Deadline has reported that memorials for actor Rip Torn are set to be held in both Los Angeles and New York.