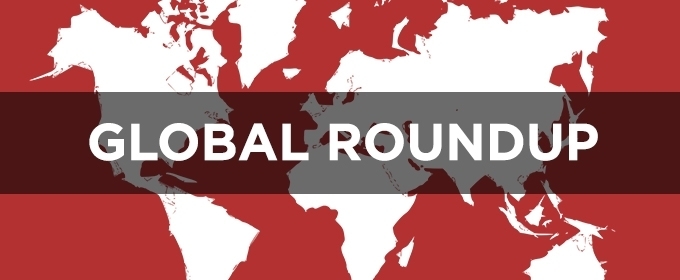 BWW Review: SIX CHEFS FIND A PALATABLE PARADISE IN PANAMA in PANGA IBERICA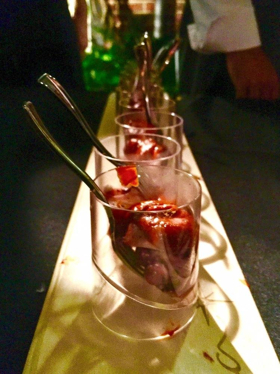 It began as many crazy yet brilliant ideas do - over drinks after an evening of edible ecstasy between fellow foodies who became fast friends and together hatched an idea that would transform into an adventure unlike anything all involved had ever experienced.
Chef Mikel de Luis is the creator of aMona Events (named for the Basque word for "grandmother") - a NYC-area catering company that orchestrates innovative culinary celebrations based on a fusion of cuisines from his native Bilbao in the Basque Country of Spain with American, Italian and French styles, all in miniature bites.
His equally snack-savvy wife - Michele Buster of the aptly-named Forever Cheese - runs a company devoted to bringing the finest cheeses and accompanying foods from the Mediterranean to American audiences for twenty years. This power couple - who are defined by their passion, tenacity and a mutual adoration of scintillating subsistence - found themselves on vacation in Panama embarking on an accidental pilgrimage to a no-frills place called Panga, a farm-to-table eatery in the coastal town Playa Venao on the Azuero Peninsula of Panama run by Panamanian Chef Andres Morataya.
When the pair were told it was "a little outside of Panama City," they had no idea that meant over five hours away, near the outer edge of Pedasi district that forms the southern tip of Panama. But the journey was well worth it. After a divine meal the new "amigos" chatted and the couple learned that Chef Andres had taken a foray into the jungle to underscore his beliefs in sustainability, respect for nature and seasonality of products. Impassioned by what Chef Andres was doing for Panga in Panama because he shares the same principles for aMona, Chef Mikel came up with a wild plot that manifested into reality: they'd work together to bring renowned international chefs from the Spanish-speaking world to Panama and create new twists on farm or even jungle-to-table dishes that Panga has become famous for.
The idea is that they would spend three days in the jungle of rural Panama and fish, hunt and forage for the ingredients that would make up the meal that they'd all mutually create for an unprecedented veritable feast at Panga. But Chef Mikel was no mere "idea man" - he put his money where his mouth is and obtained the financing to bring the top chefs to Panama and document this ambitious foray.
The all-star lineup featured: Chef Andres Morataya and Chef Mikel de Luis (the conceivers of this enterprise); Manuel Alonso from Casa Manolo in Spain; Hugo Brito from Boi Cavalo in Portugal; David Garcia from Corral de la Moreria in Spain and Debbie Fadul from De Mon Coeur in Guatemala. A camera crew including: Fortunato Mangravita of La Bruja Films, Carlos Urriola of LP Sonido Panama and cinematographer Francisco Fernandes (a Venezuelan filmmaker living in Panama) of Global Films would follow their excursion.
The documentary commenced with the global master chefs arriving in Panama, enveloped in the warmth of the country - the weather, people and general positive vibes. Their first meal together in Panama City before they traversed into the Panamanian wilds might have seemed an unlikely choice for outsiders - Dim Sum. But in fact, Chinese influence on Panamanian culture and cuisine is very important to the isthmus and is growing steadily.
The group then made their journey to the spot between the jungle and sea where Panga lies. Chef Andres retreated to this tiny village to create his dishes away from the hustle and bustle of city life and raise his family. The stop-over at his restaurant would be the transition point between each chef's city existence and feral Panama. There, at his "casa", they all enjoyed the traditional tastes of Panama and discussed what laid ahead - both the perils and potentiality. Mostly they talked about food and guzzled local beers and other libations (this would be a recurring theme).
But the day of the epic excursion they were all sadly informed that it was not meant to be. The tides were too dangerous for where they were going and there was no way for them to reach that patch of the jungle they were meant to spend three days hunting and foraging in safely. The long look of disappointment on their faces was devastating, particularly after how far they'd all come and the joy and curiosity of this "Top Chefs meets Survivor" endeavor.
Not to be defeated in his homeland, Chef Andres has a backup plan: they'd go to the local farmers and hone the fruits of the sea to forage for their feasts-to-be, the same as he'd done time and again for Panga. It might not be as dangerous or glamorous as a result, but it would be sincere, present and would showcase the diversity of what Panama - a country that hinges between Central and South America as well as the Caribbean and has a multitude of culinary and cultural influences from around the globe due to its position and the Canal - has to offer upon a plate.
The result was something akin to a summer camp or yoga retreat but for world-class chefs who discovered themselves, their connection to nature, and a new palate in the strange yet still somehow familiar land. One of the greater goals of this endeavor was to contribute to the discovery, use and innovation of locally-sourced products in the Azuero Peninsula of Panama. This mission is part of Chef Andres' bigger-picture vision not only for the film but for sustainability in gourmet kitchens worldwide. The art of "food restoration" - bringing these ingredients, recipes and traditions back to life and reconnecting people to their native foods and thus their culture, even down to the traditional songs sung during a harvest - is the cornerstone of the philosophy behind Panga and the inspiration for this venture.
While collecting clams, mussels, fish and even fresh sea salt and brine, they watched in wonderment at the aquatic acrobatics of the whales. Local farmers taught them the traditional uses and methods for fixing fruits and vegetables native to Panama that have been passed down for generations. Even the Mayor of Pedasi came to greet the six chefs whose letdown from the weather prohibiting their deep jungle experience had blossomed into an admiration for the beauty and bounty around them.
The payoff of their labor of love and letting go resulted in a magnificent meal at Panga where each chef offered a taste of the local ingredients with their own flair. Chef Andres marveled at the magical moments when his compatriots would discover their own "eureka" additions to give their dishes a signature Panamanian twist. One such case was Chef Hugo from Portugal who was smitten by the native fermented yucca - his smile said it all - this was to be the puzzle piece of the palate to pull it all together.
Despite the disappointment about missing out on the three days in the wilderness, the bonding between the six chefs was palpable. The lot of them made their way to New York City from across the oceans to be there on October 3rd at Instituto Cervantes in midtown east Manhattan to celebrate the debut of the documentary and share a few culinary samplings with the exuberant attendees of their delectables that were inspired by the experience -along with beer and wine - and, of course, cheese provided by the sponsors Forever Cheese and Mitica.
Chef Debbie Fadul, the amiable and articulate sole female chef (who is slender and 5-foot-nothing but made it clear that she kept up equally with the men in terms of drinking and cooking) summed it up perfectly: "Living is one thing, telling is another but what you saw in this film is Central America and its people. Support them. Talk about them. My restaurant in Guatemala is only open two times per month and it's a tasting menu that's custom made to everyone's needs and desires based on ingredients the land provides. Nothing lasts forever so you must enjoy the earth, people and the kitchen."
The film clearly showed that this was a life-changing and affirming experience for the senses and the soul of every participant. But the film itself, though beautifully shot, was a bit more like an episode of a new Netflix food and travel show than a full-length documentary and it left one craving more cuisine and camaraderie from the charming chefs. What's next for them? The very thought of such masters of the kitchen coming together again is a salivating prospect.
Fortunately, this taste was only an appetizer. Chef Mikel was so ignited by what transpired in the creation and celebration of Panga Iberica that this film is not the final page but rather the first chapter of plans to come. Chef Mikel is developing a newly created division of aMona - aMona Adventures - to put together more of these in the future.
One can only hope that from the edible adventures and jubilant journeys each chef took from this time - together and individually - that this is only the beginning of more interactions from these sensational six (and perhaps others to come) in the world of the vast diversity of what the isthmus of Panama and the culinary culture of Central America has to offer international taste buds everywhere.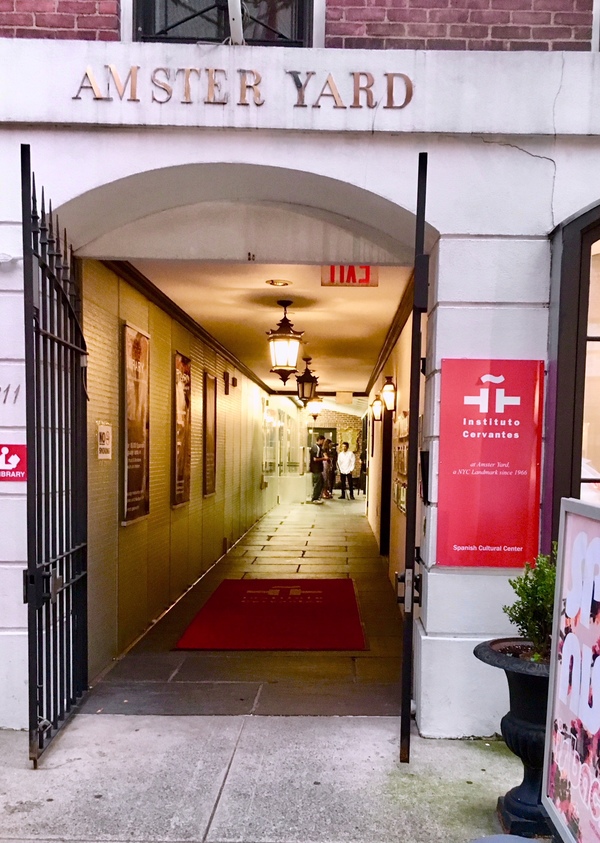 Instituto Cervantes where the premiere of the documentary Panga Iberica was held.

The magnificent six chefs (left to right): David Garcia (Spain), Manuel Alonso (Spain), Debbie Fadul (Guatemala), Hugo Brito (Portugal), Andres Morataya (Panama) and Mikel de Luis (Spain/NYC) with wife Michele Buster of Forever Cheese.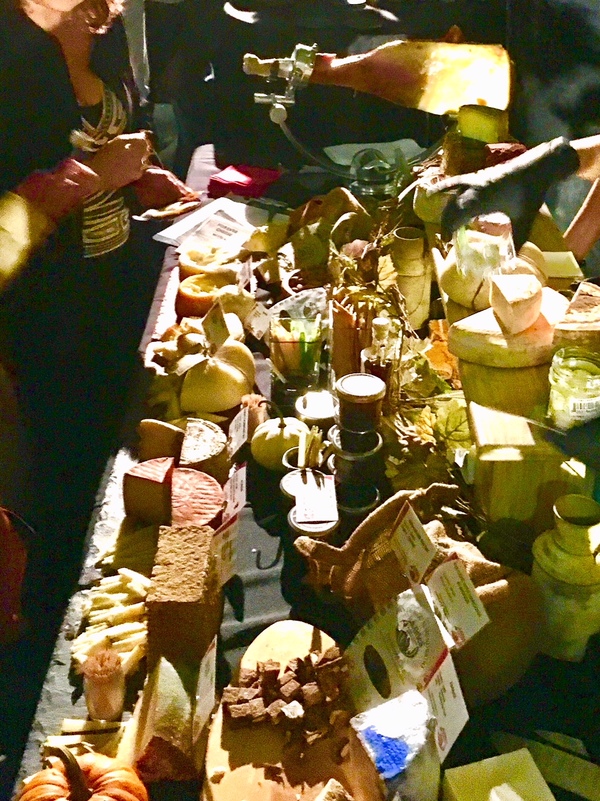 The spread from Forever Cheese featuring the finest Mediterranean fromage.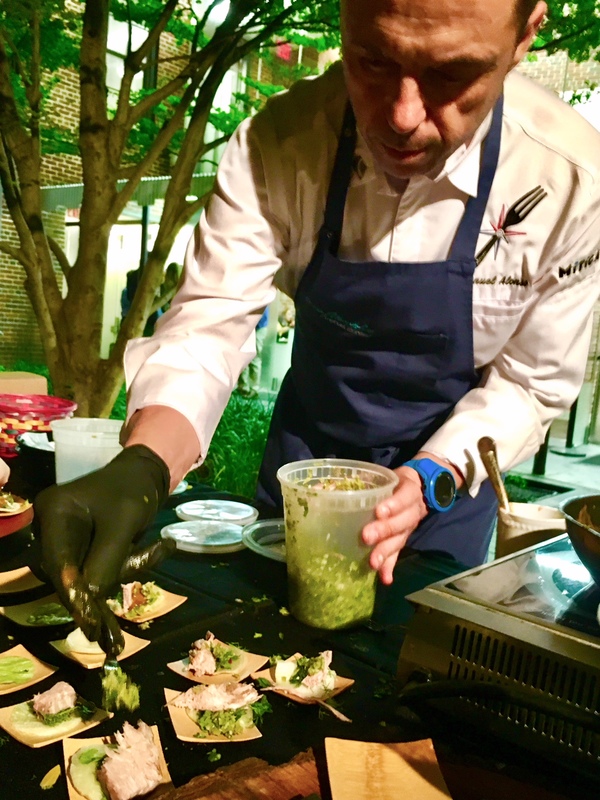 Chef Manuel Alonso adds the final trimmings to his culinary creations.

Chef Andres Morataya ignites the dish.

Final touches are added to Chef Debbie's creations with the assistance of Chef Mikel de Luis of aMona Event's staff.

Scrumptious ceviche with chicharrones (fried pork rinds) by Chef Debbie Fadul.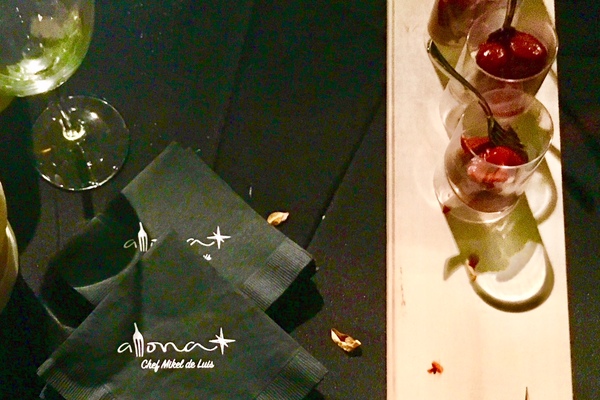 aMona Events napkins frame Chef David Garcia's sensational octopus appetizer.
Photo Credit: BWW-Staff, Cindy Sibilsky
O