Review: PANAMA The Musical, The First Original English Musical With An All Panamanian Cast!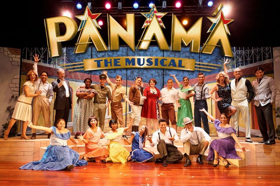 If you're visiting Panama in early 2018, there's no escaping Panama The Musical, hailed as "A Roaring Twenties Musical with a Latin heartbeat," debuting February 1-March 4, 2018, with the World Premiere on February 22nd. Even before landing, COPA Airlines, a sponsor, plays a dazzling trailer - the first tease. Then, on a walk through the terminal, stroll through the Casco Viejo or expedition to the famous Canal, posters featuring the Panamanian cast greet you everywhere, for #VisitPanama is also a sponsor. The Minister of Tourism, Gustavo Him, allocated a whopping $50,000 to support the marketing of this spectacle. And, if you happen to be staying at the chic, modern AC Hotel by Marriott in the financial district, another sponsor, you'll be welcomed by the smiling faces of the show's lovers, Tito and Melody. Reviewing the show for Broadway World - a first for both Panama and the publication's global reach - made not one, but four national news outlets and radio too. Even the Vice President herself, Isabel de Saint Malo de Alvarado, gave a heartfelt and rousing speech at the World Premiere, in English, which is historically significant, since it is not customary for politicians to deliver speeches in any other language than their native tongue in the homeland. All of these high profile sponsors and supporters have rallied behind the Panama The Musical and vocalized their belief in its value to the Nation. So what's the big deal? New musicals are a common occurrence. But for Panama, this is a first!
Panama The Musical is the very first original musical in English featuring an all Panamanian cast, director, musical director and choreographer, with a world class team (including David Warrack and Robert McQueen) to shape it and bring it to life. The show was conceived, written and produced by husband and wife team, Rob Brown and Yolanda van der Kolk-Brown, Canadian expats from who found their way to Panama over a decade ago and fell head over heels with this little slice of paradise. Along with their niece, Tara van der Kolk (it's truly a family affair) this musical is their love letter and an attempt to share the diversity and splendor of what Vice President de Saint Malo de Alvarado calls "a melting pot," and says the musical is "...so linked to what Panama really is." She hopes it will "...show how we can connect and serve the world." The musical has been confirmed to perform annually at least through 2020 and has been created for tourists, expats, and native Panamanians alike to enjoy, with the greater goal of international touring and eventually Broadway, to showcase Panamanian stories and talent.
What makes the show so utterly charming and endearing is that it embodies the Panamanian spirit - positive, humble and sincere, with plenty of Latin spice in all the right places! Panama The Musical tells the story of the de Luna family: Melody, the dreamy and beautiful ingenue, played by sultry chanteuse Alexandra Cordoba, in her first leading role as a "triple threat," Harmony, the feisty, plucky little sister, played by rising star Yael Danon (who is being granted an opportunity to study in NYC from a scholarship from the Rotary Club of Playa Coronado) also in her first lead character outside of "Tree #37" type ensemble roles, and Mama Lacy, played by one of Panama's national treasures of stage, screen and music, Gaby Gnazzo. The de Luna's lost their patriarch and have to fend for themselves and deal with the gambling debt he left behind, just as Melody and her lover, Tito, portrayed by the dashing, sensitive Julio Barsallo, both songwriters, have won the RCA contest and been awarded a trip to NYC to record. Gnazzo's versatile voice and emotional depth are heard in the mournful "Let Go," while the warmth and affection between the lovers and Harmony can be felt in "Shooting Star."
Tito must go to NYC while Melody stays to help the family sort out the debt with the villainous cabaret owner, Eddie "Machete" Blades, played by seasoned Panamanian actor, Randy Dominguez with such sleaze and "razzle dazzle" that in his "King of the Jungle" one is reminded of Chicago's Billy Flynn at his most conniving and despicable. For what he wants isn't the money, it's the enchanting Melody for his bride. While Tito, lonely and stuck in NYC, billed as an exotic "Latin Lover," a Ricky Ricardo-esque stereotype, pines for Melody in their tender intercontinental duet, "Mooning," the de Lunas, frantic to reverse their fate, are aided by Detective Lorenzo, enacted with sweet sincerity by internationally experienced actor, teacher and musician, Leonte Bordanea whose "Hero in Me" song demonstrates his range and strength, and Yavida, the Santeria Priestess and Guardian Angel of the Zone, whose songs "Reality Stings," which shows the roughness of life in Panama City and "Joy and Celebration, " a tribute to the positivity of the Panamanian spirit, are brought to life by sensual and soulful powerhouse, Emely Myles, in her first major role on stage, to foil Eddie's unwelcomed intentions. The vibrancy of Panama is encompassed in the showstopper "Panama Caliente," and of course, all's well in the end. This is a musical after all!
The most distinctive and exciting elements of the show are the songs. For that applause is due to the van der Kolk women, as well as David Warrack, serving as music supervisor, co-arranger, co-orchestrator and additional songs writer, and Grammy-Award winning Panamanian musical savant - pianist, composer, conductor, and arranger, Dino Nugent. The band, including 5 time Grammy winner Carlos Ubarte on sax, blends Latin grooves and Big Band blasts, intermixed with traditional musical theater styles, and sounded like a full orchestra rather than a 7 piece group. Renowned choreographer "Rigo" Rodriguez ensured the music has the moves to match and authentically portrayed the dances of the era with major Latin flair, supported by the capable limbs of Panama's top dancers who comprised the ensemble. Of course, much of a show's success lies in what is unseen by the audience, and for that credit is due to its director, Monalisa Arias, whose extensive work on Broadway musicals in Panama and experience in the U.S. gave her the ability to create the crucial safe space for the performers to explore the uncharted terrain of developing a new musical, with all of the cuts and rewrites, in their secondary language. The cast, from seasoned veterans to self-proclaimed "newbies," all expressed that this journey has been both their biggest challenge and the most rewarding experience of their careers. May this major first for Panama not be the last and may Panama The Musical give the world's stage a glimpse of what Panama has to offer because...it's caliente!
For more information, visit: www.panamathemusical.com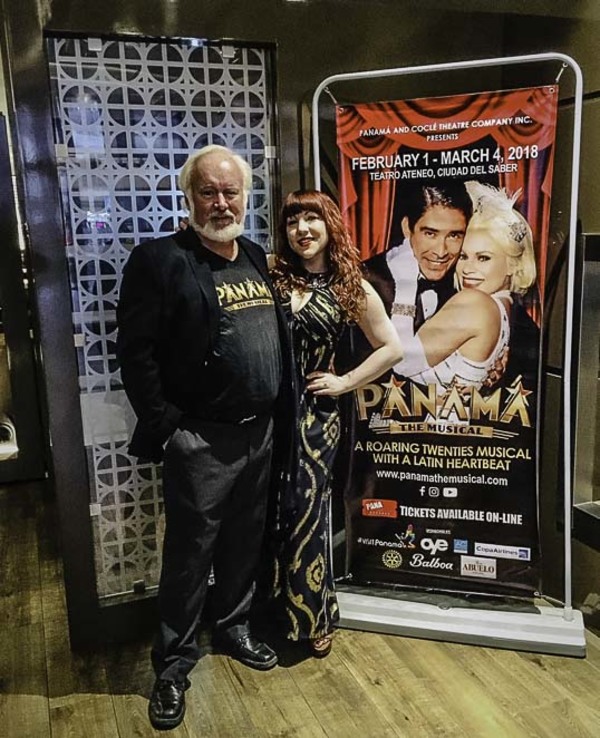 T. Rob Brown (Producer/Marketing Director and Co-Writer), Cindy Sibilsky (Broadway World Reviewer) at AC Hotel by Marriott

Cindy Sibilsky at Sightseeing "Hop on Hop Off" bus on the way to the premiere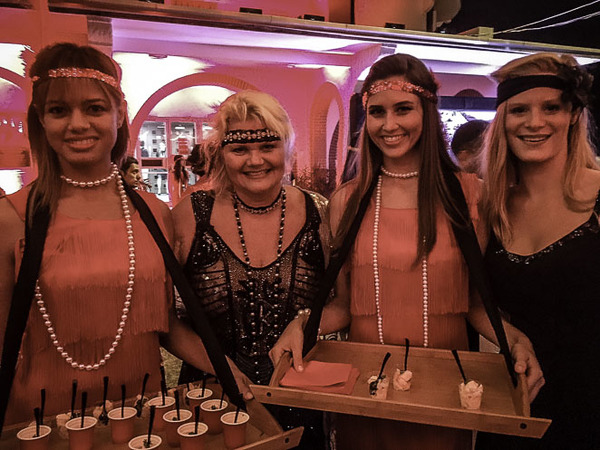 Yolanda van der Kolk-Brown, Tara van der Kolk (book and song writers) and flapper hostesses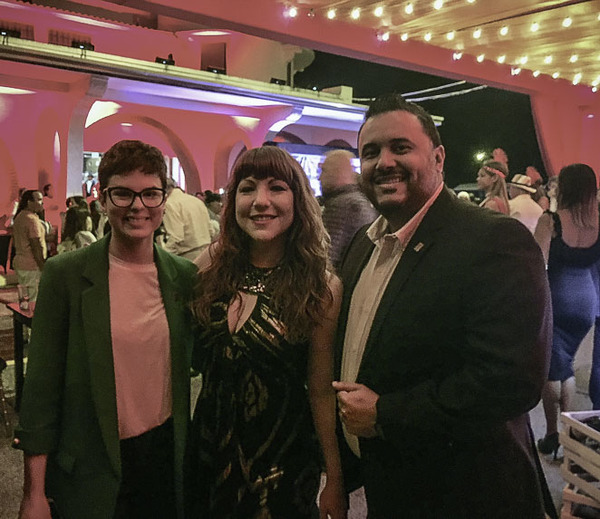 AC Hotel Panama City by Marriott Concierge, Ana Lucia Arciniegas, Cindy Sibilsky, and Hotel Director of Sales, Juan Quiros

Juliet de Roy, Cindy Sibilsky and Nikki de Roy (Panamanian actress and producers)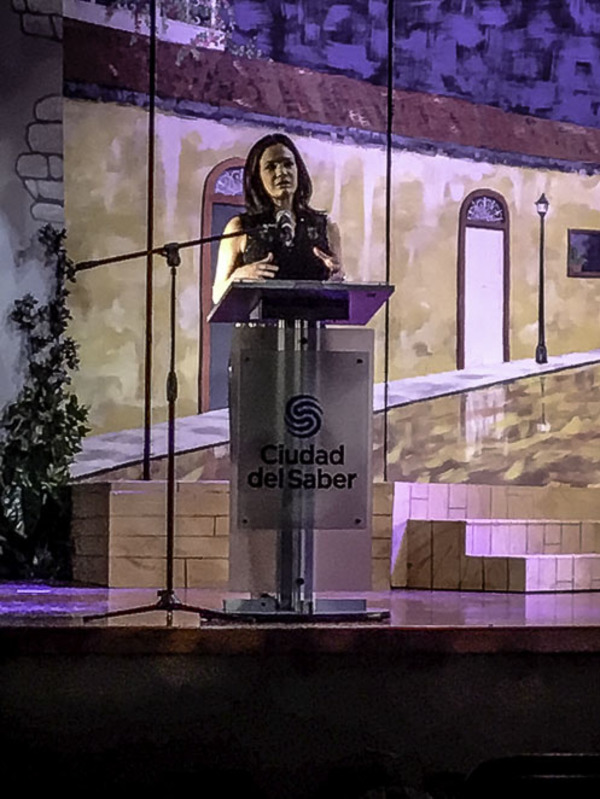 Vice President Isabel de Saint Malo de Alvarado giving her opening speech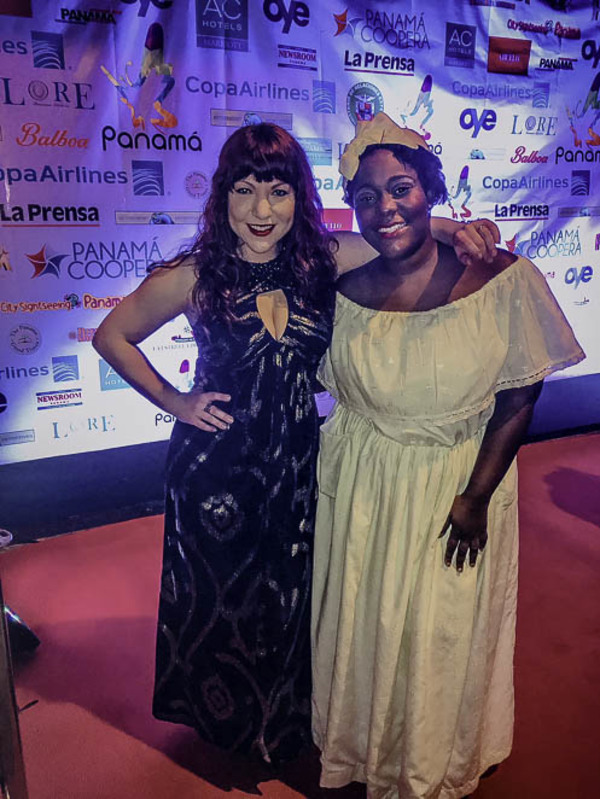 Cindy Sibilsky and Emely Myles (plays the role of "Yavida")

Randy Dominguez (role of "Eddie Machete"), Julio Barsallo (role of "Tito"), Alexandra Cordoba (role of "Melody"), Cindy Sibilsky, Director Monalisa Arias, Emely Myles (role of "Yavida"), HB Twohy (role of RCA Bossman)

Cindy Sibilsky, Yael Dannon (role of "Harmony"), Gaby Gnazzo (role of "Mama Lacy de Luna") and Leonte Bordanea (role of "Detective Lorenzo")

Tara Van Der Kolk, Yolanda van der Kolk-Brown, T. Rob Brown, Cindy Sibilsky

Jorge Arosemena - Director of Ciudad del Saber, T. Rob Brown