SHADES OF ROMANCE at Coachella Valley Repertory
Timothy Connell and James Lollowell virtually alive at CVRep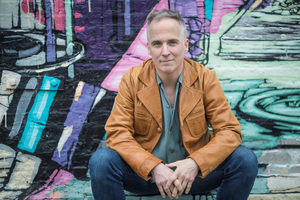 COACHELLA VALLEY REPERTORY PRESENTS "SHADES OF ROMANCE" WITH Timothy Connell
(November 25, 2020 - Cathedral City, CA) Coachella Valley Repertory's Theatre Thursday's presents "Shades of Romance" with Tim Connell. On Thursday, December 3, 2020 at 6:00pm PST, Tim Connell, accompanied by Musical Director James Followell, will return to CVRep virtually, and perform Shades of Romance. This show is a musical journey through the emotional colors that romance ignites. Attendees will be immersed with Skylark, My Foolish Heart, Superstar, I Am What I Am and American Tune. Attendees can register for this one-hour, free evening of music by visiting www.cvrep.org
Tim Connell was a part of CVRep's Summer of 2018 Cabaret series. Shades of Romance debuted in NYC in November of 2019 at the Triad. Connell made his critically acclaimed Carnegie Hall debut with the Mabel Mercer Foundation's All The Things You Are - A Celebration of Jerome Kern's Music in May of 2019. He also debuted at Jazz at the Lincoln Center at the Mabel Mercer Cabaret Convention's 30th Anniversary show in October 2019.
Based in New York City, Connell has been a working actor and performing artist for the past 37 years and holds a Masters in Applied Theatre. He has been a part of National Tours by playing roles like Mr. Simon Cray in The Mystery of Edwin Drood and playing Juan the Mariachi in the Broadway play Nick & Nora. Connell has played Harry Bright in the acclaimed play Mamma Mia! and more! Visit www.timconnell.net/
James Followell is a musical director, pianist, composer, and arranger living in Manhattan for more than 30 years. Working with Jerry Herman, Followell provided the vocal and piano arrangements for the musical revue, Showtune, which is in Mr. Herman's library of musical shows.
Performing across America and Europe in Carnegie Hall, Zankel Hall, Feinstein's 54 Below, Prince Edward Theater and Vaudeville Theater (London), Savannah Music Festival, McCallum Theater (Palm Desert), and The Historic Asolo Theater in Sarasota.
Followell has worked with a long roster of Broadway and Cabaret performers including KT Sullivan, Lee Roy Reams, Judy Blazer, Martin Vidnovic, Melissa Errico, Geroge Dvorsky, Malcom Gets, Cady Huffman, Jim Walton, Anna Bergman and Brent Barrett.
CVRep is offering Theatre Thursdays, a weekly, virtual entertaining and learning opportunity to continue their mission of providing educational, entertaining and thought-provoking presentations. All presentations are offered via Zoom to observe social distancing guidelines. Information on upcoming presentations can be found on the website, and registration links are included. Visit cvrep.org.
Coachella Valley Repertory (CVRep) is an equity theater company, designated a Small Professional Theatre under the Actors' Equity Association. CVRep is a 501(c)(3) non-profit organization whose mission is to provide thought provoking theatre of substance.