Review: JIMMY BUFFETT'S ESCAPE TO MARGARITAVILLE at Desert Theatreworks is a Rollicking Good Time
Playing Thursdays through Sundays, until April 2nd
Desert Theatreworks (DTW) showcases its talented cadre of singers, dancers, and comedic actors in its current production, the musical comedy Jimmy Buffett'S ESCAPE TO MARGARITAVILLE.
Director Lance Phillips and musical director Douglas Wilson have done a superb job with this jukebox musical that features Buffett's tunes. A cast of twenty dances enthusiastically to excellent original choreography by rising Coachella Valley star Anthony Nannini, and impressively pulls off both sweet folk rock songs and belted numbers. The performances and strong visuals from the designers result in an enjoyable, cheerful evening, with numerous stand-out moments.
I am not a huge fan of jukebox musicals because they often provide only a minimal story as a frame for song and dance pieces. ESCAPE TO MARGARITAVILLE, however, which ran for a short period on Broadway and in a national tour, has a reasonably substantial book (by Greg Garcia and Mike O'Malley), as well as some great songs (with music and lyrics, unsurprisingly, by Jimmy Buffett). Because of multiple subplots, the secondary characters get to showcase their considerable vocal chops. Several of these cast members are new to DTW, and they and the veterans provided some "Oh, wow!" moments, which I mean in a very positive sense.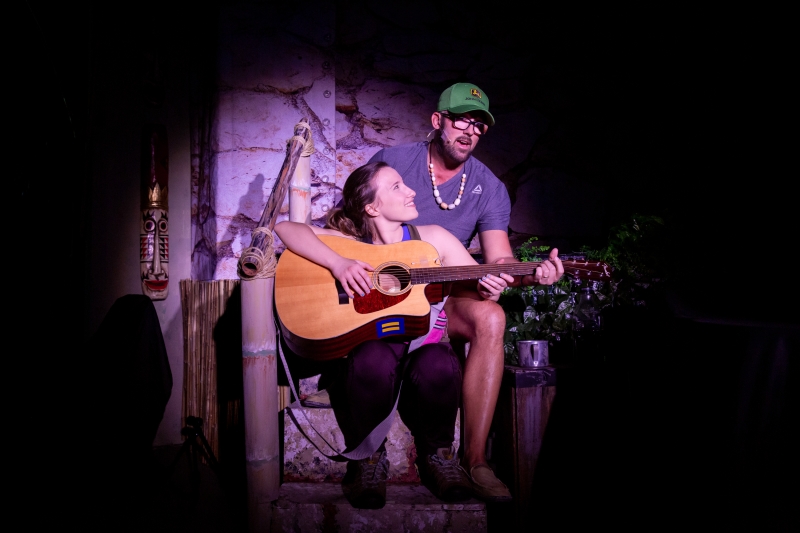 The story of ESCAPE TO MARGARITAVILLE focuses primarily on two young women, one a carefree lady who is about to be married to a controlling man who constantly criticizes her weight. She and her straight-laced friend take a pre-wedding trip to a resort in the Caribbean, where some of the employees and hanger-ons are trying to escape crowds or bad weather, and others are trying to escape bad memories. Both women find romance, but everyone agrees that what happens in Margaritaville is supposed to stay in Margaritaville. Or should it?
It took me awhile to recognize veteran actor Shel Safir, who was heavily disguised in an eye patch and a long-haired wig, looking a whole lot like Jeff Bridges in the 2010 remake of TRUE GRIT. His excellent characterization was completely different from any of the previous roles in which I've seen him. Two other DTW veterans, Cydney Krone (Rachel) and Stephanie Jauregui (Tammy), are also musical theatre standouts with top-notch comic chops, and both are fabulous in this production. One standout in the ensemble is DTW veteran Jessica Schuler, who has blossomed into a fabulous belter. She owned the stage during her solo.
The two male leads, Sonny Von Cleveland (Brick) and Steve Knill (Tully) are making their DTW on-stage debuts. Sonny usually shows up in DTW's programs as the production photographer. Sonny doesn't look like the usual romantic lead, even though he is handsome in a wild way, but doggone, he's good in his part. Sporting tattoos on his shaved head and his face (I don't know if all of the tats are real or if any are temporary), as well as a patch of hair shaped like a Mohawk, his appearance is a testament to the teenaged Tess Phillips' hair and makeup design.
Steve Knill, who appeared on season 17 of THE VOICE, where he was selected to be part of Kelly Clarkson's team, is a professional hoping to break into musical theatre. His performance was mixed. Steve has a beautiful, folk rock singing style, and great stage presence, and he moves well. In a sung-through musical, that might be enough, but ESCAPE TO MARGARITAVILLE is a dialogue-heavy show. I thought that Steve spoke his lines too quickly and without sufficient inflection, and he did not sufficiently change his facial expressions; his acting fell short of the expertise he demonstrated in his vocals.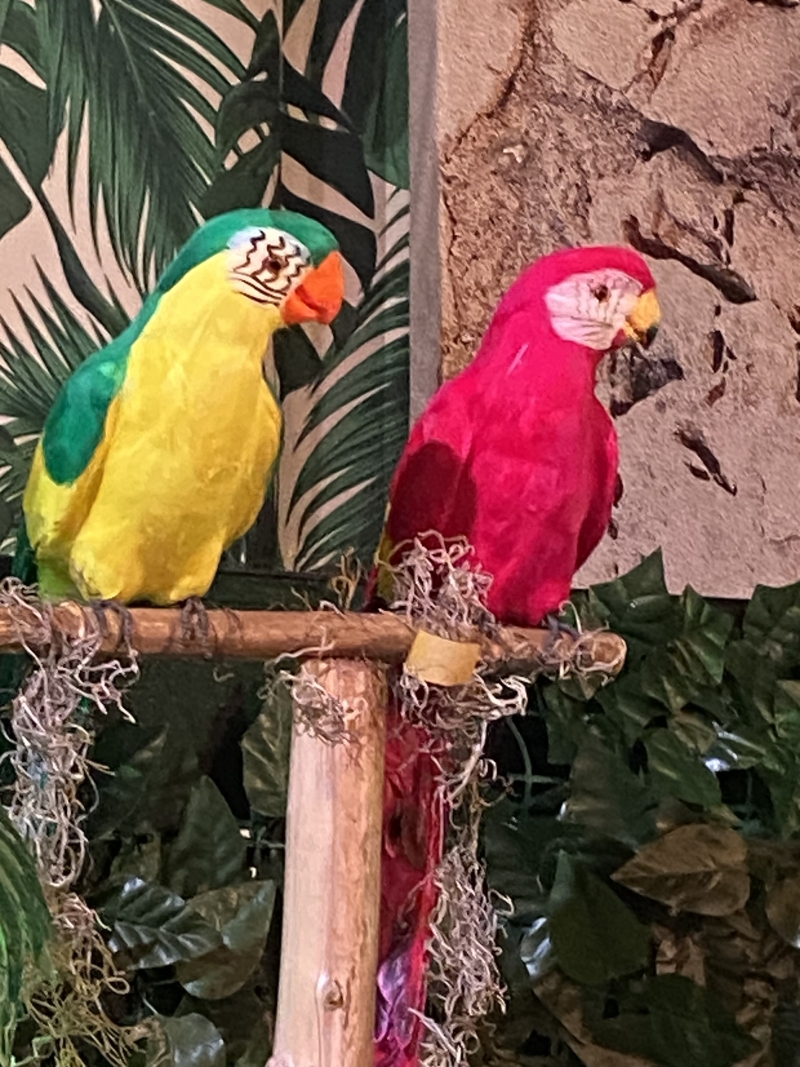 Regarding the technical aspects of the show, the set design nearly blew me away without the help of a Caribbean hurricane. Matthew McLean, who was formerly part of Desert Rose Playhouse's executive team, used to exercise his talents there, until that company closed. Desert Rose's unfortunate demise has apparently turned into DTW's gain, because Matthew's set for ESCAPE TO MARGARITAVILLE is extraordinary, both in its creativity and in its detail. My favorite parts of the set are on stage left, where fake flamingoes and parrots roost. A playground slide that goes from the stage to the floor is used for some of the actor exits. Projections of the sea and an active volcano at the rear of the stage contribute to the set's verisimilitude and detail. I am not sure whether the single-engine plane is considered a prop (groan) or part of the set, but it is fabulous.
There is a great deal to like in ESCAPE TO MARGARITAVILE, and the audience members seemed to be having a rollicking good time. In an effort to keep this review to a reasonable length, I will not describe everyone's work here. This is NOT an implication that I did not like their performances or their technical contributions. For more details about the cast, crew, and creatives, go to https://dpb-web.instantencore.com/program/42692/page/54575?cid=5206956. The most important takeaway from this review is that DTW's production is well worth seeing - it's a LOT of fun.
Jimmy Buffett'S ESCAPE TO MARGARITAVILLE will run through Sunday, April 2, 2023, with performances Thursdays through Sundays. Performances begin at 7:30 p.m. except for those on Sundays, which take place at 2:00 p.m. Check the ticket purchase information at www.dtworks.org for prices or call (760) 980-1455. All performances take place at the Indio Performing Arts Center, 45175 Fargo Street, Indio, CA 92201. In partnership with C4 Communication, DTW will have ASL Interpreters at the Saturday, April 1st performance.
The rest of the 2022-23 season consists of:
THE PLAY THAT GOES WRONG (4/14/23-4/30/23)
THE LAST FIVE YEARS (5/12/23-5/21/23)
PHOTO CREDIT: Tara Howard Photography. (Fake parrot photo by Audrey Liebross).