BWW Review: Desert Rose's CHRISTMAS WITH THE CRAWFORDS is a Hilarious Musical Confection with a Terrific Cast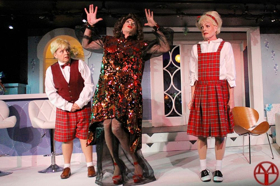 Desert Rose Playhouse, the Coachella Valley's primary LGBTQIA theatrical venue, is not afraid to push the envelope, especially in pursuit of laughs. Its latest production, CHRISTMAS WITH THE CRAWFORDS, is a juke box musical drag show, with an uproarious combination of fine singing, acting and dancing; ridiculous jokes; sarcasm; over-the-top costumes; and sophisticated set design that itself becomes the butt of humor.
The story, such as it is, involves Hollywood star Joan Crawford (Kam Sisco, who also directed), looking to jump start her flagging career by granting a radio interview to gossip columnist Hedda Hopper (Jacob Samples), to take place Christmas Eve in Ms. Crawford's home, featuring her and her two oldest children, Christina (Larry Martin) and Christopher (Ruth Braun). The problem is that "Mommie Dearest," as she insists the kids call her, is not exactly the world's best mother, and the family keeps giving that secret away as the broadcast progresses. Meanwhile, Gary Cooper is hosting a Christmas bash next door, and an array of female Hollywood stars, played by Stan Jenson, Ed Lefkowitz, Tim McIntosh, and Anthony Nannini, drop in accidentally while looking for the party. Of course, they insist on performing when they realize they've walked in on Hedda Hopper's program.
I have performed with three of the cast members and previously seen all but one onstage. I know what fine singers, actors, and dancers they are. What I didn't know is that they could be dressed, bewigged, and made up so thoroughly not only that they would look like women (except for an occasional five o'clock shadow that adds to the goofiness) but, in some cases, I had to consult the program to see who they were. Jacob Samples, who usually wears a beard, but who shaved it for the show, is especially unrecognizable. The performers' impersonations of the characters they play are also spot on.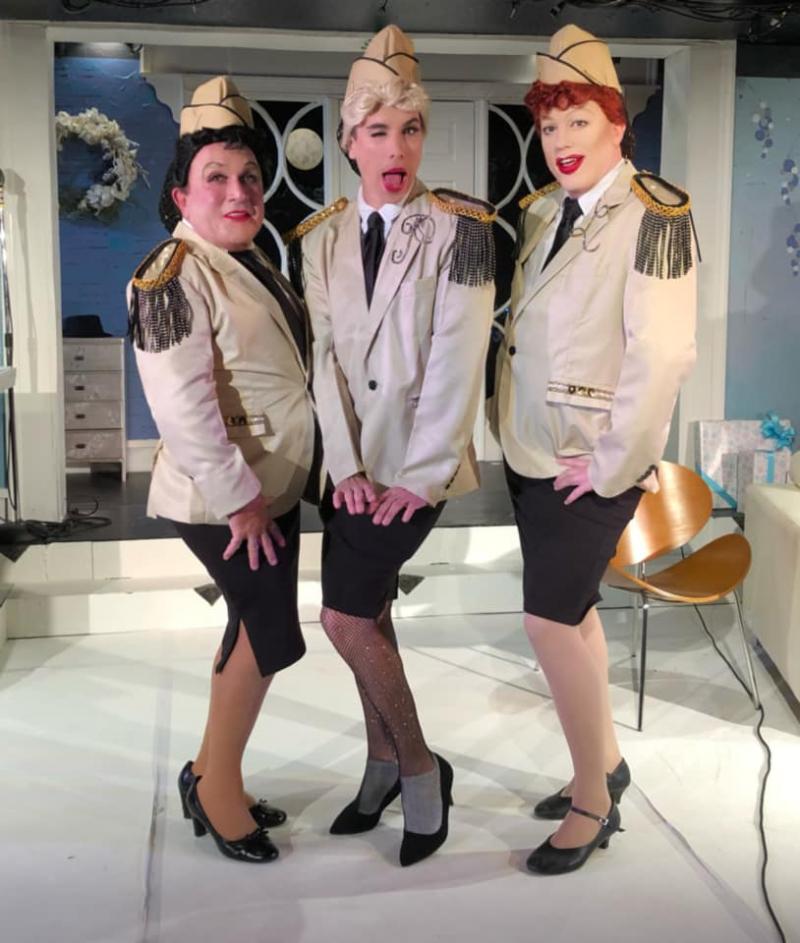 The humor in Mark Sargeant's script is clever, but much of it works only because the whole cast is so adept. For example, the three Andrews sisters (Anthony Nannini, Stan Jenson, and Tim McIntosh) speak in sequences, finishing each other's sentences. I assume it was very difficult to master the timing, but they did. I also loved the bit of stage business where two characters air kiss, from about five feet apart. My favorite, however, was Ed Lefkowitz's musical number involving a fruit basket about which I'm not going to say more; I don't want to spoil the joke.
Bruce Weber's costume designs are fabulous. I found myself gawking at Joan's platform stilettos. How Kam Cisco moves in those things is beyond me. Joan's red dress with wi-i-i-de shoulder pads leads to a snarky joke. I love the Andrews sisters military costumes, with snoods. The wigs, designed by Toni Molano, are also extraordinary.
Since the venue does not have a curtain, the audience members can study the details of Bruce Weber's amazing set, as soon as they walk in. Desert Rose often has top-notch sets, but what makes this one especially noteworthy is the amount of realistic detail for a production that is essentially a cartoon. The set, signifying Ms. Crawford's living room, complete with a bar that she apparently employs too liberally, is decorated in aqua and cream tones. The Christmas tree is covered with fake snow, all but hiding the greenery. The furniture is primarily modern, although a painting of Joan hangs above a traditional wooden chest. Other than a few wood items to break the starkness, liberal amounts of metal and glass create a cold feeling. The floor is white and either hardwood or tile, unbroken by any rugs. Not only does the room's starkness lead to several jokes, but it serves as a metaphor for Ms. Crawford's life - the house, like the "perfect" children who live within, are all props.
Although CHRISTMAS WITH THE CRAWFORDS does not duck the matter of Joan Crawford's apparent abuse of her children, the scenes are so over-the-top that the laughs abound, similarly to the comic relief generated by the reprehensible Thenardiers in LES MISERABLES. The script softens the effect of the abuse by portraying the children as unbowed, with Christina being especially feisty. In fact, she and her brother feed details about their mistreatment to Hedda Hopper when their mother is out of the room.
CHRISTMAS WITH THE CRAWFORDS, despite the family dysfunction, provides a lot of laughs and a fun, if shallow, evening. With all the sadness in the real world, I was glad to attend this piece of impressively presented fluff. I had a darned good time, and left smiling. If you're looking for Shakespeare, this isn't it. But, if you're tired of tearjerker Christmas stories and you want something silly, Desert Rose has it.
The rest of the production staff consists of Robbie Wayne (producer); Kam Sisco and Robbie Wayne (sound design); Phil Murphy (lighting design); Jaci Davis (music director); Daryl J. Roth (choreography); Duke Core (stage manager and lights); Adrian Niculescu (sound); Jennifer Stowe, Bruce Weber, and Ruth Braun (costume construction); Bruce Weber, Matthew McLean, and Duke Core (set construction); and Bruce Weber and Kam Sisco (props).
CHRISTMAS WITH THE CRAWFORDS will run through December 23, 2018. Tickets can be ordered online at www.desertroseplayhouse.org or by calling the box office at 760-202-3000. There is no service charge for Internet or phone orders. Performances are held on some Thursday evenings at 7 PM, at 8 PM Friday and Saturday evenings, and at 2 PM Sundays. Tickets are $37 for Friday and Saturday performances and $34 for Thursday evenings and Sunday matinees.
The Desert Rose Playhouse is located just north of Frank Sinatra Boulevard, near the Emperor Buffet, at 69-620 Highway 111, Rancho Mirage, CA 92270. The Box Office opens at 4 p.m. before evening performances and at noon on Sundays. A new bar in the lobby, operated by Streetbar, a Palms Springs watering hole, sells libations before the show and during intermission for the Friday and Saturday performances.
Desert Rose supports the local community, such as by having donated $84,000 worth of tickets to the Desert AIDS project. As a not-for-profit public benefit corporation, Desert Rose is required to raise a third of its annual budget from public support, as opposed to ticket sales. Donations are very welcome. Please mail checks to Desert Rose Productions, Inc., P.O. Box 2256, Cathedral City, CA 92235. To submit donations through Paypal, click the link located on the Desert Rose Web site at www.desertroseplayhouse.org/Pages/Sponsorship.aspx.
The rest of Desert Rose's 2018-19 season consists of:
LOOPED, by Matthew Lombardo (January 18 - February 10, 2019).
During the Summer of 1965, an inebriated Tallulah Bankhead entered a Los Angeles recording studio in an effort to re-record a few lines of dialogue from her final film. This dramatic comedy involves her battle of wills with film editor Danny Miller, a conservative man who guards his own deep secret.
THE VIEW UPSTAIRS, by Max Vernon (March 8 - March 31, 2019).
This new hit musical tells the true story of the famous New Orleans Upstairs Lounge.

PAGEANT!, by Albert Evans, Bill Russell, and Frank Kelly (April 19 - May 12, 2019).
Who will reign as Miss Glamouresse? The audience will decide.