Review: Shaking That Post-Holiday Slump with SCHOOL OF ROCK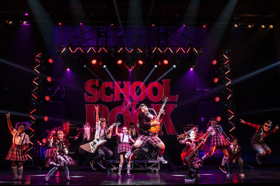 Still shaking off the holidays? Well look no further than to rock into the new year with SCHOOL OF ROCK at the Dr. Phillips Center. Based off the 2003 movie starring Jack Black, this musical features new music by Andrew Lloyd Webber. It plays like a rock concert that is fun for both families and adults with a talented cast that delights all.
Much of the plot from the movie remains in tact. We follow Dewey, a loser who refuses to give up his dream of becoming a rock star. Desperate for money, he takes on the identity of his friend, Ned, to become a substitute teacher at a stuck up prep school. Dewey sticks out like a sore thumb, yet manages to make it work with the kids. He finds that the students have music as a common interest and plots to train them to be the rockstars that he needs.
Rob Colletti plays Dewey and seemingly embodies the character. He is comically on point as Dewey stumbles through his life. It was not surprising to learn that Colletti played Elder Cunningham in BOOK OF MORMON. Both characters have this charm about them that causes audiences to get behind the character. Colletti can carry the show and is believable with his rock obsession. Despite being lazy, Dewey is a good person and his juvenile nature allows him to connect with the students. He is able to see their strengths and understand what motivates them.
The overall lesson that is beaten over your head: It is important to listen to children and not just project your ideals onto them. There are a number of songs that reiterate this message, namely "If Only You Would Listen." Other great catchy tunes include "You're in the Band" when Dewey assigns each kid in the class a role and "Stick It to the Man," which is the driving anthem for the show.
With a show like this, you expect all the kids to be really good singers and dancers. They do not disappoint. Joann Hunter's choreography fits the young cast well, with high energy, but enough simplicity that it easy for the cast to perform it well. They all genuinely look like they are having fun on stage, which channels to the audience. At times, it felt like a rock concert with the audience screaming and fist pumping. Young audience members will be just as entertained as the adults.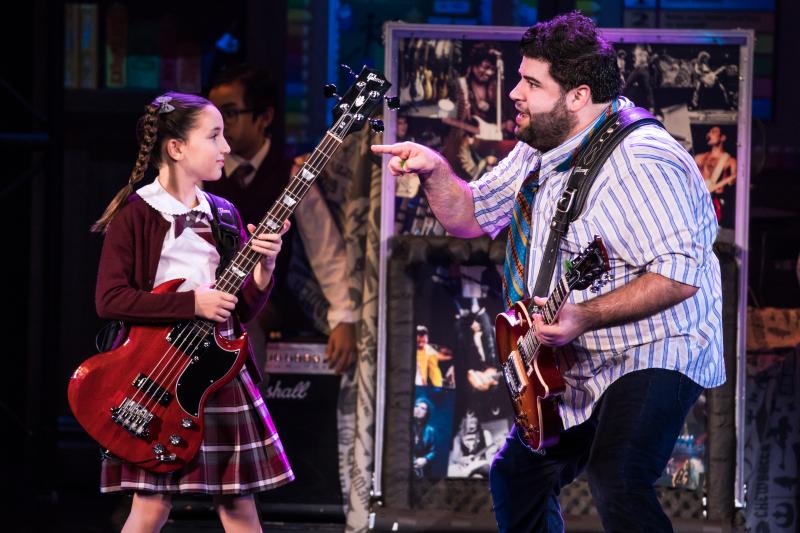 More impressively is the fact that there are a few kids in the show who play their instruments live. Katie played by Theodora Silverman plays the bass and has the attitude to match. Though the bass looks bigger than her, she commands the instrument like a rock goddess. Lawrence "on the keys" played by Theo Mitchell-Penner is definitely a musician who appreciates and feels the music. Freddy played by Gilberto Moretti-Hamilton is an amazing drummer with boundless energy that matches the pace of the show. And Zack on guitar played by Phoenix Schuman has amazing skills and fast fingers.
Aside from the musicians other stand out performances include Ava Briglia, who plays Summer. Summer is a type A, bossy, know-it-all, young lady who is very well cast in her role. You can just see her wanting to do what's right. On the opposite spectrum is Tomika played by Gianna Harris. Tomika is the newest student at Horace Green. She is so shy that she mostly stays silent. Without spoilers, Harris has an amazing voice that sent chills down my spine.
Lexie Dorsett Sharp plays Principal Rosalie. She is a strong, disciplined female character that crumbles into an unnecessarily awkward relationship with Dewey. My guess that this relationship was the only way to resolve the show, but the lack of chemistry between the pair felt forced.
Overall, this is an easy musical to follow along with, which makes it perfect for some light entertainment after a busy week. SCHOOL OF ROCK runs until December 31st. For tickets and more information visit https://www.drphillipscenter.org/events/tickets/2017/school-of-rock-the-musical.
Photo credits - Header: The cast of the School of Rock Tour. © Matthew Murphy; Inset - Theodora Silverman and Rob Colletti in the School of Rock Tour. © Matthew Murphy.