Review: Central Florida Debut of DADDY LONG LEGS at Winter Park Playhouse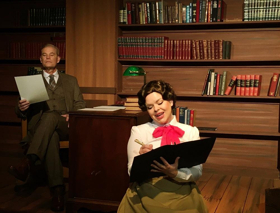 DADDY LONG LEGS makes its Central Florida debut at Winter Park Playhouse. This charming newish musical is based on a novel by Jean Webster with music and lyrics by Paul Gordon. I found the music absolutely stunning. The two-person cast executed the piece beautifully in such a moving way; however, I got hung up on the plot holes and my jaded view of the world. Still, I left thinking, "I wish I could see this again," because of the music and cast.
DADDY LONG LEGS tells the story of orphan Jerusha Abbott. She is the oldest orphan in the John Grier Home, but she longs to be a famous writer. One day she receives word that a mysterious benefactor will fund her college education including expenses, so long as she writes him letters. Though he wishes to be known only as John Smith, she decides that name is too boring and re-names him Daddy Long Legs. Interestingly, most of the show's plot moves through Jerusha's letters. There are times when she is speaking of herself in third person, but it is because she is dictating her letters. Her observations of the world around her is telling of the way women perceived the world in the early 20th century. Despite her many letters, Daddy never writes her back and when there is correspondence it is through his "secretary."
Jerusha is wonderfully innocent, but she yearns for knowledge. Literary lovers will thoroughly enjoy this musical as it weaves in so many different titles and themes from the century into this world. She is smart, witty, but also desperate for validation. As Jerusha, Hannah Laird felt perfect for the role. Her mixed lyrical and belt voice beamed of youthful joy. She's different than a Jo in LITTLE WOMEN in that she is not as astonishing, but she is not pitiful either.
The music aspect of DADDY LONG LEGS, was hands down the best musical that I've seen all year. Not only does Winter Park Playhouse, invest in live musicians, but their musicians are so talented that it sounds like a full orchestra complete with string and winds, but it's only five people.
There have been several songs circulating on my Spotify daily mix from DADDY LONG LEGS and it is great finally hearing it in context. I have to say I love it. "The Color of Your Eyes" is such a beautiful duet and "The Secret of Happiness" lifts the heart. Megan McGinnis and Adelman Hancock appear on the original cast album. They are great, but nothing compares to hearing this cast live.
Larry Alexander is the stunningly charming Daddy Long Legs or as we later find out Jervis Pendleton. Vocally, Alexander is also perfect for the role. He is perplexing, demanding and just enough youth to make it work.
Together Liard and Alexander are a formidable duo whose voices blend well, despite not a lot of interaction with each other. It's easy to want both of their characters to fall in love despite the gaping age gap. Larry has a cabaret coming up on November 29th and 30th. So if you love his voice, be sure to catch that.
I got hung up on the character motivations. With the understanding that Jervis is a philanthropist, he selects Jerusha to receive this generous opportunity. Then instantly decides he loves her from one or two letters. It seemed a little strange. Many times, Jerusha refers to her benefactor as "daddy," which made my skin crawl. My mind went down the path of sugar daddy/ sugar baby relationships, which is extremely patronizing towards women. But another topic for another time.
The stage is an office study with an impressive amount of real books on shelves. Though there is no change in scenery, we are immersed in the story. The passage of time is marked by the number of letters tacked up. I don't believe Hannah leaves the stage at all and her costume changes are smoothly built in.
The audience loved this show. By the end, the woman next to me was weeping. This phenomenal cast with the amazing score is not to be missed. DADDY LONG LEGS runs at the Winter Park Playhouse November 17-18, 30 and December 1-17. For tickets and more information visit www.winterparkplayhouse.org.
Photo credit: Matt Cairns