BWW Interview: Cami Miller of ANNIE at Garden Theatre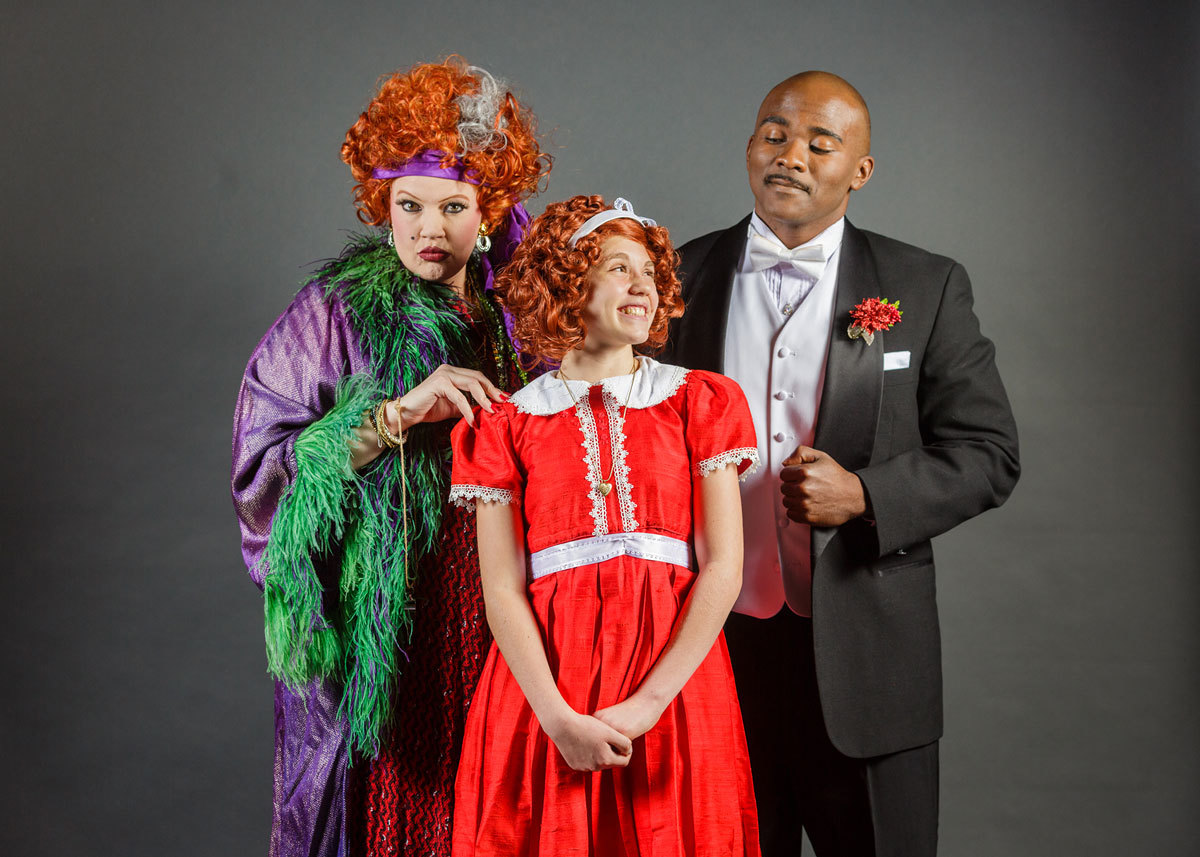 The iconic single spotlight cast onto the overturned bucket center stage at the Garden Theatre signifies the beginning to the iconic play that so many know well-"Annie." But it's the performers who embody the characters' true likeness that makes the show flow gracefully from one hard-knock to the next. One loathed (and yet equally beloved) scene-stealer is the duplicitous "mother of the year," Miss Hannigan-the antagonist to the show's title character Annie.
However, behind Miss Hannigan's wild sneer and the shimmering steel flask of "medicine" tucked away in her brassiere is the warm heart of Cami Miller, the actress portraying her in Garden Theatre's production of "Annie."
A veteran actress with deep theatrical roots spanning from local theater to the Walt Disney Company, the role of Miss Hannigan has been on a shortlist of Miller's dream roles since her childhood. Miller cites Carol Burnett's portrayal of Miss Hannigan in the 1982 film version of "Annie" as her primary source of inspiration.
"I was immediately drawn to Carol Burnett," Miller said. "I love character actresses and I think they have such an opportunity to make people laugh."
Although Miller manages to summon her inner-villain and brings the cruel and envious characteristics of Miss Hannigan to life, off-stage she is adored by her fellow cast mates. From the second she walks into the theater post-show and after stripping away Miss Hannigan's exuberant hair and make-up, the cast of orphan girls flood from the stage to envelope her in hugs. They chatter over one another about how caring Miller has been throughout the run and reminisce on their first rehearsals together.
"All of the kids in this show are wonderful backstage we laugh and tell stories," Miller said. "The entire cast has a mutual respect and kindness for one another ... It's just a family."
As many know, Miss Hannigan's cruel intentions against Annie ring loud and clear when her brother's devious plot conceived with his partner (portrayed by Blake Aburn and Grace Flaherty, respectively) surfaces in the second act. However, Miller includes a subtle insight into the stripped-down world of her character's internal conflict. When her brother's heinous intentions against Annie become clear, Miller's face flashes with uncertainty and doubt-however brief-over whether or not to carry-out the plan against Annie.
"Miss Hannigan has reasons why she's unhappy with her life and I wanted to show that," Miller said. "I spoke with Steve [Mackinnon] our director for a few hours to explain them with him and really explore and understand her character."
Miller somehow manages to exhibit the known villainous tendencies of Miss Hannigan while effortlessly weaving together relatable flaws and comedic relief in her performance. All of this comes together to showcase Miller's unique approach to her roles and her passion for being on stage.
"I love making people feel something, laugh, cry and taking them on that journey with us," Miller said. "Musical theater and being on stage will always be a part of me, and I give all credit to my parents and God for encouraging me to look into my passion."
"Annie"
Length: 2:30, including intermission
Where: Garden Theatre, 160 W. Plant St., Winter Garden
When: 8 p.m. Thursdays, Fridays and Monday, Dec. 11; 2 and 8 p.m. Saturdays, 2 p.m. Sundays; through Dec. 23
Cost: $18-$34
Call: 407-877-4736
Online: gardentheatre.org
McKenzie is a communications and editorial professional originally from the Pacific Northwest before she transplanted to Orlando, FL. She received her Bachelor's Degree in Digital (read more...)