BWW Review: SHREK THE MUSICAL at Omaha Community Playhouse is a Big, Bright, Beautiful Show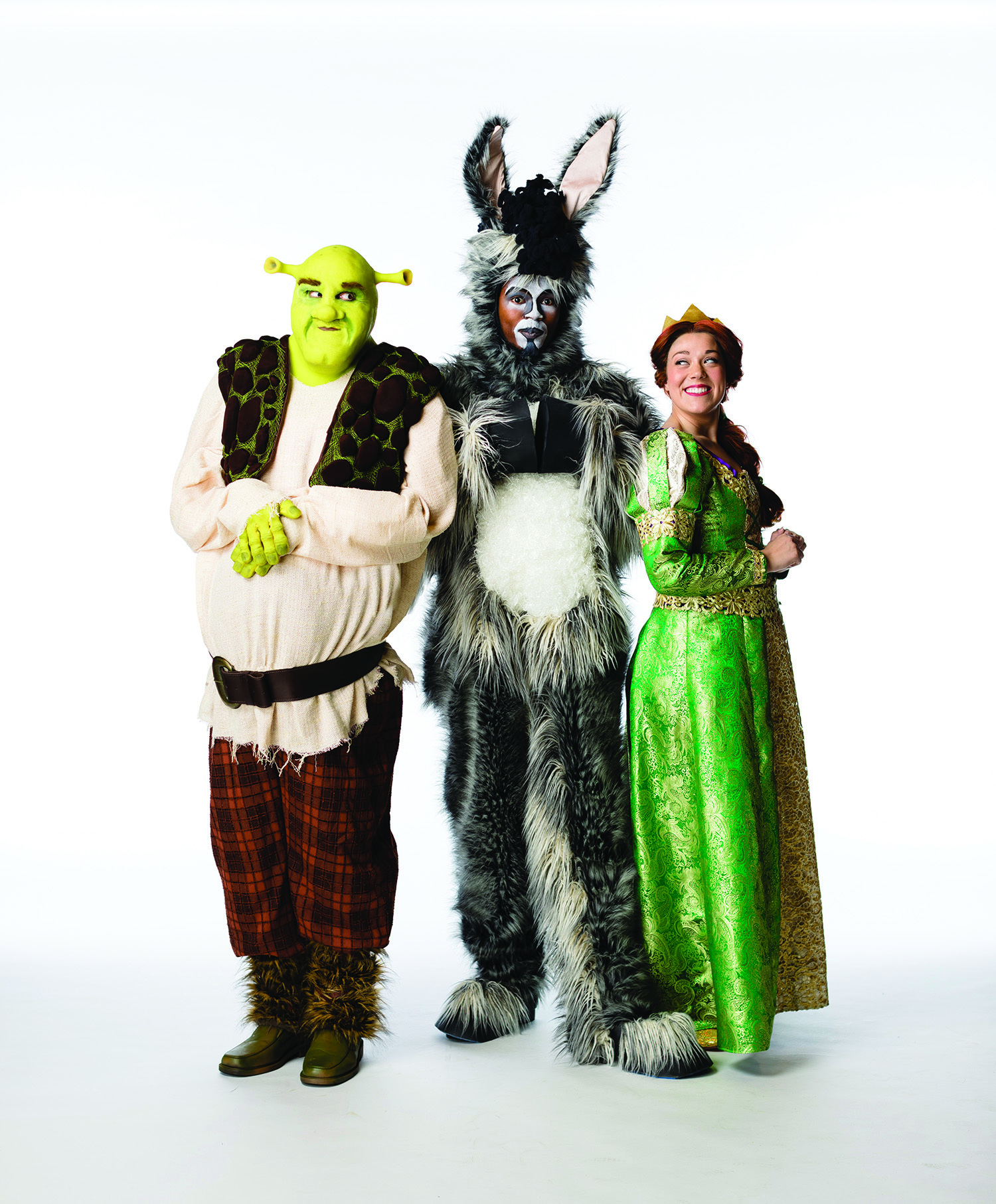 What's big and green and lives at the Omaha Community Playhouse? SHREK THE MUSICAL opens tonight and runs through October 14.
SHREK, based on the Dreamworks Animation motion picture and children's book by William Steig, was brought to Broadway in 2008. David Lindsay-Abaire, a Pulitzer Prize winning author, wrote the book and lyrics, and Jeanine Tesori (FUN HOME, CAROLINE, OR CHANGE) wrote the music. Tesori was nominated for a Tony for Best Original Score. Interestingly enough, Tesori won a Tony Award for best original score for FUN HOME, and Lisa Kron was a finalist for the Pulitzer Prize for Drama for FUN HOME. Both shows are concurrently running at the Omaha Community Playhouse this weekend. And while they definitely do not tell the same story, they were birthed by award winning creators.
Director Kimberly Faith Hickman has taken a sizable cast of varying ages and experience and crafted it into a fun, loud, energetic production that will not catch you sleeping. There is humor... a lot of humor. There are special effects. There is great music. And there are farts. There is so much to catch your eye and hold your interest. (No need to hold your breath. The farts are prerecorded.)
Most people will be familiar with the story of SHREK, but you may not be familiar with all of the tweaks in the musical version. Shrek, an ogre with a soft heart that belies his grouchy personality, has lived a secluded life in the swamp since his seventh birthday when his parents threw him out of their home. His swamp is invaded by a group of fairytale creatures deemed freaks and banished from the kingdom by Lord Farquaad. He sets off to the Kingdom of Duloc to insist that Farquaad remove the interlopers.
Fiona, like Rapunzel, is a beautiful princess under a curse, who has been isolated in a tower since she was seven. She dreams of being rescued by a handsome prince, but is no damsel in distress. This princess has sass, and is a little lacking in the waiting, the waiting, the waiting.
Lord Farquaad, short in stature and shorter on charm, orders Shrek to rescue the fair Fiona and bring her to him. With Fiona as his bride he can become king. Shrek and his new sidekick, Donkey, who sticks tighter than a tick, set off to rescue Fiona. First they need to get by a fire breathing diva of a dragon. Donkey may have just the right the answer.
The OCP cast is superb. I can't imagine anyone who would be a better Fiona than Mackenzie Dehmer. She conjures up Sutton Foster (who played the role on Broadway) with her spunky humor and incredible vocals. Shrek is wonderfully played by Steve Krambeck with warmth and likability, and a great voice to boot. I almost wish he weren't so completely enveloped by the Shrek head as I would have enjoyed seeing his facial expressions as he delivered some of the best lines. The Smith brothers are impressive as Donkey (Jordan) and Lord Farquaad (J. Isaiah). Both are masters of the stage in song, dance, and comedy.
Tesori's music is well served by the exceptional vocal ability of the principals. Chorus numbers thrill. The three Fionas, Mackenzie Dehmer, Emma Johnson, and Maddie Smith delight with beautiful harmony in their transitional number, "I Know It's Today." Krambeck, Dehmer, and Jordan Smith do the same in "Who I'd Be." Tesori's catchy compositions and Lindsay-Abaire's clever lyrics make for some fun songs that make you laugh and want to sing along at the same time.
Kerri Forrester, newcomer to the OCP, plays the Dragon and slays the song, "Forever." The power that comes from her is like a blast of fire. Killer vocals!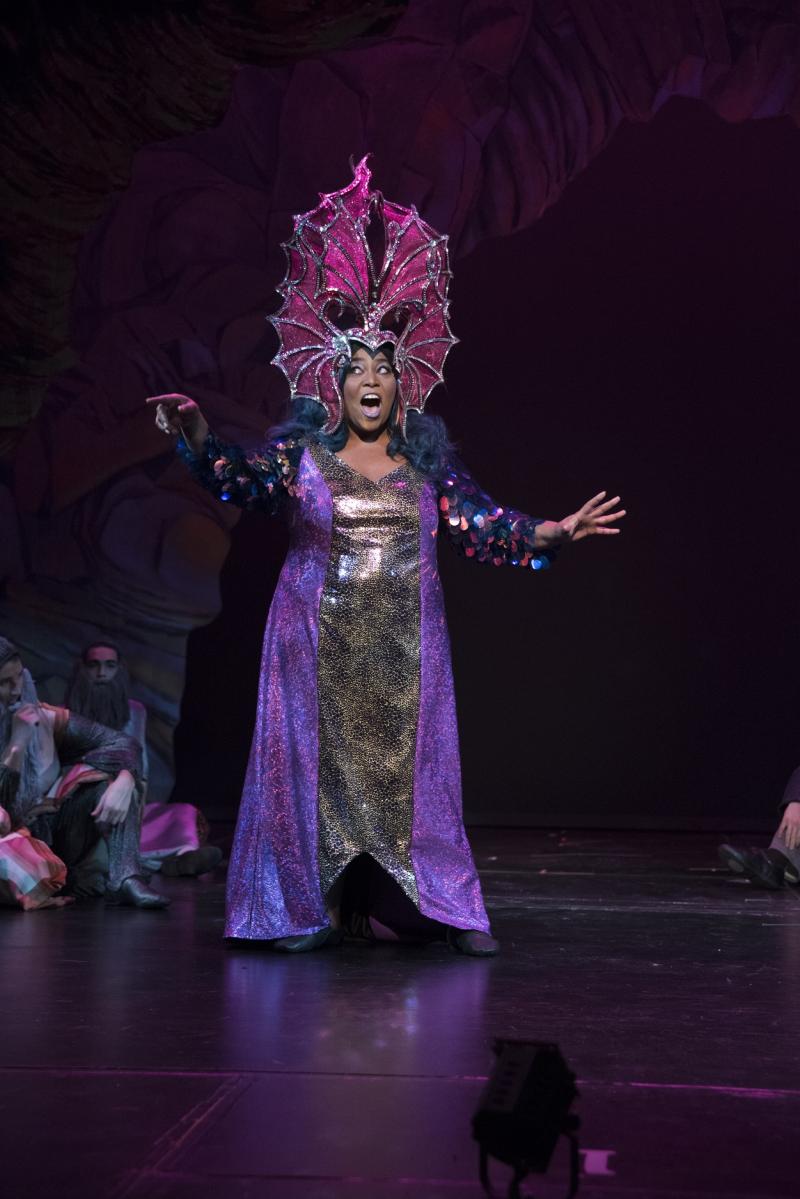 One of the most cheered numbers is "I Think I Got You Beat," a back and forth between Dehmer and Krambeck that challenges each other with their hardship stories. Reminiscent of ANNIE GET YOUR GUN's song, "Anything You Can Do," it begins with increasingly woeful tales of bad childhoods and ends with a childish farting, burping contest that unites the unlikely couple and tickles the funny bone of every kid in the house...and probably every adult.
Costumes designed by Lindsay Pape are stars in themselves. Fiona's dresses are beautiful; in particular, the wedding dress with gold lined bell sleeves. The Dragon's headpiece is magnificent, worthy of Cher. Donkey's multi-furred jumpsuit, and Shrek's puffy spotted vest, not to mention his big green head, are works of art. The variety of dress is fascinating, with many of the costumes intricate and detailed. Pinocchio's nose grows. Lord Farquaad's little legs are silly fun..it is impossible not to laugh when you see J. Isaiah scuttering across the stage.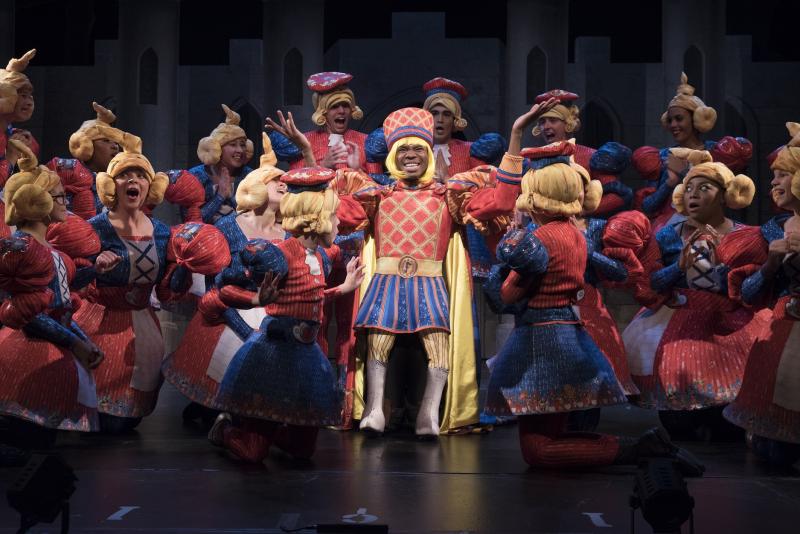 Jim Othuse has layered his set like the onion Shrek describes. Opening with a rather stark setting and twiggy backdrop, he adds pieces that descend from the ceiling and roll in from the sides in a continually interesting way as the story progresses. Trees look 3-dimensional with the clever use of lighting. There are castles and even a bridge that extends down the aisle. Special effects include the use of "smoke" creating an illusion and providing a screen.
Jim Boggess leads almost a dozen musicians in a fine orchestra. The music is complemented with imaginative choreography by Melanie Walters. The characters move up and down the aisles, even climbing over the legs of seated patrons. Two of the scenes especially caught my attention: the dance of the rats and "Make a Move." Smooth moves, Jordan!
Kids love this show. Adults enjoy it for other reasons. There are fun references to other well known musicals. There's an odd phrase thrown in here and there to make sure you are listening. There are subtle and not-so-subtle messages within the story such as accepting those who are different and loving who you are no matter what you look like. Because beautiful ain't always pretty.
Photo Credit: Shrek (Steve Krambeck), Donkey (Jordan Smith), Fiona (Mackenzie Dehmer) by Colin Conces.
Photos of Dragon (Kerri Forrester) and Lord Farquaad (J. Isaiah Smith) and company by Robertson Photography
Related Articles View More Omaha

Stories

Shows