Theater for the New City Presents BETTY & THE BELRAYS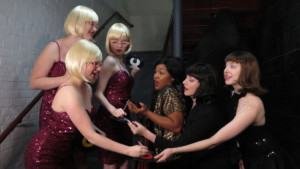 "Bring it On" meets "Dreamgirls" in the girl-group musical, "Betty and the Belrays" by William Electric Black aka Ian Ellis James, which will be presented by Theater for the New City January 31 to February 17. The piece tells the story of three white female singers from Detroit who struggle to change a racially divided society by singing for a black record label. Book and lyrics are by William Electric Black. Music is by Black, Valerie Ghent (arranger/keyboards for Ashford & Simpson) and Gary Schreiner. Choreography is by Jeremy Lardieri. Director is Mr. Black.

Girl groups are now an iconic part of the history of the recording industry in America. In a brief, shining period between the payola scandal and the British invasion, American girl groups swamped the charts with songs that are now classic: mostly sweet harmonies on sentimental themes, with classic melody constructions and simplistic love lyrics. Partially because of the concern that America's teens would like the songs better if they didn't know the singers' color, many girl groups were anonymous except for their recordings. Almost all of them were black, but that was not known to many fans at the time. "Betty & The Belrays" asks, "what would have happened if a white girl group had actually tried to recapitulate the careers of these black groups?" If you love the songs of The Chiffons, The Crystals, The Shirelles and The Ronettes, you'll find heaven in this production, whose music recaptures the innovation and fresh, optimistic buoyancy that ruled the AM airwaves in the Kennedy era. It features a live onstage Motown-style band led by Gary Schreiner, authentic '60s choreography, and a cast of fourteen. It is recommended for audiences aged ten and up.

The musical is a fable that shows how integral this music was to the Civil Rights Movement. The setting of the play--1963 Detroit--is where the Movement and Motown found musical harmony. Martin Luther King, you may remember, led Detroit's Walk to Freedom, America's largest civil rights demonstration at the time, on June 23, 1963. His address to the crowd there was an early version of the "I Have a Dream" speech he offered two months later at the March on Washington. Detroit was also the place where in 1959, Berry Gordy founded Motown Records in three adjoining row houses (before moving it to L.A. in 1967). One Motown group that broke big in 1963 was Martha & The Vandellas. Their "Dancing in the Streets" (1964) is believe by many to be actually about protest.

It's against this auspicious backdrop that the play takes place. Betty Belarosky, the daughter of a Ford assembly line worker and a department store daisy, ventures naively into the music business, wanting to sing the chirpy heartthrob harmonies of her time. She forms an all white girl group, a la the Ronnettes, and aims for a record deal at Soltown--a black record company. Her collaborators are one lovesick femme fatale and one "tough girl" type. Betty meets Sam the Beat, a local black deejay, who advises that the only thing that crosses the color line is music. He refers the trio to Miss Loretta Jones, an Aretha Franklin-type singer. She teaches them soul through immersion, first by experiencing the music of black churches, and then by sampling black women's professional life: ironing for three days straight, to understand the life confinement of black cooks, seamstresses and launderesses.

This gives birth to unusual songs with underlying themes of social protest, including "Why Oh Why Must We Do the Segregation" and "My Boyfriend is a Negro." The more their music incorporates Miss Loretta's teachings, the higher their records climb on the charts. Their growing popularity makes it seem that the girls could actually bring their segregated city together through their music. They now actually overshadow their artistic idols, a local black girl group named The Lovejones. After an appearance on a popular television show, Betty & The Belrays are offered a major record deal from a white label on the condition that they stop singing about racial issues. When they return home, the girls are faced with hate mail and bricks through their windows. The question facing them becomes: resist the hate or sell out? Betty decides that one of the bricks that came through her window must have knocked some sense into her head. Defiantly, she joins SNCC (Southern Christian Leadership Conference) and travels to campaign in the South, where she shares the fate of the Freedom Riders who died in Mississippi in 1964.

William Electric Black weaves comedy throughout his treatment of sensitive racial issues, but you could be misled by the musical's playful tone. The production forthrightly addresses the question of cultural identification with music. There are 13 original songs, varying in style from The Ronettes to The Vandellas, that take us to the heart of the issues facing the recording industry at the time. Betty and her collaborators evolve into, essentially, a white group with a Motown attitude. The playwright calls attention to the importance of black music in our culture by honoring the imitation that was its sincerest form of flattery. He also shows off the risks that white performers took in embracing black musical traditions and the civil right movement.

William Electric Black introduced the musical in a Theater for the New City production in 2007, but has extensively rewritten it since then. His new version introduces the pathos of Betty's sacrifice in order to claim that while we have seen gains in equal opportunity and civil rights, the idea of sacrifice is something we seem to have lost. He also intends to illustrate how this type of music and the civil rights movement evolved symbiotically. He muses, "In recent years, although we've had a black president, segregation took on different forms and so did the music. As barriers got absorbed and changed--we thought it was for the better--really it was for the worse. Is today's music better (think of hip-hop), or have we really forgotten what it was originally about? Is the message lost?" He notes that if anything crossed the color line historically, it was the girl groups. The Supremes, Toys and Ronettes brought teens together and these teens went south to march and sometimes, to die. He urges us to revisit this time again. "We need to go back to the music scene and how it united teens," he says.

The score is actually light-hearted like "Hairspray" and "Dreamgirls." Most of the melodies are by Valerie Ghent and some are by Gary Shreiner. There are 13 original songs, varying in style from The Ronettes to The Vandellas, that take us to the heart of the issues facing the recording industry at the time. Betty and her collaborators evolve into, essentially, a white group with a Motown attitude. The playwright calls attention to the importance of black music in our culture by honoring the imitation that was its sincerest form of flattery. He also shows off the risks that white performers took in embracing black musical traditions and the civil right movement.

Talkbacks on past and present race relations will follow the Sunday matinee performances. A schedule of the speakers appearing will be forthcoming on the show's website, www.bettyandthebelrays.com.

Co-composer Val Ghent has been an engineer and background vocalist for the singing duo Ashford & Simpson and keyboardist/vocalist for Deborah Harry (world tour). She is known for her bluesy, funky piano style and her stunning 3½ octave vocal range. She is founder of the Cornelia Street Cafe Songwriter's Beat. In her work with Asford & Simpson, she recorded their music as well as collaborations with Nina Simone, Sir Cliff Richard, Roberta Flack, Dr. Maya Angelou, Peabo Bryson and many others. She has shared the stage with artists as diverse as Dr. Maya Angelou, Iggy Pop, Defunkt and Billy Preston. Ghent has five acclaimed CDs on her own label, West Street Records. She mixed live-to-air "In the Spotlight," Ashford & Simpson's live weekly radio show on WRKS-FM (New York), where she recorded dozens of legendary artists, including Luther Vandross, Stevie Wonder, Dionne Warwick, Wilson Pickett, Chaka Khan, Patti LaBelle, Stephanie Mills, Freddie Jackson and George Benson. This is her third collaboration with William Electric Black.

Co composer Gary Schreiner received an Emmy for his work on the PBS special "Sneakers," starring Jon Secada. and writes music actively for films, TV and theater. He has composed (in collaboration with Curt Sobel) music for films including "Ray," "Donnie Brasco," "Parker," "Thank You for Smoking," "Love Happens" and "Get On Up." In theater, he scored Alison Larkin's hit one woman show, "The English American," which led to the bestselling novel of the same name. He collaborated with William Electric Black on the TNC productions "My Boyfriend is a Zombie" (2010) and "American Star!!!" (2013). His compositions have been featured on many TV shows and he has written music for hundreds of commercials. His musicianship on keyboard, accordion and chromatic harmonica appears in many recordings, TV shows and films. He has worked with Elton John, Rosanne Cash, Joan Osborne, Patti LaBelle, Pedrito Martinez, Yoko Ono, Pheobe Snow, Marvin Hamlisch, Run-DMC, Lucy Kaplansky, Carly Simon, Ben Taylor, Blue Man Group, John Pizzarelli, Julio Fernandez (Spiro Gyra), Dave Chappelle, Chris Rock, Kermit the Frog, and World Champion figure skater Randy Gardner.

The actors are: Paulina Breeze (as Betty), Levern Williams, Gretchen Poole, John Hersey, Alexis Myles, Kennedy Jazz, Christen Dekie, Kalia Lay, Alexandra Welch, Aigner Mizzelle, Brenna Brown, Carleton King, Lydia Stinson and Sharina Doyle. Set design is by Lytza Colon and Mark Marcante. Costume and prop design are by Susan Hemley. Lighting design is by Alexander Bartenieff. Technical/sound design is by Alex Santullo. Stage manager is Dylan Skorish and Assistant Stage Manager is Paul Levine. Board operator is Megan Horan.

William Electric Black, aka Ian Ellis James, is known for his use of edgy pop styles in theater. Beside "Betty and the Belrays," his musicals include "My Boyfriend is a Zombie" (TNC, 2010) (http://lonelysoldierplay.com/zombie/), which was like Grease with a zombie twist, and "American Star!!!" (TNC, 2013) (http://lonelysoldierplay.com/americanstar/index.htm), a satire of adolescents' obsessions with celebrity idol TV shows. The last of these, on its serious side, shone a canny light on magical thinking in minority youth, where lack of opportunity gives rise to "pie in the sky" dreams like instant TV stardom. Black has also written, produced and directed a series of plays and musicals for La MaMa, where he runs the Poetry Electric series.

He is also known for socially-conscious plays, high-impact dramas. His five-play GUNPLAYS Series (http://www.gunplays.org/), all produced by Theater for the New City between 2013 and 2018, dramatized the epidemic of gun violence using differing approaches and theatrical styles. In 2009, he directed Theater for the New City's sensational and serious "Lonely Soldier Monologues: Women at War in Iraq" (http://www.lonelysoldierplay.com/), a staged series of monologues based on a book by Helen Benedict. The play earned widespread notice and significantly helped the issues of America's female soldiers to be widely recognized for the first time.

Writing as Ian Ellis James, Black has won seven Emmys as a writer for "Sesame Street" between 1992 and 2002, composing songs for Queen Latifah, Erykah Badu, Patti LaBelle, and Arrested Development (among others) when they appeared on the show. He also wrote for Nickelodeon's "Allegra's Window" and LancitMedia's "Backyard Safari." Theater for the New City gave him his start in theater, presenting his earliest work, "Billy Stars and Kid Jupiter," in 1980. Now, TNC proudly continues its tradition of supporting and developing Black's unusual and energetic theatrical work.

In a series of multimedia projects, Black has campaigned for exercise and good nutrition for young children, prescription drug awareness and obesity prevention. He has received a Bronze Apple (National Educational Video Award) for directing. He has also received several Best Play Awards and has been published by Benchmark Education, The Dramatic Publishing Co. and Smith & Krauss.

He is a faculty member at NYU's Tisch School (Dept. of Dramatic Writing/Open Arts, and NYU's Summer High School Program). He has also taught at The Collegiate School, The Riverdale Country Day School, Southern Illinois University, 92nd Street Y, Teachers & Writers and TheatreWorks USA.

He is writing, directing, and producing animated videos on stroke prevention with the National Stroke Association and childhood obesity prevention for Hip Hop Public Health under the direction of Dr. Olajide Williams featuring music by Doug E. Fresh, Chuck D, other rap artists. He has completed three short films to educate the Black faith-based community and the Hispanic faith-based community on stroke awareness. In 2015, he published an early reader, "A Gun is Not Fun" (www.agunisnotfunthebook.com) for children's education as part of a national campaign to save lives in cities across America.

Mr. Black writes, "I could not have started my career as a writer/director of plays and musicals without the support of Crystal Field and Theater for the New City. I truly appreciate Crystal's continued support that has allowed me to bring the Electric Black Experience to so many people."
Photo by Jonathan Slaff.

Related Articles View More Off-Off-Broadway

Stories

Shows
More Hot Stories For You