The Tank Presents Candace Brown's THE SOUL SPOT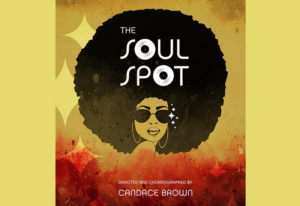 The Tank (Meghan Finn and Rosalind Grush, Artistic Directors) will present a special limited engagement of The Soul Spot, directed and choreographed by Candace Brown at The Tank (312 West 36th Street between 8th and 9th Avenues), July 26-27. Performances will be on Friday, July 26 at 8pm, Saturday, July 27 at 4pm, and Saturday, July 27 at 8pm. Tickets ($25) are available for advance purchase at www.thetanknyc.org.
Experience a night like no other. A night that will move your soul, fill your heart, and lift your spirit. Experience a place where music and groove reign supreme. Experience The Soul Spot.
The Soul Spot is an evening length dance show directed and choreographed by Candace Brown, a world renowned and highly sought after commercial choreographer and teacher. Candace has danced for Janet Jackson, Beyoncé and Dancing with the Stars. Candace has choreographed for Nicole Scherzinger, Dream Dance Company (Australia), Unity Dance Ensemble (LA), and multiple showcases and artists throughout NYC and LA.
The Tank is a non-profit arts presenter and producer. Our mission is to remove economic barriers from the creation of new work for artists launching their careers and experimenting within their art form, and to do so in an environment that is inclusive and accessible. We serve over 2,000 artists every year in over 800 performances, and work across all disciplines, including theater, comedy, dance, film, music, puppetry, and storytelling. The heart of our services is providing free performance space in our two-stage theater complex Manhattan, and we also offer a suite of other services such as free rehearsal space, promotional support, artist fees, and much more. We support work at all phases of development, from readings and residencies to fully-produced world premieres. We keep ticket prices affordable and view our work as democratic, opening up both the creation and attendance of the arts to all.
Recent Tank-produced work includes Drama Desk-nominated productions Ada/Ava (2016), youarenowhere (2016), The Paper Hat Game (2017), the ephemera trilogy (2017), and The Hunger Artist (2018), as well as New York Times Critics' Picks The Offending Gesture by Mac Wellman, directed by Meghan Finn (2016) and Red Emma & The Mad Monk by Alexis Roblan, directed by Katie Lindsay (2018). www.thetanknyc.org
More Hot Stories For You