Photo Flash: Look Inside the Home of DAUGHTERS OF TROY
Daughters of Troy was granted a week long residency on Governors Island in New York through Barton Booth's MAKE ROOM initiative. The residency featured free presentations of the theatrical work-in-progress along with an exhibition of artwork inspired by the women of the Trojan War.
Daughters of Troy uses classical text, visual art, music, dance and current events to deconstruct female archetypes through the lens of the Trojan War. The project is a collaboration between theatre and visual artists led by Aubrey Saverino in partnership with international art organization, RE:ARTISTE.
The idea for Daughters of Troy originated with Saverino's short play Dido & Aeneas, which was adapted from The Aeneid and selected from over 300 submissions for Red Bull Theater's 2015 Short New Play Festival. Saverino expanded the project by inviting artists to create several short theatrical pieces -- each focused on a different female character from the Trojan War including Andromache, Clytemnestra, Oenone, Electra, Cassandra, Circe, Penthesilea and Helen of Troy. The finished project will be a kaleidoscope of stories and art inspired by these compelling women that stand on their own and in relationship to each other.
Daughters of Troy will continue to develop this theatrical event, and hopes to remount it in the near future.
For more about the production, visit www.daughtersoftroyproject.com.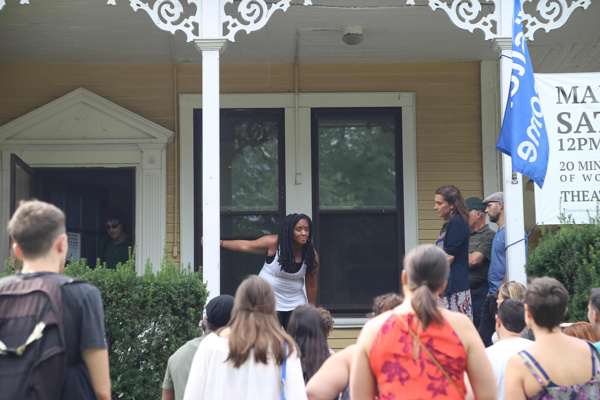 Theatre Maker Erin Adams began her piece on the porch, inviting the audience into the house as Electra. Photo by Larissa Nowak.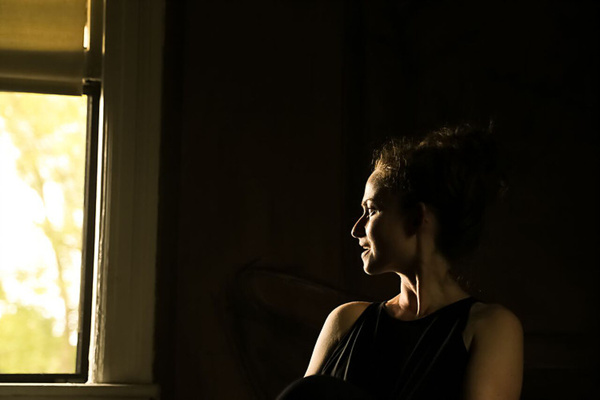 Theatre Maker Rachael Jenison as Clytemnestra in a room upstairs in the house. Photo by Larissa Nowak.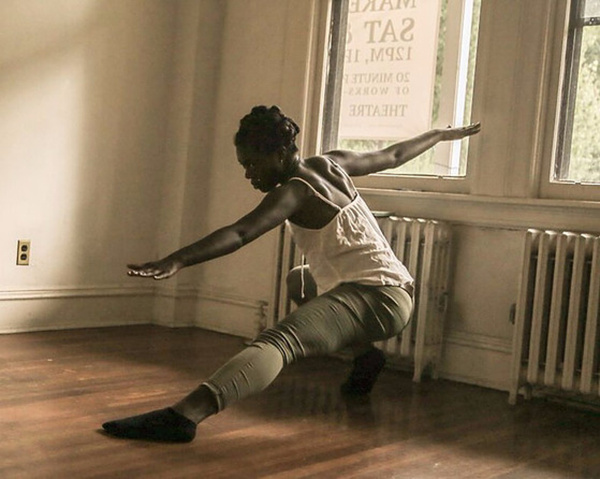 Theatre Maker Hailey Elizabeth devising her piece on Helen of Troy. Photo by Larissa Nowak.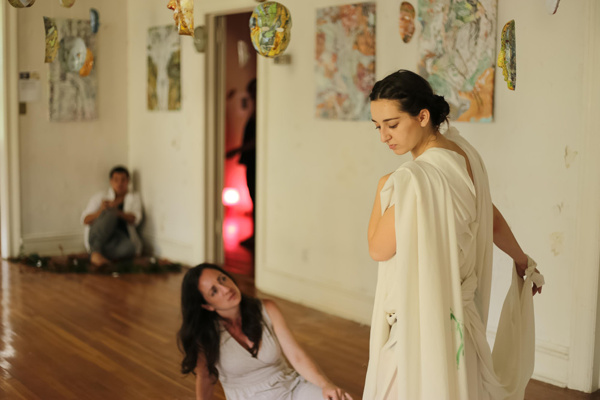 Bryan Cortes (Corythus), Brooke M. Haney (Oenone) and Courtney Silber (Statue) in Haney's piece on Oenone. Photo by Larissa Nowak.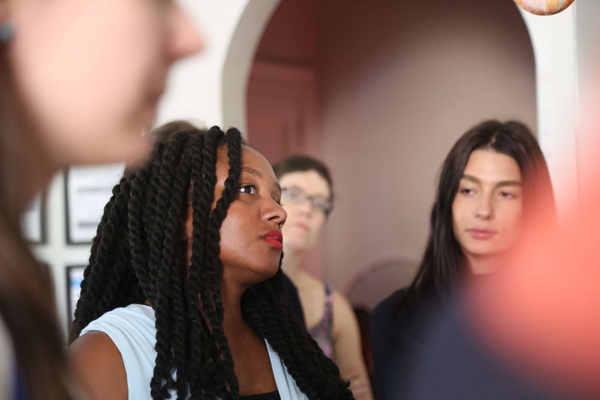 Audience follows Erin Adams, playing Electra, around the house. Photo by Larissa Nowak.

Project Creator and Director Aubrey Saverino, Artistic Producer Brooke M. Haney, and Art Curator Natalie Burlutskaya. Photo by Kate Goltseva,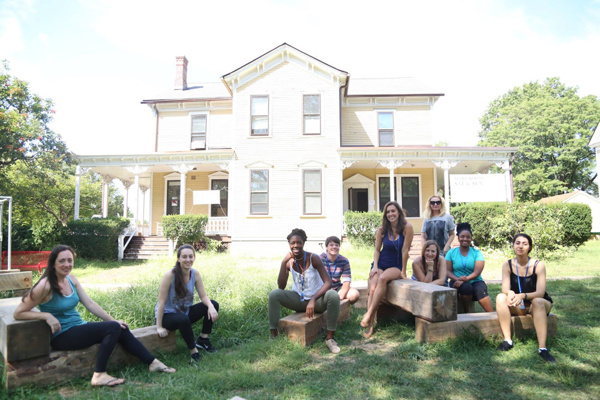 The ensemble - Theatre Makers, Visual Artists, and Performers - outside House 19B in Nolan Park on Governors Island. Photo by Larissa Nowak.