Out of the Box Theatrics Announces New 'Building the Box' Reading Series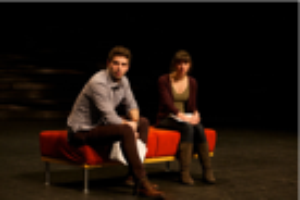 Producing Artistic Director Elizabeth Flemming and Out of the Box Theatrics has announced the new reading series Building the Box. Curated by Associate Artistic Director, Ethan Paulini, this new series features three new pieces that are being considered for full production in the 2018 (and beyond) season.
With a renewed commitment to World, American and New York Premieres, this series is designed to give OOTB subscribers and patrons unprecedented access to the programming process, the opportunity to provide feedback to an in progress new play and get a sneak peek into what is ahead, not only from OOTB, but from some of America's most exciting new playwrights.
The series kicks off September 25 with Danielle Mohlman's Nexus directed by Amiee Turner. Joseph C. Walsh will direct From the Manor Torn a new play by Brooke Ciardelli and Oscar Blustin adapted from the play A Castle in the Air by Alan Melville on October 16. The series closes on November 6 with David Caudle's Damsel.
All readings begin at 7:30pm and take place at Alice's Tea Cup, 220 E. 81st St. between 2nd and 3rd Avenue. Tickets are $12 in advance, $15 at the door. A limited number of series passes for $30 are also available. For tickets and info visit www.ootbtheatrics.com or email your request to ootb@ootbtheatrics.com.
---
September 25
Nexus
Danielle Mohlman
Directed by Amiee Turner
When two iPhone-armed strangers meet at a bus stop in Washington, DC, they're entirely unprepared to spend three years falling in and out of love with each other. But, of course, that's exactly what happens. This unexpectedly honest and refreshingly modern love story explores what transpires when two people become addicted to each other - putting them metaphorically on display at the Museum of Broken Relationships.
October 16
From the Manor Torn
Brooke Ciardelli and Oscar Blustin
Based on A Castle in the Air by Alan Melville
Directed by Joseph C. Walsh
A stylish and farcical comedy set in the 1950's in a crumbling Scottish castle. Drowning in bills for the upkeep of his castle, the Earl of Locharne has nothing but his charm and good looks to stay afloat. He and his gal Friday get stuck between the American Heiress there to buy it, and the surprise arrival of a stuffy government inspector there to requisition it and leave him with nothing.
November 6
Damsel
Directed by TBA
Pregnant, housebound Kathy grows jealous of the attractive co-worker her husband Randall has brought home to dinner. But when she learns the true nature of his interest in the woman, Kathy sees her marriage in a new and disturbing light.
---
Danielle Mohlman is a nationally produced feminist playwright based in Seattle, WA. Her plays have been produced by Rorschach Theatre, Forum Theatre, dog & pony dc, Hubbard Hall, the One Minute Play Festival, the Atlas Intersections Festival, Pinky Swear Productions, and Field Trip Theatre. Her plays have been developed at the Cherry Lane Theatre, the Kennedy Center, Arena Stage, the National Museum of Women in the Arts, and the Sewanee Writers' Conference. The DC Commission on the Arts and Humanities named Danielle a finalist for the Larry Neal Writers' Award for Dramatic Writing in both 2012 (for Stopgap) and 2014 (for Nexus) and she was the recipient of the DCCAH Artist Fellowship from 2014 to 2015. Her play Nexus is among the 2015 Honorable Mentions on The Kilroys list. In 2016, Danielle studied with Naomi Iizuka and Ken Weitzman at the Sewanee Writers' Conference. In 2017, Dust was a semifinalist for the Eugene O'Neill Theatre Center's National Playwrights Conference. Earlier this year, her election play Halcyon received a reading at the Cherry Lane Theatre. Danielle is an alumnus of Emerson College and Playwrights' Arena at Arena Stage, part of the New Play Institute. daniellemohlman.com
David Caudle is the award-winning author of THE SUNKEN LIVING ROOM (Samuel French) and other plays. VISITING HOURS was named best new play of the year by the Times-Picayune for its New Orleans world premiere before an acclaimed second production at Miami's New Theatre. VISITING HOURS is now published by Stage Rights, as well as DOWNWARD FACING DEBBIE, which received a rave from Martin Denton of nytheaternow.com for its premiere in the Planet Connections Festivity. David is an alumnus of the Dorothy Strelsin New American Writers Group at Primary Stages, and has also developed work at the New Harmony Project, Sewanee Writers Conference, Premier Stages and Point Park University. He is currently working on a commissioned piece about Broadway's first hit female composer, Kay Swift, and a miniseries for television.
Out of the Box Theatrics, led by Founder and Producing Artistic Director Elizabeth Flemming and Associate Artistic Director Ethan Paulini, is a New York-based, nonprofit Actors' Equity producing organization, dedicated to producing new and classic works while challenging audiences to experience work outside of their expectations. Committed to hiring a diverse company of actors, regardless of gender, race, creed, ethnicity, or physical handicap, Out of The Box Theatrics allows audiences to experience work from a fresh perspective in site-specific locations. 2017 marks their first full season, following their 2016 inaugural production of You're a Good Man, Charlie Brown and this year's production of "Master Harold"...and the Boys and The Owl and the Pussycat . The season concludes in December with Jason Robert Brown's Songs for a New World. This season will also feature the new reading series Building the Box, a series of open mics and many special events. For more information, visit www.ootbtheatrics.com.