IT'S PINOCCHIO! Announces NYC Premier Production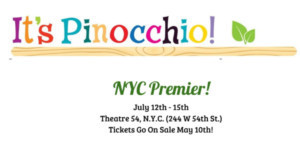 The producers of IT'S PINOCCHIO!, an original theatrical adaptation of the classic tale by Carlo Collodi, are thrilled to announce that the world premier production will run July 12th - July 15th at Theatre 54 in Midtown. IT'S PINOCCHIO! is a theatrical event that combines puppetry, film, and music to bring to life the story of the puppet who wanted to be real. Perfect for children and adults of all ages, IT'S PINOCCHIO! packs outrageous humor with even more outrageous humor in this Off-Off-Broadway event!
The creative team includes Daniel S. Smith (Adaptor/Director), Riley Bartolomeo (Film Director/Projection Design), Connor Gibbs (Composer), Alan Mendez (Puppet Design), Matthew Hervilly (Set Design), Devin Lee (Lighting Design), and James "J.T." McLoughlin (Sound Design). Krissy Rose Burke is the Production Stage Manager, & Chris Griswold is the Assistant Stage Manager.
Rounding out the company are Anthony E. LoGrande (Pinocchio), Colleen Kelly (The Fairy with the Blue Hair), Robert Fischetti (The Cricket/Fire Eater), Liam Abate (Geppetto/The Great Green Fisherman), Nicholas Gerrity (Flash), Kirsten Kaiser (Darlene/The Coachman), Lauren Burton (The Cat), & Austin Nakamura (The Fox/The Serpent).
Tickets are currently on sale, may be purchased through Brown Paper Tickets, and range from $10 - $20: https://www.brownpapertickets.com/event/3432049
Theatre 54 at Shetler Studios is located at 244 W54th St., on the 12th floor. The space is handicap accessible, and there will be no late seating for this event. Suggested ages 7 and up.