Cast Announced For EVELYN: A NEW MUSICAL At Dixon Place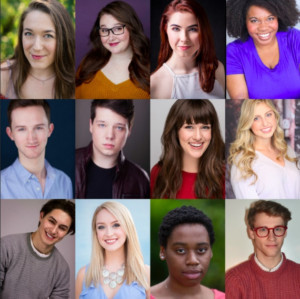 Evelyn: A New Musical, led by Producers Rikki Ziegelman and Hayden Anderson and under the direction of Heather Bildman, announces casting for their upcoming production at Dixon Place. As previously announced, rounding out the creative team are Jason Liebson as the Music Director and Mike Schulz as the Lighting and Sound Designer.
Evelyn is an original musical by Marymount Manhattan College senior, Quenton Ellis. The show is to feature Maddy Waters in the title role as Evelyn. The cast also features Dillon McPherson as Barry, Camille Marissa Clossum as Gertrude, Rikki Ziegelman as Helen, and Michelle Houle as Wanda. The ensemble features Maddie Booth, Cody Ayrer, Hannah Taylor, Ronell Hurt, and Logan Mace.
Based on the iconic photo published in the New York Times titled "The Most Beautiful Suicide," Evelyn: A New Musical follows the life of Evelyn McHale, who tragically took her life by jumping off of the Empire State Building in 1947. Both heart wrenching and heart warming, Evelyn touches upon themes of feminism, family, and sexuality- while also carefully depicting the cautious affects of mental illness in the 1940's.
Dixon Place is a non-profit organization dedicated to presenting original works. The Dixon Place Lounge is open before and after the show and you can bring your drink in the theatre! Bar proceeds directly support Dixon Place's arts and mission.
Evelyn: A New Musical will premiere on November 9th, 2018 at 10pm at Dixon Place. Ticket information will be available soon.
Keep up with Evelyn: A New Musical online!
Facebook: @evelynthemusical
Twitter: @evelynmusical
Instagram: @evelynthemusical