BWW Review: Parental Supervision is Not Optional in Solnik's THE BOHEMIANS
As children, we are fortunate to receive the unconditional love of those who care for us; as parents, we then enshroud our children with the love we were once shown. No matter how old we become, our parents are still our parents: from high school to an engagement, to robbing our new apartment, our parents are pillars of love that we never wish to seen torn down. Now, if you're questioning why a couple's parents would collaborate to rob their children's first apartment, you wouldn't be the only ones. There is such an intriguing (and first of its kind that I have seen) backstory as to how four individuals, keen on getting their children out of an unsafe Brooklyn apartment, stage a robbery to expedite the process.
A play that makes the audience shake its collective head and comment that "no, my parents wouldn't actually do this" also leads us to wonder what would happen if they would, in fact, do this. The Bohemians is a true comedy that gives us the chance to watch other people in an hilarious, sitcom-like situation we would hardly like to find ourselves in. It gives us leeway to ask the question: isn't it every good parent's right to ensure the safety of their children?
Written by Claude Solnik, directed by Hamza Zaman and presented by Crystal Field and the textile co., The Bohemians is currently in performances at Theater for the New City, and the seats are definitely being filled! The intimate space allows the audience to feel right at home from the start, even if our characters' new home is a bit less cozy than we would have liked. The play begins with an apartment in Waldorf Towers, a character in itself that we become more and more familiar with throughout the production; this is despite its dirty walls, seedy past tenants and a visible panic button near the front door. It is as unappealing a first apartment as we fear imagining, yet its new tenants treat it as a Brooklyn gem which symbolizes the next step in their life together. Becka and Scott seem like the perfect couple: he's a carpenter and musician, and she's a resident doctor at the nearby hospital. Aside from their quickly appearing landlord "Mike" Jordan and his odd yet somehow loveable assistant Marshall, their story would have unfolded with relatively little drama...if not for the introduction of their parents.
Ted, Ida, Vivian and Jerry might be my favorite comedic foursome in any play I've seen so far. When they walk through the door of their children's new, albeit dingy apartment, they are appalled. They joke about the lack of proper plates and silverware (the box was forgotten on the sidewalk, then stolen) and tip-toe their way through the place as though something is bound to crawl out and attack at any moment. They are passive-aggressive without the passivity, openly judging everything dissatisfactory and urging their prides and joys to move out as soon as possible. Joke upon joke, puns galore and an overall lighthearted feel to an unsafe situation not only make this play incredibly engaging and fun, but also creates an empathy we would have for our own parents, should they have behaved as such. We understand their concern and want to hug them endlessly for it, but we also want Becka and Scott to kick them out immediately and see what fate has in store for them at the infamous Waldorf. This, unfortunately, is not meant to be.
When Scott and Becka's parents decide to stage a robbery after having had enough of living in fear (even though absolutely nothing bad has happened yet), they strike a nerve in their children's so far content existence. Detective Costa soon becomes a frequent visitor, trying to figure out who the culprit is and does very little to restore order; another character we adore in a skeevy sort of way, he brings his bravado to the crime scene and is adamant about finding who robbed the apartment. When he updates everyone on who he believes is to blame, the entire group must come together (despite their varying feelings of betrayal of disbelief) to convince the Detective that there really isn't a crime.
With constant hilarity and moments that really make you question how probable this is to happen in real life, The Bohemians is a commentary on new-world acceptance against old-world perspective. It introduces us to characters who are all quirky and dysfunctional, pretending to be normal and ultimately who become one giant family in this apartment none of them can truly stand, but nonetheless becomes just as familiar. The audience easily falls in love with everything about this show: from its casual air, to the fact that its main goal is to make us laugh at what others put us through (something we don't do enough of these days), we are entertained and impressed at the same time. It really is quite a feat to put people in a better mood after seeing a show, so I applaud everyone's efforts with this one.
This show wouldn't be what it is without both a wonderful cast and crew. Aside from Zaman's awesome direction, John Carhart, Adam Chisnall, Jarred Harper, Mark Lobene, Patricia Magno, Lucy McMichael, Mark Montalbano, Melissa Roth and Scott Zimmerman round out this wild and talented cast that makes being part of an odder-than-life family so much fun. Joining them behind the scenes are Costume Designer Chelsea Roth, Lighting Designer Marsh Shugart, Set Designer Mark Marcante, Poster Designer Anna Stacy, Director's Assistant Joanna Newman and Mike Borgia, the show's Music Director whose original music adds some flare to this wonderful production.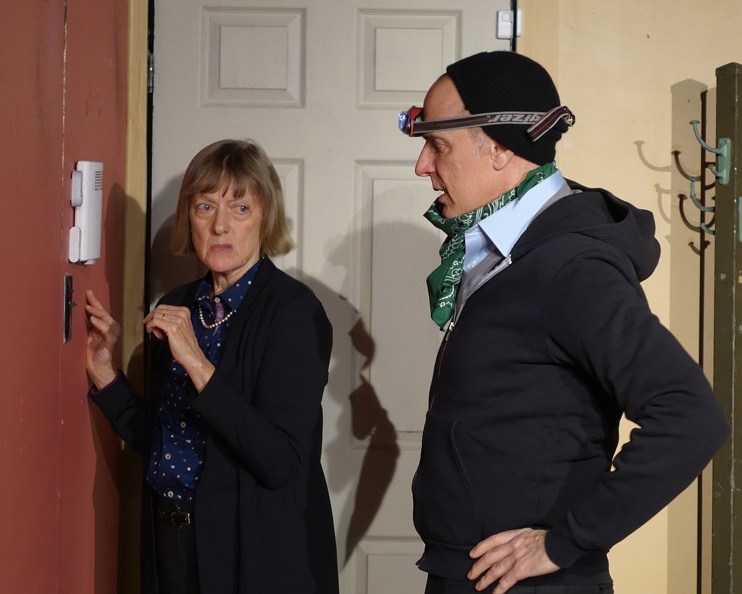 The Bohemians opened at Theater for the New City (located at 155 1st Avenue) on December 6th, and will run thru December 22nd. Tickets are $18/$15 for students and seniors, and can be purchased at the box office, by calling (212) 254-1109 or by visiting www.theaterforthenewcity.net. The performance schedule is as follows: Thursday thru Saturday @ 8:00 pm and Sunday @ 3:00 pm.
Enjoy the show!
Photo Credit: Phil Holt