48HOURS IN... HARLEM To Re-imagine African Folktales For The 8th Annual Event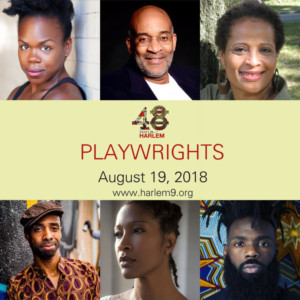 Harlem9 presents the Obie Award Winning 48HOURS IN... HARLEM - a twist on the traditional 24-hour play festival. This event marks the 8th year of the collaborative Harlem9 bringing together 6 playwrights, 6 directors, and 18 actors. Playwrights will re-imagine African Folktales into 10-minute plays over the course of one weekend. 48HOURS IN... HARLEM culminates in a one night only event on Sunday, August 19, 2018. There will be two performances at 7pm and 9:30pm at the National Black Theatre. Participating artists' details are below. Tickets are available on Brown Paper Tickets. Visit 48hours8years.bpt.me to purchase for $25 in advance online. A limited number of cash only tickets available at the door for $30. The National Black Theatre is located at 2031 5th Avenue at 125th Street.
The 6 playwrights this year are: Ngozichukwuka Anyanwu, Michael Dinwiddie, Reneé Flemings, N'Sangou Njikam, Liza Jessie Peterson, Tylie Shyder.
The 6 Directors this year are: Timothy Douglass, Malika Oyetimein, Bianca LaVerne Jones, Zhailon Levingston, Jeffrey Paige, Adrienne Williams.
The 18 Actors this year are: Patrice Bell*, Andrew Binger, Roland Dean, Jacqueline Gregg*, Justine J. Hall*, Bridget Kelso*, George Lamar, Chérie Celeste Malone, Denise Manning , Nikiya Mathis* , Doron J. Mitchell, Liz Morgan*, Blake Morris, Ashton Muniz*, Justin Sams, Kim Sykes*, Cole Taylor and Jeorge Watson
Harlem9 is a collaborative producing organization comprised of a group of Black theater professionals from various backgrounds. Their mission is to produce together, exploring the past, present and future of black culture, celebrating its rich and diverse history of storytelling. Garlia Cornelia, Bryan E. Glover, Eric Lockley, Jonathan McCrory, and Liberation Theatre Company (Sandra A. Daley-Sharif and Spencer Scott Barros) are the producers that comprise Harlem9.
For more information, please visit www.harlem9.org