Viceland TV Star And More Join THE MUSHROOM CURE Talkbacks This Weekend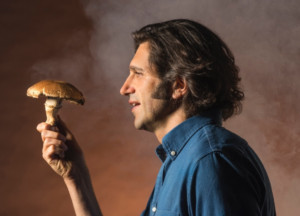 The Off-Broadway production of THE MUSHROOM CURE, written & performed by Adam Straussand developed & directed by Jonathan Libman, will offer talkbacks after performances at Theatre 80 St. Marks on Friday, January 25th and Saturday, January 26th.

Inspired by a scientific study showing that hallucinogenic mushrooms may cure obsessive-compulsive disorder, Adam Strauss embarked on a program of vigilante psychopharmacology. By turns hilarious and harrowing, THE MUSHROOM CURE recounts the true-life story of Adam's attempt to treat his debilitating OCD with psychedelics.

After Friday's performance, Adam Strauss will be joined by Hamilton Morris, star of Hamilton's Pharmacopoeia on Viceland TV, and Dr. Andrew Tatarsky, PhD for a discussion on "Psychedelics and Psychiatry in the 21st Century." After Saturday's show, Adam will be joined by Katie Dalebout, host of the podcast and author of the book Let It Out, for a discussion on "Mental Illness on Stage and the Page".

THE MUSHROOM CURE is sponsored by The Multidisciplinary Association for Psychedelic Studies (MAPS), the leading psychedelic research and advocacy organization. This run is also enabled by a generous grant from the Foundation for Fairer Capitalism.

Adam Strauss is a writer and performer based in NYC. He won the Leffe Craft Your Character Storytelling Competition and is currently penning a memoir based on The Mushroom Cure. He's also a professional stand-up comedian, appearing nightly at many of New York's best comedy clubs, and most of its worst ones. Adam received his B.A. in Psychology from Brown University.

Jonathan Libman is currently directing and writing for Amy Schumer's ensemble company The Collective. As a member of The Actors Studio Playwrights/Directors Unit Jonathan is directing Chazz Palminteri (A Bronx Tale) in Palminteri's new play The Bench, and National Endowment for the Arts recipient David Libman's play The Townhouse, featuring Joey Collins. He recently worked with Christina Masciotti (2016 Guggenheim Fellow) on her play Raw Bacon From Poland, featuring Sean Carvajal (Stephen Aldy Guirgis' Jesus Hoped The A Train). Jonathan is a graduate of NYU's Tisch School of the Arts Dramatic Writing Program. He keeps his inner kid alive and well as the starting shortstop of Hamilton - An American Musical softball team.

THE MUSHROOM CURE runs January 25 & 26 at 7pm. Theatre 80 St. Marks is located at 80 St. Marks at the corner of 1st Avenue - accessible from the #6 train at Astor Place or the R/W at 8th Street. Tickets are $25, available from OvationTix at 212-352-3101 or www.TheMushroomCure.com.
Related Articles View More Off-Broadway

Stories

Shows
More Hot Stories For You