Titan Announces Cast & Creative For Upcoming CYRANO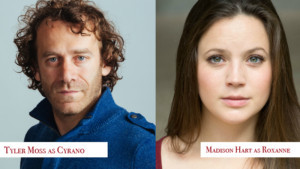 The award-winning Titan Theatre Company announced today the cast and creative team for its production of the masterful epic romance, CYRANO. CYRANO will play an extremely limited two-week engagement at Titan's home at Queens Theatre.
Performances begin Friday, February 8th and continue through February 17th.
"We continue to make our way through our exciting tenth anniversary season," said Titan General Manager Alyssa Van Gorder. "This production of CYRANO is quintessential 'Titan'. Four amazing actors playing over 100 characters. It's exactly the kind of work that excites us."
The production features an innovative adaptation by Jo Roets that combines this epic tale into a 70 minute tour de force full of romance, sword fighting, and quick changes. The production stars Titan Alum Tyler Moss (American Shakespeare Center, Shakespeare Forum) as the title character, and features Titan newcomer Madison Hart (Houston Shakespeare, Montana Shakespeare) as Roxanne. Greg Brostrom and Andrew Garrett round out the dynamic cast. Molly Thomas, Jessica McIlquham, Wesley Cady and Analiese Puzon will understudy.
The production will be helmed by Mary MacDonald Kerr, wth Scenic Design by Lenny Banovez, Lighting Design by Emily Clarkson, Costume Design by Anthony Paul-Cavaretta, Sound Design by Jessica McIlquham, Fight Choreography by Molly Thomas and Props Design by Analiese Puzon. Krystal Wilson is the Production Stage Manager.
Tickets ($20) are available online at www.titantheatrecompany.com or by calling the Queens Theatre Box Office at 718-760-0064. Tickets may also be purchased in-person at the Queens Theatre Box Office, Tuesday through Friday 12pm to 6pm, and two hours before showtimes on weekends.