Theater For the New City Presents a Reading of LOCKDOWN 2020 (Love & Corona) by Frank J. Avella
The reading takes place online on Thursday, October 8 at 7PM.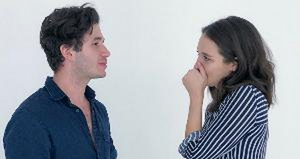 Theater for the New City presents - TNC "On The Air," a live reading of Lockdown 2020 (Love & Corona) by Frank J. Avella (Vatican Falls, Lured, Consent, Orville Station) on Thursday, October 8th at 7PM. Frank's play, Orville Station,inaugurated the Theater for the New City Facebook page's Live reading series back on April 15th.
During this continued time of social isolation, Theater for the New City (TNC) strives to keep arts alive with performances from the TNC community and abroad featured on TNC's Website, Facebook, Instagram and YouTube channels. Tune in: https://www.facebook.com/theaterforthenewcity/
The cast includes Carlotta Brentan, Marc Lombardo & Nicholas Turturro, with Technical Direction and Narration by John David West.
Lockdown 2020 (Love & Corona) takes place right now, amidst the pandemic, as a couple try to navigate their lack of intimacy. Galia discovers disturbing truths about her beau Tom's relationship with his queer friend Danny. Will this secret tear them apart? Will it destroy Tom's friendship with Danny? Will the threat of COVID overwhelm them all? Lockdown 2020 is a new work.
Frank J. Avella is the recipient of a 2019 International Writers Residency at Arte Studio Ginestrelle in Assisi, Italy, a 2018 Bogliasco Foundation Fellowship and a 2016 Helene Wurlitzer Foundation Fellowship. He is the author of Lured, Consent, Vatican Falls, Iris, Orville Station, For Mamma and Mad. Frank's screenplay adaptations of Consent, Lured, Screw The Cow & Fig Jam have, to date, won, been chosen as Finalists for or have been selected for thirty 2020 Film Festivals/Contests/Competitions in eight different countries. Frank is a proud member of the Dramatists Guild.