The York Theatre Company Releases Three Cast Recordings: DESPERATE MEASURES, UNEXPECTED JOY, and LONESOME BLUES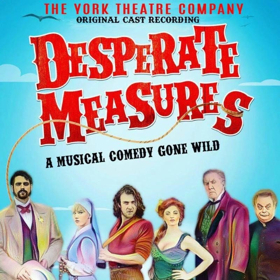 The York Theatre Company celebrates the release of three new original cast recordings of York productions from the 2017-2018 season: Desperate Measures, Unexpected Joy, and Lonesome Blues.
"We have had CD release parties for many recordings of York shows over the years, but when have we -- or any other theatre for that matter-celebrated the release of three CDs at once, but an entire season?!," stated James Morgan, York Producing Artistic Director. "We are so proud of these three productions, and now these three recordings; we cannot wait to share them with our patrons and the theatergoing public. Please join us today at 5:00pm for this exciting event."
To RSVP for today's event at 5:00pm, please visit: https://goo.gl/forms/FJERbbg5YOmNYaAJ3
The new cast recordings are:
Desperate Measures, the award-winning 2017 hit musical with book and lyrics by Peter Kellogg and music by David Friedman. Produced by Robert Sher for Masterworks Broadway, the recording features the original six-member cast of The York's 2017 production: Emma Degerstedt as Susanna/Sister Mary Jo, Gary Marachek as Father Morse,Lauren Molina as Bella Rose, Conor Ryan as Johnny Blood, Peter Saide as Sheriff Green, and Nick Wyman as Governor von Richterhenkenpflichtgetruber, with direction and choreography by Bill Castellino. Music Director David Hancock Turner leads a band comprising himself on piano and harmonica, Justin Rothberg on guitars, banjo, and mandolin, Joseph Wallace on bass, Douglas Waterbury-Tieman on fiddle and mandolin, Ben Lively and Martha McDonnell on violins, and Deborah Assael Migliore and Lauren Molina on cellos. Executive Producers of the recording are Mary Cossette and Willette Klausner, with Friedman as Associate Producer.
Desperate Measures takes place in 1890, in a territory out West, where Johnny Blood, a hot-tempered young cowboy is sentenced to hang for killing a man in a bar fight. His sister, a novice nun in a nearby mission, is persuaded to plead with a corrupt governor to spare her brother's life. The governor promises to pardon Johnny if his sister, the Sister, will 'do his bidding' for the night. Adding to the humorous complications are a hard-bitten sheriff, a voluptuous saloon girl, and a priest who reads Nietzsche.
Winner of the 2018 Outer Critics Award for Best Musical, the critically-acclaimed production of Desperate Measures received its New York premiere at The York Theatre Company, in association with Cecilia Lin and Hu Guo, where it played an extended engagement from September 19 - December 31, 2018, prior to transferring to its current home at New World Stages (340 West 50th Street). The new production is produced by Pat Addiss, Mary Cossette, and Willette Klausner; Executive Producer is Ken Denison.
Unexpected Joy, the critically acclaimed new musical with book and lyrics by Bill Russell and music by Janet Hood. Produced by John Yap for JAY Records and co-produced by Hood and Russell, the recording with the four-member all-female cast features Courtney Balan as Rachel, Allyson Kaye Daniel as Lou, Luba Mason as Joy, and Celeste Rose as Tamara, directed by Amy Anders Corcoran, and with music direction by Beth Falcone. Musicians are Falcone and Hood on piano, Brian Hamm and Ritt Henn on bass, Jack Morer on guitar, and Jeff Potter on drums.
Unexpected Joy is the story of three generations of female singers, long-held family tensions, and a week together where change is in the air. In modern day Cape Cod, Joy, a baby boomer and proud hippie, is holding a memorial concert for the other half of her popular musical duo, Jump & Joy. When her tightly-wound conservative daughter and her sweet rebellious granddaughter arrive from Oklahoma, the sparks fly as one family seeks to find the common ground in their different values, dreams and goals. Unexpected Joy is a heartfelt and hilarious story that weaves folk-rock, pop, and blues in uniting a family that hasn't experienced true joy together for decades.
Unexpected Joy received its New York premiere at the York Theatre Company, in association with Jim Kierstead, Aria Entertainment, Gabby Hanna & Marcy Feller, Riki Kane Larimer, Linda & Craig Wielkotz, Drew Desky & Dane Levens/Michael Mills, William Fernandez/Behzad Dabu, where it played an extended engagement from April 24 - May 27, 2018. Unexpected Joy is currently in performance at London's Southwark Playhouse through September 29, 2018.
Lonesome Blues, the world premiere new musical based on the true story of legendary bluesman Blind Lemon Jefferson, was created by Alan Govenar and Akin Babatundé. Produced by Documentary Arts, the recording features Akin Babatundé as Blind Lemon Jefferson with David Weiss on guitar, directed by Katherine Owens. The Executive Producer of the recording is Alan Govenar.
The world premiere musical Lonesome Blues is the true story of the legendary bluesman Blind Lemon Jefferson: born blind, but ultimately able to express his deepest emotions through music. Discovered on a street corner in the Deep Ellum section of Dallas, Texas in 1925, Jefferson made more than 80 records over the next four years, becoming one the most prolific and influential performers of his generation and propelling the growth of rhythm and blues, soul, doo-wop, rap, and hip-hop. Building on the success of their earlier musical Blind Lemon Blues, presented by the York in 2007 and 2009, Alan Govenar and Akin Babatundé have used new research to probe deeper into the life and psyche of Blind Lemon Jefferson. In Lonesome Blues, Babatundé plays more than ten different roles, channeling the spirits of men and women alike, in a journey that is at once evocative, troubling, and transformative. Songs and monologues bring to life the voice of Blind Lemon Jefferson, his community, and his musical contemporaries, including Blind Willie Johnson, Lillian Glinn, Hattie Hudson, Bobbie Cadillac, and Lead Belly-all coming together in Jefferson's mind on the day of his death, December 19, 1929, in Chicago.
Lonesome Blues received its world premiere at The York Theatre Company, in association with Documentary Arts, where it played a 3-week engagement from June 12 - July 1, 2018.
The new CD recordings of Desperate Measures and Unexpected Joy are now available online at www.amazon.com, and www.jayrecords.com, respectively. Pre-orders forLonesome Blues can be made by visiting the York website at www.yorktheatre.org.

Related Articles View More Off-Broadway

Stories

Shows
More Hot Stories For You