Stephen Bogardus And More Star In New CD GAY LOVE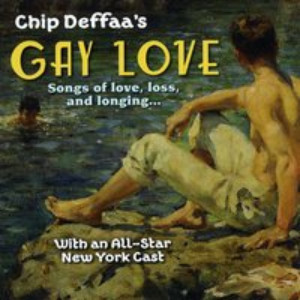 ASCAP Award-winning writer/producer Chip Deffaa's new CD, "Gay Love"--being released June 29th--will features such Broadway notables as Stephen Bogardus ("Bright Star"), Lee Roy Reams ("La Cage Aux Folles"), John Tartaglia ("Avenue Q"), Kristy Cates ("Charlie and the Chocolate Factory") and Jon Peterson ("Cabaret"), plus such top nightclub and cabaret stars as Seth Sikes, Baby Jane Dexter, and Tom Andersen. The album, an outgrowth of shows that Deffaa has presented at the venerable 13th Street Theater and elsewhere, features 28 rare--and, in some cases, never-before-recorded--songs with a "gay romance" theme. The album--which will be available from Amazon, CDBaby, ITunes, Footlight Records etc. on June 29th--may be pre-ordered, as either a physical CD or a digital download, here: https://store.cdbaby.com/cd/gaylove. A portion of the proceeds will go to the charity Broadway Cares/Equity Fight AIDS.
"Gay love has been around as long as there have been human beings," Deffaa commented. "As Alfred Kinsey noted, it's part of our basic mammalian heritage. And on this album, we'll have two dozen of the theater community's best--gay and straight alike--singing songs, old and new, touching on gay romance." Deffaa has taken great care to find just the right singer for each song.
"Stephen Bogardus, for example, is currently co-starring at the Irish Rep in 'On a Clear Day, You Can See Forever.' He's appeared memorably in more than a dozen Broadway shows--from 'Love! Valour! Compassion!' and 'Falsettos'--to 'Man of LaMancha' and 'White Christmas.' I've actually been an admirer of his work since he was 19, well before he got his first Broadway gig ('West Side Story'). He is a first-rate singing actor, thoughtful, caring, insightful. He has the talent and wisdom to give Noel Coward's 'I'll Follow My Secret Heart' as fine an interpretation as I've ever heard.. It's an honor to be able to release that recording.
"Lee Roy Reams--whom I've enjoyed in such Broadway hits as 'Applause,' 'Lorelei,' 'Hello, Dolly!,' 'La Cage Aux Folles,' 'The Producers,' and '42nd Street,' among others--is Broadway royalty. I love his work. I asked him if there were a song he'd like to sing on an album with a 'gay love' theme. His choice surprised me--and I'm going to keep it a surprise until the album is officially released--but it's touching and tender, and captures him at his best."
"John Tartaglia--who starred on Broadway in 'Avenue Q' and on television in 'Jonny and the Sprites,' among many other credits--always puts a big smile on my face. And again, I've admired his work since before he became famous. In fact, this album is dedicated, with appreciation, to him. He and Keith Anderson, who's appeared in such shows of mine as 'Mad About the Boy' and 'The Irving Berlin Ragtime Revue,' sing a contemporary duet, 'Here'--by Jeff Dobbins and Alfredo Alvarez--that is sweet and true-to-life.
"I'm so glad to have Timothy Britten ('Toby') Parker, from such Broadway shows as 'Wicked' and 'Rent,' represented here--singing Noel Coward's 'Matelot' with characteristic honesty and sensitivity. Kristy Cates, from 'Finding Neverland,' sings a curious song from Weimar Germany, 'Masculine/Feminine,' that she first sang in my show 'Mad About the Boy.'
"Jon Peterson--who played the Emcee in 'Cabaret' in New York and on the road--is as great a song-and-dance man as anyone working in the theater today. And I'm happy he took time off from the national tour of 'Cabaret' to slip into the studio and record with sly fervor 'He May be Your Man, But He Comes to See Me Sometimes.'
"Seth Sikes, who's 30-ish--is the hottest singer in the nightclubs these days. He sells out wherever he appears--from New York to Provincetown, to London. What a wonderful sound he has--radiant and buoyant; he always makes me feel good. It means the world to me to have him sing a couple of songs on this CD. All of the reviewers have discovered Seth in the last year or two. But I've believed in him since he first landed in New York and starred in my show 'Yankee Doodle Boy,'" Deffaa says. "On this album, you'll hear him sing solo and also in a duet with Clark Kinkade, another of my favorite singers. Clark's not so well known yet, but he will be; he is wonderful. Besides working on his own, he also sings in the popular group 'Range a Capella,' which has sung everywhere from Radio City Music Hall to the red-carpet of the Emmy Awards.' He made his recording debut on my 'Mad About the Boy' cast album. And I hope to include him on many more albums.
"But every artist on this album has been carefully chosen, whether he's a seasoned pro I've admired for years like the absolutely wonderful Santino Fontana--none better!--who's enlivened such shows as "Hello, Dolly!," "Act One," "The Fantasticks," "Cinderella," and "Billy Elliott"; and ebullient Trent Armand Kendall (from "Bat Boy," "Into the Woods," "Smokey Joe's Cafe"), or a rising younger performer-to-watch like Peter Charney ("The Bright and the Brave"), Alec Deland ("The Triangle Show"), Luka Fric ("The Ziegfeld Midnight Frolic"), Ellis Gage ("James and the Giant Peach"), Dave Warren ("George M. Cohan & Co."), Austin Owen ("Jersey Boys"), or John Brady and Cody Jordan ("Mad About the Boy").
"Different singers are chosen for different strengths. There are superb younger singers in my theatrical family--like Tyler DuBoys, Bailey Cummings, Dylan Adams, Magnus Tonning Riise--who've got such pure, appealingly youthful sounds that they're just right for certain songs about young love. Other songs require older singers, with more life experience. It's all good, and it all adds to the fun.
"Most of the singers have worked with me in shows at one time or another. And most have recorded for me before. But they all love this music, and have a good feel for it. The album is an outgrowth of some gay-themed shows, such as 'Theater Boys' and 'Mad About the Boy,' that I've written and directed at my base in the city, the 13th Street Repertory Theater. I'm grateful to Edith O'Hara, the founder/artistic director of the 13th Street Theater, for giving me carte blanche to develop shows there. This album has been a labor of love--great singers singing some great songs. And a portion of the proceeds will go to my favorite charity, Broadway Cares. " The new album--the 24th album that Deffaa has produced-- is available for purchase here: https://store.cdbaby.com/cd/gaylove.