Special Post-Performance Event Set For Tonight At THE CHEKHOV DREAMS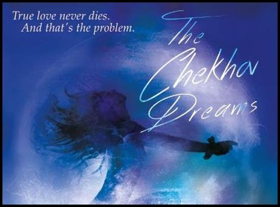 THE CHEKHOV DREAMS, the critically acclaimed dark romantic comedy, will host a very special post-performance discussion tonight entitled "A Conversation on Women in Leadership Roles in Theater and the Arts" at The Beckett Theatre at Theatre Row (410 West 42 Street).
The production is represented by 75% women including the two lead producers, director, costume designers, lighting designer, and production stage manager. These professional theater women are set to lead the talkback, which will include a Q&A with the audience. The Chekhov Dreams will conclude its limited engagement this Saturday evening, February 17th.
In The Chekhov Dreams, Jeremy's fiancée has it all - beauty, intelligence, beguiling charm. Unfortunately she's also dead, but that doesn't stop her from visiting him every night in his dreams. This blissfully aberrant arrangement unravels with the interference of Jeremy's hedonistic brother and his overly enthusiastic acting scene partner, with whom he's stuck working on a scene by Chekhov - the one writer he loathes. Worse yet, this actress is starting to arouse the jealousy of his betrothed just as she's beginning to reveal her true powers. Jeremy's fiancée may be to die for, but will he go that far?
Under the direction of Leslie Kincaid Burby, The Chekhov Dreams features Dana Watkins (MY FIRST TIME, IN MASKS OUTRAGEOUS AND AUSTERE), Elizabeth Inghram (AFTER THE BALL, BUSKER ALLEY w/Glenn Close), Charlotte Stoiber (YOLKA AT THE IVANOVS, Moscow Art Theatre), Christian Ryan (DEMENTIA 13, "A Crime to Remember"), and Rik Walter ("30 Rock," "Unforgettable").
Playwright John McKinney's short plays have appeared in several anthologies, including BEST 10 MINUTE PLAYS and BEST MEN'S STAGE MONOLOGUES by Smith & Kraus, and have been performed in the UK and Australia. Most recently, he was granted two entries in 5-MINUTE PLAYS by Applause Books. He is currently developing a military-themed political thriller, THE ART OF MANEUVER.
THE CHEKHOV DREAMS is being produced Off-Broadway by Catriona Rubenis-Stevens and Jeanette Bonner. Executive producer is Jeremy Handelman. The final three performances are tonight at 7 pm, and Friday & Saturday at 8 pm. Tickets are available through www.Telecharge.com 212-239-6200.
For more information, visit www.ChekhovDreams.com.