Sarah Utterback and Jessica Pimentel Join SURFER GIRL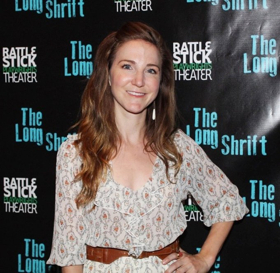 Animus Theatre Company (Jonathan Judge-Russo, Founding Artistic Director), "Animus Théâtre Company in association with The Dirty Blondes are thrilled to welcome Sarah Utterback of ABC's hit primetime TV drama "Grey's Anatomy" and Jessica Pimentel of Netflix's "Orange Is the New Black" to the New York premiere of Surfer Girl, part of Leslye Headland's "Sin Cycle Plays." Presented at The Foley Gallery (59 Orchard Street, between Grand and Hester) on Tuesdays & Wednesdays at7:00pm (doors open 7:00pm, performance begins 7:30pm), the New York premiere of Surfer Girlruns through May 30, 2018.
Ms. Utterback, who originated the role during the 2009 world debut of Surfer Girl, Ms. Pimentel freshly off yet another successful season of "Orang Is the New Black," and up-and-comer Jazmin Williams complete casting for this unique experimental production that features eight actresses each under the direction of one-of-four different directors across its limited engagement. Through contrasting the differences that most often divide us as a society - social class, geopolitical demographic, race, sexual preference, etc. - we are able to discover a thread that ties us together: sin.
Ms. Utterback, whom playwright Leslye Headland credits as being the muse behind Surfer Girland the person for whom she specifically wrote the piece, first tackled the role during the production's world debut with Los Angeles's IAMA Theater Company in 2009. She now joins the New York premiere to revive her acclaimed performance, giving audiences a chance to see the piece performed by the very person for whom playwright scribed it and with the knowledge that 10 years growth and development brings to a role.
The finalized performance schedule with casting is as follows: Wednesday, April 25 at 7:00pm featuring Karen Eilbacher; Tuesday, May 1 & Wednesday, May 2 at 7:00p featuring Amy Northup;Tuesday, May 8 & Wednesday, May 9 at 7:00pm featuring Sarah Utterback; Tuesday, May 15 & Wednesday, May 16 at 7:00pm featuring Jazmin Williams; Tuesday, May 22 & Wednesday, May 23 at 7:00pm featuring Sara Canter; and Tuesday, May 29 & Wednesday, May 30 at 7:00pm featuring Jessica Pimentel.
Patrons of Surfer Girl can partake in a cash bar featuring Brooklyn Brewery and an assortment of wine selections while viewing the one of a kind art installation by New York Times lauded visual artist Chaney Trotter, specifically designed to serve as the backdrop for this exciting NY premiere, and mingling with the evening's performer and director.
Surfer Girl will be presented at The Foley Gallery (59 Orchard Street, between Grand and Hester) on Tuesdays & Wednesdays at 7:00pm (doors open 7:00pm, performance begins 7:30pm) through May 30, 2018. Tickets are available for $30 each by visiting www.surfergirl.brownpapertickets.com.
For more information about Animus Theatre Company and its production of Surfer Girl, please visit www.animustheatre.org
MORE ABOUT THE SHOW
What happens when we disappear in order to survive; softening our edges and blurring our outlines to the point of invisibility so the people around us will, well...keep us around? Surfer Girl, Ms. Headland's one- woman play exploring the sin of sloth, and part of her "Seven Deadly Plays" cycle, tackles these questions. Not exactly homeless, never quite broke, always ready to become whomever she needs to be in order to stick around just that little bit longer, Surfer Girl chronicles a young woman's affectless journey through life as she combats that passively inert state of mind that gives rise to her loss of self and to...couch surfing.
BIOGRAPHIES
Sarah Utterback. Theater credits include The Accidental Blonde and Surfer Girl (IAMA original casts), Mud, North of Providence, Il Bidone, Ladybird, Hamlet, BASH, Taken in Marriage(Steppenwolf Garage Theater), Macbeth (RADA), Full Circle and Who's Afraid of Virginia Woolf(NYU). TV & Film: Grey's Anatomy, The Mysteries of Laura, NCIS, Cold Case, Medium, Ghost Whisperer, Family Guy, Pathlights and My First Time Driving. BFA from NYU's Tisch School of the Arts and 2003 graduate of the School at Steppenwolf. Founding member of IAMA Theatre Company.
Jessica Pimentel is a graduate of the High School for the Performing Arts (a.k.a. "Fame") in New York City and the prestigious American Academy of Dramatic Arts. Though perhaps most known for her work on Netflix's "Orange Is the New Black," Jessica has traveled around the United States, Canada, Europe and Japan as both a classical violinist and Hardcore/Heavy Metal musician and has played at various notable venues such as CBGB and Carnegie Hall. Jessica is the lead vocalist and recording guitarist for the Brooklyn, NY based heavy metal band Alekhine's Gun and Bassist for NY heavy metal/hardcore band Desolate. Some of her theater credits include the American Stage production of the Pulitzer prize winning play Anna in the Tropics and the Shakespeare Theater's production of a A VERY OLD Man With Enormous Wings adapted by Nilo Cruz. She was also seen in the leading role of Mathilde in the Wellfleet Harbor Actors Theater's production of The Clean House by Sarah Ruhl and the Seattle Repertory Theater's production of Eduardo Machado's The Cook. In 2008, she played the role of Juliet in an abridged, contemporary version of 'Romeo and Juliet' in a Theatreworks USA production national tour and originated the role of Lupita in the Off-Broadway show 'Aliens with Extraordinary Skills' by Romanian playwright Saviana Stanescu.
JAZMIN WILLIAMS is a NYC native and graduate of SUNY Fredonia's Acting program with a degree in Fine Arts. Past theatre credits include: Aricia in Jean Racine's Phèdre, Rose in August Wilson's Fences and Arena in Upon A Thicket Throne. Film credits include: Hathie, The Ghost of Hollow Hills and Cleaning Up The Dirt. For updates, please visit JazminWilliamsNYC.com
Leslye Headland began her career writing and directing the Seven Deadly Plays series at IAMA Theatre Company in LA. Her Off-Broadway plays include Bachelorette, Assistance and The Layover. Bachelorette was the basis for her 2012 directorial film debut starring Kirsten Dunst, which premiered at the Sundance Film Festival. Other film credits include writing the 2014 remake of About Last Night starring Kevin Hart and writing/directing Sleeping with Other People starring Jason Sudeikis and Alison Brie which also premiered at Sundance in 2015. TV credits include: pilots for HBO, Netflix and NBC, Terriers, Blunt Talk and Heathers. Headland's Sin Cycle is currently onstage at IAMA in LA, with the world premiere of the seventh and final play in the cycle, Cult of Love ("pride"), in a full production at IAMA in May 2018. Headland is currently working on her new show for Netflix, Russian Doll.
CHANEY TROTTER is a painter and installation artist originally from Houston, Texas. Trotter received her Bachelor of Fine Arts from the University of Southern California, her Post-Baccalaureate degree from Maryland Institute College of Art, and her Master of Fine Arts from Parsons The New School for Design. Trotter's work interweaves the realms of science and mythology by constructing immersive environments and relics that are totemic in nature. These icons blend both natural and manmade forces into single entities, utilizing stories from the past as a platform for intricate narratives about the present. Her paintings and installations construct these methodologies through a myriad of iconographies, archaic symbols, and contemporary characters caught in the flux of modern myth-making, addressing the way that belief systems rooted in logic and/or mysticism consistently shift power unto one another. Trotter has been featured in publications such as The New York Times, Artnet News, Whitewall Magazine, Gothamist, Artlog, Hyperallergic, What Weekly Magazine, Artist Portfolio Magazine, and others. She has exhibited work across the United States, primarily in California, Baltimore, Texas, and New York City, and abroad in Amsterdam. Trotter currently lives in Manhattan and continues to make work out of her studio in Long Island City.
ABOUT ANIMUS THEATRE COMPANY
Animus Theatre Company is an artist-driven company whose mission is to explore and illuminate the resilience of the human spirit. Animus Theatre Company (Amy Northup, Assoc. Artistic Director; Karen Sours, Literary Director) produced its first play, John Patrick Shanley's Where's My Money? at the Cherry Lane Theatre, in 2012. Notable productions include Collected Shorts by Tennessee Williams (Moony's Kid Don't Cry, The Pink Bedroom, Talk to Me Like the Rain and Let Me Listen, and The Long Goodbye), Pericles, Prince of Tyre by Shakespeare, and two 12-Hour Reading Festivals featuring the Sin Cycle works of Leslye Headland (The Accidental Blonde,Assistance, Bachelorette, Cinephilia, Reverb, and Surfer Girl) and John Patrick Shanley (The Big Funk, Defiance, Italian American Reconciliation, Moonstruck, The Red Coat, Sailor's Song,Savage in Limbo, Women of Manhattan) at Broadway's Circle in the Square Theatre.
Notable artists who have worked with Animus Theatre Company include playwrights Lesyle Headland, Theresa Rebeck, John Patrick Shanley, Bob Glaudini; directors Pamela Adlon, Edward Berkeley, Matthew Lillard, Andrew Lippa, Alan Langdon; and stage & film actors Alexis Bledel, Ben Foster, Andre Holland and Margo Seibert, among others.
ABOUT THE DIRTY BLONDES
The mission of the NY based theater company, The Dirty Blondes, is feminist in nature, with a goal to break down stereotypes and encourage a nuanced, inclusive dialog. Founded by Artistic Director Ashley Jacobson and Executive Director Elizabeth Sarkady in 2012, the company seeks to explore the nature of all human prejudice, subverting face value perception with sophisticated and subtle shades of distinction.
Notable productions include the Off-Broadway premiere of Jacobson's (Winner, Overall Excellence in Playwriting, 2015 FringeNYC) The American Play at the Soho Playhouse; The Resister Project, a week long, ACLU fundraising festival, held during the first days of the Trump presidency; SEX by Mae West, a staged reading spotlighting the icon's famously banned play with panel discussions featuring sex workers and feminist historians; and Detroit, NY a short play festival featuring seven Detroit-based playwrights, aiming to shed light on Detroit's shifting culture and state of bankruptcy.
The Dirty Blondes are resident artists at Horse Trade Theater, producing in its celebrated downtown venues Under St. Mark's and The Kraine Theater. For details about The Dirty Blondes and the upcoming season visit: www.thedirtyblondes.org
ABOUT FOLEY GALLERY
Foley Gallery, located in the heart of the LES gallery district, has been focused primarily on drawing, cut paper, painting and photography. Its new space in the historic landmark "Pink Building" at 59 Orchard St, is allowing the gallery to expand its horizons and to feature a wider variety of mediums and hosted events.
Photo Credit: Jennifer Broski