Romantic Comedy HOT MESS Sets December Closing Off-Broadway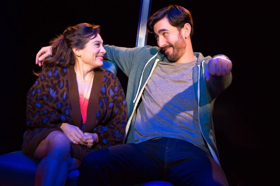 HOT MESS, a romantic comedy by Dan Rothenberg (Suburban Boy; Regretrosexual) and Colleen Crabtree (The Tragic and Horrible Life of the Singing Nun, The Groundlings), and directed by Jonathan Silverstein (tick, tick...BOOM; John & Jen; The Temperamentals), will close at The Jerry Orbach Theater at The Theater Center (1627 Broadway at 50th Street) on Sunday, December 17. At the time of closing, it will have played 9 previews and 36 performances.
"We are profoundly grateful to our audiences who have come to laugh and be entertained at Hot Mess," said producers Jay Alix and Una Jackman. "This has been a wonderful experience working with these talented artists and we hope theatergoers who love to laugh will take advantage of these upcoming weeks to see this heartwarming romantic comedy."
Angst-ridden Max and mildly unstable Elanor are soul mates. They have revealed every crazy and embarrassing quirk to each other, which has only brought them closer. However, there is one issue that Max is holding onto. Elanor has discussed her ex-boyfriends with Max. Max hasn't quite mentioned his. Hot Mess proves that sometimes in order to find yourself, you have to get lost.
The cast of Hot Mess includes Max Crumm (Broadway: Disaster!; Grease) as Max, Lucy DeVito (Steel Magnolias, "It's Always Sunny In Philadelphia;" "The Comedian") as Elanor, and Paul Molnar (Alphabetical Order) as Lewis/Steve.
HOT MESS features scenic design by Tobin Ost (Broadway: Newsies, Disaster!), costume design by Bobby Frederick Tilley (Guards at the Taj, Lizzie Borden), lighting design by Matthew Richards (Broadway: Ann) and sound design by Bart Fasbender (Broadway: Bloody Bloody Andrew Jackson), casting is by David Caparelliotis, C.S.A. HOT MESS is produced by Jay Alix and Una Jackman.
For more information, visit www.HotMessThePlay.com.
Photo Credit: Jeremy Daniel