Photo Flash: THE BILBAO EFFECT At Center for Architecture
THE BILBAO EFFECT, a world-premiere play that puts contemporary architecture on trial, written by Oren Safdie (whose previous play about architecture, PRIVATE JOKES, PUBLIC PLACES, was a hit Off-Broadway in 2003) will be presented Off-Broadway with an official press opening night on May 16, 2010 at Center for Architecture (536 LaGuardia Place) in Manhattan. THE BILBAO EFFECT will run Wednesday through Saturday at 8PM through June 5. For tickets call (212) 352-3101 or (866) 811-4111 or visit www.theatermania.com
PRIVATE JOKES, PUBLIC PLACES, which was also presented at the Center for Architecture, starred Anthony Rapp. Mr. Safdie's most recent play Off-Broadway, THE LAST WORD, enjoyed critical and popular success, and starred the Emmy Award-winning actor Daniel J. Travanti and Adam Green in 2007.
"The Bilbao Effect" became a popular term after Frank Gehry built the Guggenheim Museum in Spain, transforming the poor industrial port city of Bilbao into a must-see tourist destination. Its success spurred other cities into hiring famous architects and giving them carte blanche to design even more spectacular buildings in hopes that the formula could be repeated.
In Mr. Safdie's play THE BILBAO EFFECT -- the second play of a planned trilogy focusing on contemporary architecture -- Erhardt Shlaminger is a world famous architect who faces censure by the American Institute of Architects, following accusations that his urban redevelopment project for Staten Island has led to a woman's suicide. The play tackles controversial urban design issues that New Yorkers have recently encountered in Brooklyn as a result of the hotly-debated plans to redevelop the Atlantic Yards into an architecture-star mega-development. THE BILBAO EFFECT explores whether architecture has become more of an art than a profession, and at what point the ethics of one field violate the principles of the other.
Directed by Brendan Hughes, THE BILBAO EFFECT will be presented by the Center for Architecture in association with Jacqueline Bridgeman, Fritz Michel and Les Gutman. The play was commissioned by the Canada Council for the Arts, is supported by the Quebec Government Office - New York, and was developed through a column Mr. Safdie wrote for Metropolis Magazine.
The cast of THE BILBAO EFFECT includes Tommy Biggiani, John Bolton (Broadway's SPAMALOT and CURTAINS, and TV's "Gossip Girl"), Marc Carver (BILL W. AND DR. BOB, New World Stages), Anthony Giaimo (MEASURE FOR MEASURE at Pearl Theatre Co, "The Bird Cage" w/ Nathan Lane, "Bad Boys II" w/ Will Smith), Ann Hu (PRIVATE JOKES, PUBLIC PLACES, TV's "Law and Order"), Lorraine Serabian (Broadway's CABARET and ZORBA, Tony nomination), Joris Stuyck (SHERLOCK HOLMES: THE FINAL ADVENTURE at Cincinnati Playhouse, GUANTANAMO at the Culture Project, BBC-TV miniseries "Tender Is the Night"), Jay Sullivan (DURANGO at The Public, ORESTES: A TRAGIC ROMP, TV's "The Good Wife"), and Joel Van Liew (FROM UP HERE at MTC).
Performances of THE BILBAO EFFECT run May 12-June 5 at The Center for Architecture (536 LaGuardia Place, between Bleecker Street and West 3rd Street in Greenwich Village); Wednesdays-Saturdays at 8pm. Tickets are $18. For tickets call (212) 352-3101 or (866) 811-4111 or visit www.theatermania.com
Photo credit: Carol Rosegg


Joris Stuyck, John Bolton and Ann Hu

Ann Hu, Marc Carver and Joel Van Liew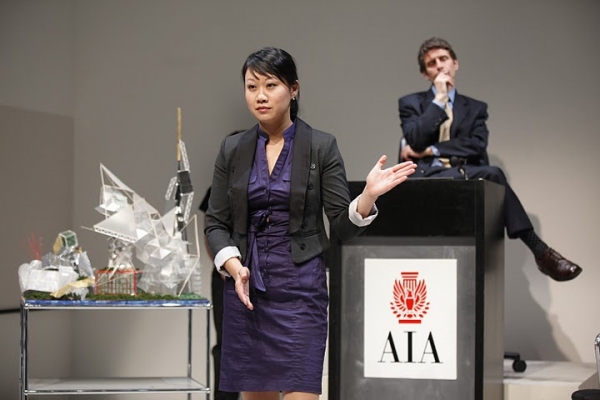 Ann Hu and Marc Carver

Ann Hu, Marc Carver and Joris Stuyck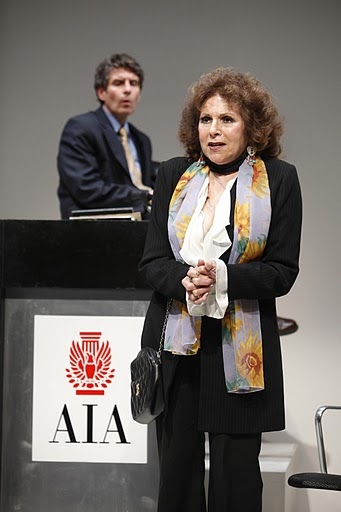 Marc Carver and Lorraine Serabian

More Hot Stories For You