Photos: Judy Gold, Robert Cuccioli, Mara Davi and More Star in Gingold Theatrical Group's CHICAGO
Gingold Theatrical Group presents Chicago, the basis of the long running Broadway musical. Written in 1926 by Maurine Dallas Watkins, Chicago is best known today as the inspiration for the 1975 stage musical Chicago.
The play is a satire and was based on two unrelated 1924 court cases involving two women, Beulah Annan and Belva Gaertner, who were both suspected and later acquitted for murder, whom Watkins had covered for the Chicago Tribune as a reporter. The Broadway play has been adapted into the 1927 film Chicago, the 1942 film Roxie Hart, and the 1975 stage musical Chicago (revived in 1996 and still running), which in turn was adapted as the Academy Award-winning 2002 film. This is a rare chance to see the original!
Guest Director Pamela Hunt directs a cast that features Arnie Burton (The Mystery of Irma Vep - Drama League nomination, Machinal, Peter and the Starcatcher, The 39 Steps, The Temperamentals -Drama Desk Award, The Last Sunday in June, The Jew of Malta/The Merchant of Venice), Robert Creighton (Chitty Chitty Bang Bang, The Little Mermaid, Lion King, Chicago, Anything Goes, James Cagney in the show he conceived and co-authored, Cagney!), Robert Cuccioli (Jekyll & Hyde - Tony Award nomination, Drama Desk, Outer Critics Circle, FANY & Joseph Jefferson Awards; And The World Goes 'Round - OCC Award; The Rothschilds, Les Miserables, Spider-Man: Turn Off The Dark), Mara Davi (A Chorus Line, The Drowsy Chaperone, No, No, Nanette - Encores!, Irving Berlin's White Christmas, Dames at Sea), George Dvorsky (The Scarlet Pimpernel, Gentlemen Prefer Blondes, Passion, Closer Than Ever, Leading Men Don't Dance, And the World Goes 'Round, Dames at Sea, Rodgers and Hammerstein's Cinderella, Brigadoon), Joy Franz (Susan in Stephen Sondheim's Company, Cinderella's Stepmother in Sondheim's Into the Woods), Judy Gold (Off-Broadway: The Judy Show - My Life as a Sitcom - Outer Critics Circle Nomination; 25 Questions for a
Jewish Mother - GLAAD Media Award - Outstanding NY Theater, Drama Desk Nomination; Clinton! The Musical, Disaster! The Musical; stand-up specials on HBO, Comedy Central, LOGO), Jonathan Hadley (The Bodyguard, Jersey Boys, A Class Act, Fiddler on the Roof, Into the Woods, Forbidden Broadway, Rothschild & Sons, Finian's Rainbow), Susannah Perkins (The Low Road - Public Theater, The Wolves - LCT, The Rape of the Sabine Women - Playwrights Realm), Anna Marie Sell (Off-Broadway: Kingdom Of Earth, A Wilder Christmas; Shenandoah - Ford's Theatre), and Time Out NY Theater Editor Adam Feldman.
"Most people, including fans of the great musical, don't know this play even exists! So we're particularly delighted to reintroduce this riotous play to New York. Written in 1926 by the largely forgotten Maurine Dallas Watkins, this original is far more risqué and outrageous than any subsequent adaptations. Watkins boasted a major career both on Broadway and in Hollywood, and we're looking forward to bringing her back to Broadway...if just a bit further uptown. Add to that our guest director Pamela Hunt and a superb cast for what is sure to be a roof-raiser," says Staller
The 13th season will continue with Shaw's Back to Methuselah (Part 1 - October 22nd, Part 2 - November 19th), and more from Shaw's contemporaries: The New Word by J. M. Barrie & O'Flaherty along with Shaw's V.C. (September 24th), and The Enchanted Cottage by Arthur Wing Pinero (December 17th).
All the plays in this series will be presented in a concert-reading format at the Leonard Nimoy Thalia Theater at Symphony Space, 2537 Broadway at 95th Street. Tickets are $35 and are available by calling (212) 864-5400 or online at www.symphonyspace.org. Special reserved VIP seating available for $50 by contacting the Gingold office 212-355-7823 or info@gingoldgroup.org. Symphony Space's Leonard Nimoy Thalia Theatre space is completely accessible.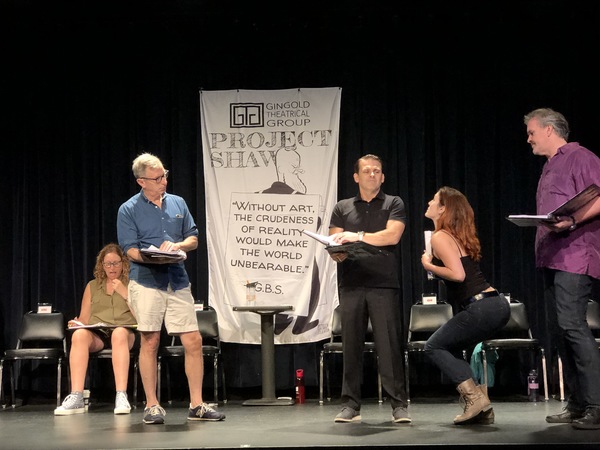 Judy Gold, Arnie Burton, Robert Creighton, George Dvorsky

Susannah Perkins, Judy Gold, Mara Davi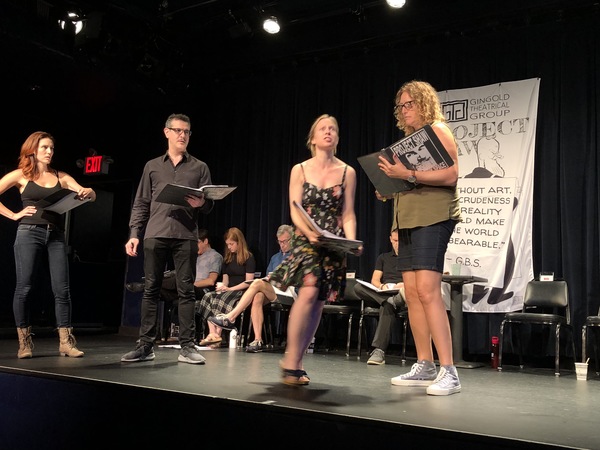 Mara Davi, Adam Feldman, Ann Marie Sell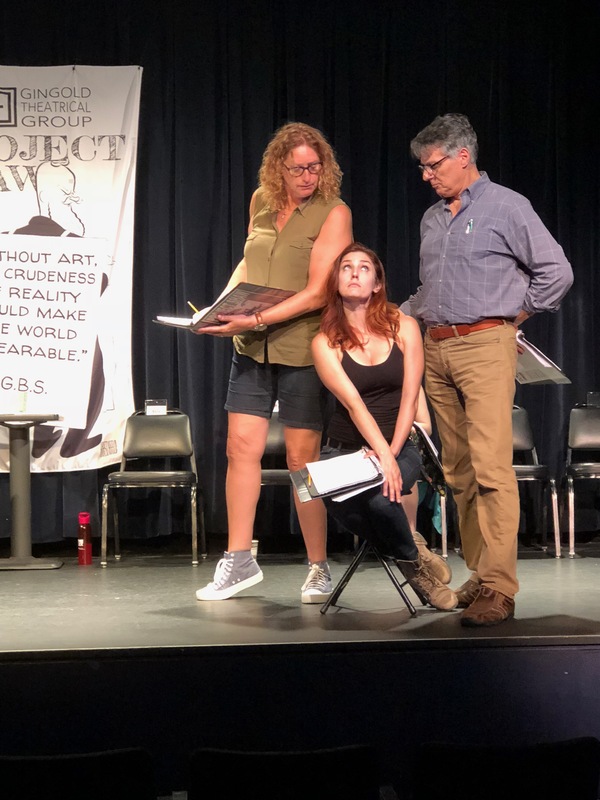 Judy Gold, Mara Davi, Robert Cuccioli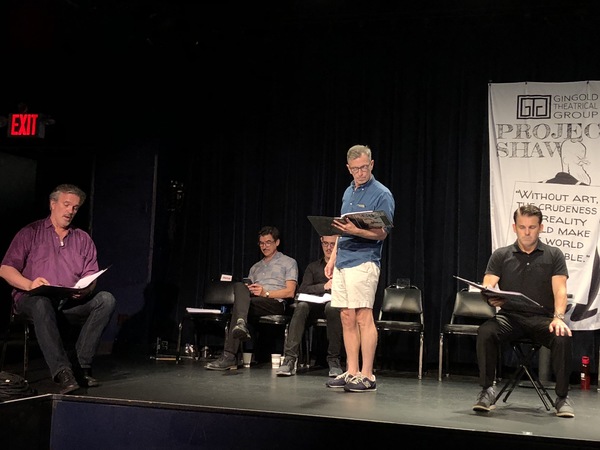 George Dvorsky, Arnie Burton, Robert Creighton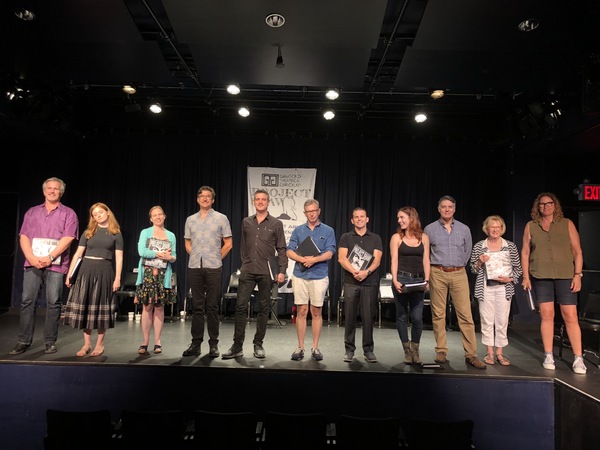 Full Cast

Full Cast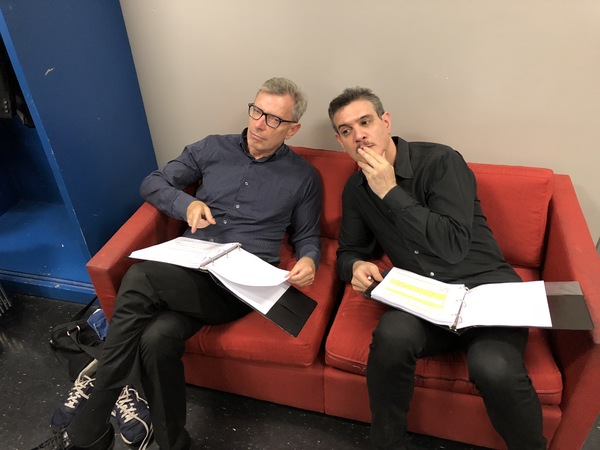 Arnie Burton, Adam Feldmna

Mara Davi, Susannah Perkins, Judy Gold, Ann Marie Sell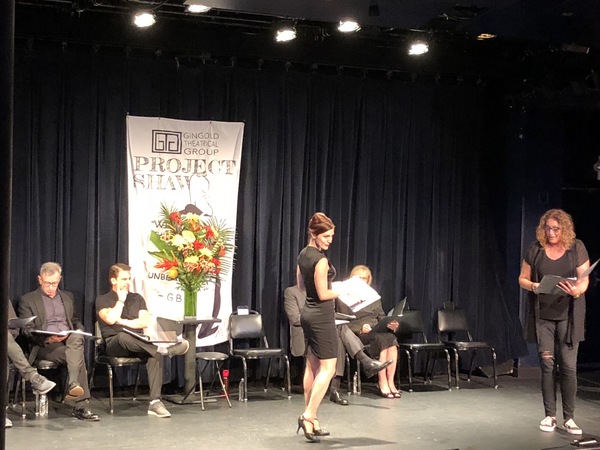 The Cast