Photo Flash: First Look at Farah Alvin, Natalie Venetia Belcon and More in THE LAST SMOKER IN AMERICA!
The raucous, irreverent, and unfiltered new Off-Broadway musical comedy The Last Smoker in America, with book and lyrics by Tony Award nominee
Bill Russell
(Side Show) and music by Drama Desk Nominee
Peter Melnick
(Adrift in Macao), with direction by Tony Award winning producer and director
Andy Sandberg
(Hair;
Gore Vidal
's The Best Man), choreography by Tony Award nominee
AC Ciulla
(Footloose) and music supervision, arrangements and orchestrations by
Fred Lassen
(The Gershwin's Porgy & Bess), began performances Wednesday, July 11, 2012 upstairs at
The
Westside Theatre
(407 West 43rd Street). Opening Night is Thursday, August 2, 2012. Get a first look at the cast on stage in the photos below!The four member cast features Drama Desk Nominee
Farah Alvin
(The Marvelous Wonderettes) as Pam,
Natalie Venetia
Belcon (Avenue Q) as Phyllis,
John Bolton
(A Christmas Story, "Gossip Girl") as Ernie, and
Jake Boyd
(MCC's Carrie) as Jimmy.In a world where smoking has recently been outlawed and the penalties are growing stricter by the minute, Pam is having an impossible time trying to quit. Her husband Ernie dreams of being a rock star and relentlessly practices his guitar in the basement, while their videogame-addicted son Jimmy listens to so much rap music he thinks he's black. As if Pam isn't pushed to
The Edge
of reason already, her nosy, anti- smoking zealot neighbor Phyllis is on a mission to catch transgressors mid-puff. Will Pam kick the habit or fight for her right to light up? The Last Smoker in America delivers explosive satire and smoking wit, along with a thrilling rock score that will leave you craving for more. The musical received a developmental workshop production at the New York Musical Theatre Festival in the fall of 2009, where it extended and played to sold-out audiences. In the fall of 2010, The Last Smoker in America received its world premiere at CATCO (Columbus, Ohio), where additional performances were added due to popular demand.The creative team includes
Charles Corcoran
(sets),
Michael McDonald
(costumes), 2012 Tony Award®-winner
Jeff Croiter
&
Grant Yeager
(lights),
Bart Fasbender
(sound), and
Jay Binder
(casting).
Roger Alan Gindi
is the General Manager and
Pamela Edington
is the Production Stage Manager.
The producers for the New York run of The Last Smoker in America include
Andy Sandberg
,
Whitney Hoagland Edwards
,
Michael Palit
z, and
Stephanie Rosenberg
.The producers of The Last Smoker in America recently announced they will host the first ever Smoke-In/Smoke-Out on the occasion of the show's opening night. On one side of this dueling event, smokers wishing to give up the habit will be encouraged to throw away their packs of cigarettes and quit cold turkey. These discarded cigarettes will be collected and delivered to the other side of the event, where nicotine enthusiasts will be invited to puff away on them, guilt-free, among like-minded smokers. All of Broadway's iconic smokers are welcome to participate, on either side of the event, including but not limited to:
Vanessa Redgrave
,
Lauren Bacall
,
John Larroquette
and more, as well as anonymous members of the public. Join The Last Smoker in America and the first ever Smoke-In/Smoke-Out set for Thursday, August 2nd in front of
The
Westside Theatre
(407 West 43rd Street). Festivities begin at 5:30 p.m. For ticketing, scheduling and further information about the show, visit
www.LastSmoker.com
.
Photo credit: Joan Marcus


Farah Alvin as Pam

Natalie Venetia Belcon as Phyllis

Farah Alvin as Pam and Natalie Venetia Belcon as Phyllis

John Bolton as Ernie and Farah Alvin as Pam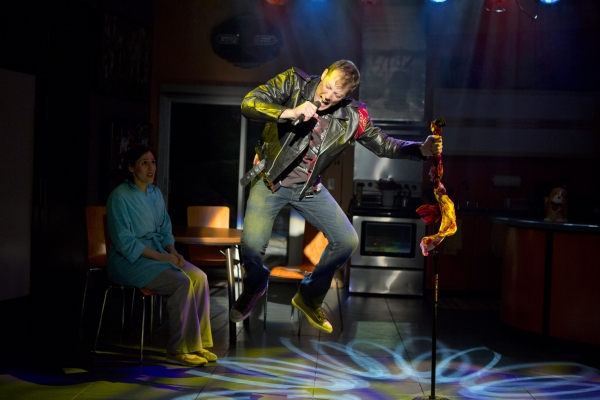 Farah Alvin as Pam and John Bolton as Ernie

Jake Boyd as Jimmy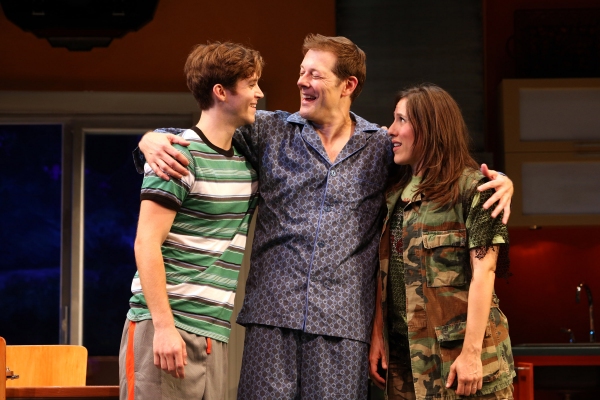 Jake Boyd as Jimmy, John Bolton as Ernie and Farah Alvin as Pam

The Cast: Natalie Venetia Belcon, Farah Alvin (on table), John Bolton, and Jake Boyd (rear)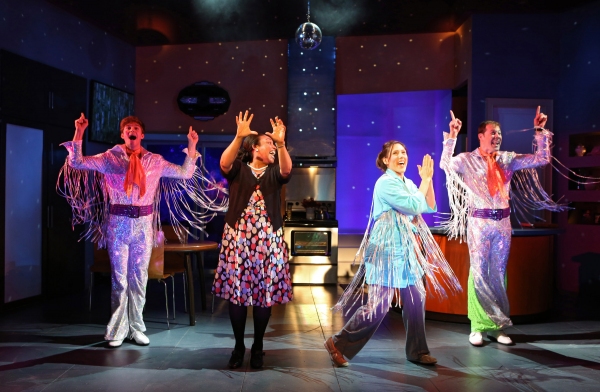 The Cast: Jake Boyde, Natalie Venetia Belcon, Farah Alvin and John Bolton

Natalie Venetia Belcon and Jake Boyd