Photo Flash: First Look At Out Of The Box Theatrics' Immersive INTO THE WOODS
Out of the Box Theatrics, Founder and Producing Artistic Director Elizabeth Flemming, Associate Artistic Director Ethan Paulini present a brand new revival of Into the Woods. The classic musical features music and lyrics by Stephen Sondheim and book by James Lapine. Ethan Paulini will direct. Marisa Kirby choreographs with music direction by Anessa Marie.
Brian Charles Rooney leads a cast that includes Amara Janae Brady, Gaby Garcia, Alie B. Gorrie, Alicia Krakauer, Alaina Mills, Celena Vera Morgan, Sidney Ronis and Katherine Yacko. Rien
Schlecht is the Production Designer and Egypt Dixon is Production Stage Manager.
Performance venues include the Jefferson Market Library, Rizolli's Bookstore and The Cell Theatre.
Subscriptions, #Box4All and single tickets ($15-$62.50) are now on sale through www.ootbtheatrics.com Previews begin October 26 with an official opening on October 28. An extra week was recently added.
Performances will now continue through November 9.
"This is a Woods like you've never seen" says Managing Director Frank Hartley "and despite overwhelming ticket demand and several sold out performances, now you will have the chance to see it. We are so thrilled to close out our incredible 2018 season with unprecedented ticket demand and a thrilling new production."
Out of the Box Theatrics, led by Founder and Producing Artistic Director Elizabeth Flemming, Associate Artistic Director Ethan Paulini and Company Manager, Frank Hartley is a New York-based, nonprofit Actors' Equity producing Off-Broadway organization, dedicated to producing new and classic works while challenging audiences to experience work outside of their expectations. Committed to hiring a diverse company of actors, regardless of gender, race, creed, ethnicity, or physical handicap, Out of The Box Theatrics allows audiences to experience work from a fresh perspective in site-specific locations. 2017 marked their first full season, following their 2016 inaugural production of You're a Good Man, Charlie Brown and included "Master Harold"...and the Boys and The Owl and the Pussycat . Jason Robert Brown's Songs for a New World. The 2018 season will open with Adam Rapp's Nocturne followed by Cheryl Stern's new musical Shoes and Baggage and closing out the season will be James Lapine and Stephen Sondheim's Into the Woods.
This 2018 season will also feature the new reading series Building the Box, a series of open mics and many special events. For more information, visit www.ootbtheatrics.com.
Photo Credit: Jazelle Foster/Jazelle's Artistry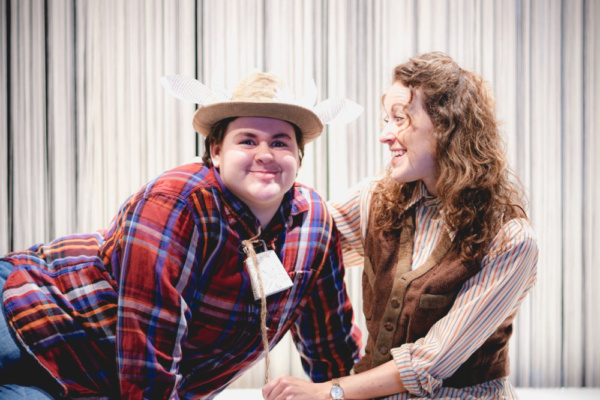 Sydney Ronis as Milky White and Alaina Mills as Jack

Creative Team: Ethan Paulini (Director/Associate Artistic Director), Egypt Dixon (Production Stage Manager), Rien Schlecht (Production Designer), Frank Hartley (Managing Director), Anessa Marie (Music Director), Marisa Kirby (Choreographer), Elizabeth Flemming (Producing Artistic Director)

Gaby Garcia as the Wolf and Celena Vera Morgan as Little Red

Sydney Ronis as Lucinda, Gaby Garcia as the Stepmother and Amara Janae Brady as Florinda

Director Ethan Paulini in rehearsal with Katharine Yacko (The Baker)