Photo Coverage: IF YOU SEE SOMETHING SAY SOMETHING Opening Night
The Public Theater (Artistic Director Oskar Eustis; Executive Director Andrew D. Hamingson) began previews for the New York premiere of Mike Daisey's IF YOU SEE SOMETHING SAY SOMETHING on Wednesday, October 15.  This groundbreaking monologue about homeland security, created and performed by Mike Daisey and directed by Jean-Michele Gregory, will run through Tuesday, November 30. The show had an official press opening on Monday, October 27. Tickets are on-sale now.
Following the success of How Theater Failed America at the Under the Radar Festival in January, 
Mike Daisey
 returns to The Public to tackle a story at the very core of our world today.  With his signature style commentary, at once biting and hilarious, Daisey investigates the secret history of the Department of Homeland Security through the untold story of the father of the neutron bomb and a personal pilgrimage to the Trinity blast site.  IF YOU SEE SOMETHING SAY SOMETHING takes us on a journey in search of what it means to be secure and the price we are willing to pay for it. IF YOU SEE SOMETHING SAY SOMETHING features lighting design by K.J. Hardy.
The Public Theater is located at 425 Lafayette Street.  Tickets are $40 - $60 for Tuesday-Friday performances and Sunday performances; and $40 - $70 for Saturday evening performances. Student tickets are available in advance, at the box office only, for $25 (1 per ID).  There are a limited number of Rush Tickets sold an hour before curtain at every performance available to the general public (Two per person, $20 each, cash only).  For more information on Joe's Pub, visit www.joespub.org
To purchase tickets, please call (212) 967-7555 or visit 
www.publictheater.org.

Creator and performer Mike Daisey with Director Jean-Michele Gregory

Eric Bogosian, Jo Anne Bonney, and Oskar Eustis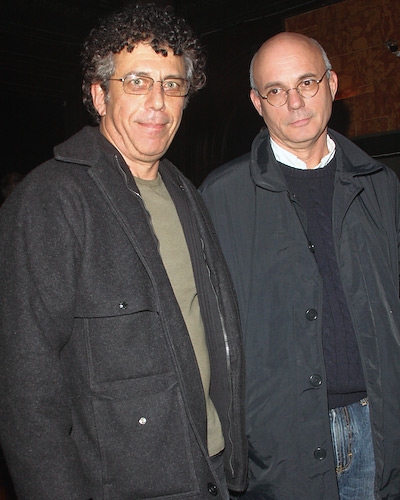 Eric Bogosian and Gregory Mosher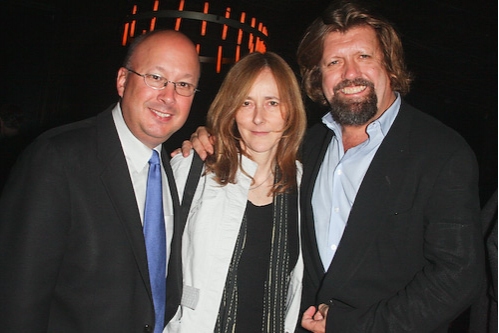 Andrew D. Hamingson, Jo Anne Bonney, and Oskar Eustis

Mike Daisey