Performances Begin Thursday For TEVYE SERVED RAW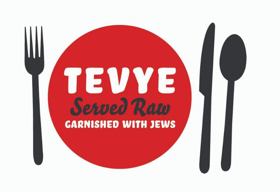 Find out what happens to the beloved characters in FIDDLER ON THE ROOF after the musical ends. TEVYE SERVED RAW is an evening of Sholem Aleichem material, with adaptations of his Tevye stories ("What, Me Worthy?" and "Get Thee Gone!"), scenes from his own long-unseen Yiddish stage version, and three of his purely comedic stories, newly adapted ("Strange Jews on a Train," "The Yiddish Sisyphus" and "A Stepmother's Trash-Talk").
TEVYE SERVED RAW has been in development for over two years, and has been performed in Los Angeles; Kiev, Ukraine; Toronto; and Massachusetts, among other places. This marks its New York premiere.
One of the most revered writers of Yiddish literature, Sholem Aleichem's work inspired the hit musical FIDDLER ON THE ROOF. Sholem Aleichem (Solomon Rabinowitz) was born in Pereyaslav, Ukraine, and moved as a child with his family to Voronkov, a neighboring small town which later served as the model for the fictitious town of Kasrilevke described in his works. One of his first stories appeared in a Yiddish paper under the pseudonym "Sholem Aleichem" which in Hebrew means "Peace be unto you." From this time on, this became his pen name. He wrote stories, sketches, critical reviews, plays, and poems in both verse and prose. His immense popularity did not decline after his death in 1916 but rather increased beyond the Yiddish-speaking public. His works have also been translated into most European languages, as well as Russian and English. His plays and dramatic versions of his stories have been performed by the top Yiddish and Hebrew theatrical companies in America, Israel, Russia, Poland, and many other countries.
More Hot Stories For You