Mother Knows Best: NYMF's Offerings for Mothers and Those All Too Familiar with Being Mothered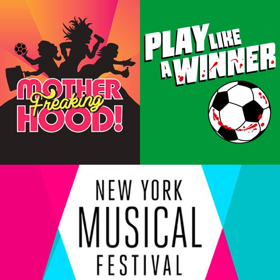 NYMF is coming to a close but there are still plenty of shows to catch before the annual festival packs up until next summer. Of course, NYMF isn't the only thing summer brings to the city. It's the season for vacations, from school especially. For the kids, it's nirvana, but for parents it can be a test of patience. For those looking for a break, somewhere they can go to laugh about parenthood and all its ups and downs, NYMF's productions of Play Like a Winner and MotherFreakingHood! (Maternal Discretion Advised) have plenty to offer!
Play Like a Winner is a satirical look at the bane of every suburbanite's existence: the soccer mom. At curtain, Coach Nick lies dead on center stage, impaled by a corner flag, while a chorus of soccer players sings in his honor. Kathy, a soccer mom, steps forward to tell us the story of how all this began. The musical is based on the award-winning play It's All About the Kids by Caytha Jentis, and comes from the brilliant minds of Erik Johnke (book & lyrics) and David Wolfson (music).
"I had been wanting to write a musical to satirize the suburban experience for some time," Johnke says. He came across the script during his brief stint in a writing group with Jentis and immediately saw the potential. He kicked off the collaboration, then brought in Wolfson. "When Erik showed me the play, I saw a chance to write a contemporary score for funny, flawed characters," he says. "What's not to like?"
Play Like a Winner is more than just a chance to laugh at soccer moms and their high strung approach to parenting. Johnke says he and director Kevin Connors have coined the phrase 'satire with heart' to describe their musical. "It really is about the way we as Americans have taken our competition-worshipping culture to a truly dysfunctional level. Even though these characters are exaggerated for comic effect, they still are multidimensional, and we can relate to them, particularly the protagonist, Kathy. At their core, these parents have the desire to help their children, but that desire has been twisted by a culture that has pitted them against each other. The tag line for the show is 'how far would you go for your child?' but the show also asks, 'what are we doing to our children?'"
And while this is a show told from the perspective of mothers, the two creatives say there is something in the story for everyone. "while we wrote it from the perspective of parents," Wolfson shares, "we have had some interesting reactions from the young adults who have seen the show seeing their parents in a new light." Johnke agrees. "anyone who has felt the pressure of having to compete, to live up to parental expectations, can also relate to the show."
Whether you're raising children or a raised child, Play Like a Winner has the potential to score points through laughs and maybe a few cringes. Wolfson has his own goal when it comes to audience reception. "As with most satire, I think we're hoping the audience walks away thinking, 'Wow, I'm sure glad I'm not anything like those people ...oh, wait...'"
Play Like a Winner plays three more performances this weekend at the Peter Jay Sharp Theater (416 W. 42nd St) Saturday July 29th at 1PM and Sunday July 30th at 5:30PM and 9PM. Running time is 2 hours, and it is recommended for ages 16 and up. Tickets can be purchased by clicking here. Find more information about the show at playlikeawinnermusical.com.
MotherFreakingHood! (Maternal Discretion Advised) is a musical extravaganza sharing all the details (sometimes even the less than savory) of motherhood. The musical is a collaboration between Julie Dunlap and Sara Stotts. The two describe it as "the raw, uncensored and often-untold story of modern-day child rearing from deep within the mind of the mom. The musical follows three very different moms as they bond with each other and prevail through the absurd, 18-year-long journey of parenthood with wit, vulnerability, and a healthy penchant for vodka. It is everything your mother was secretly thinking, now set to music!"
Not surprisingly, this musical about motherhood and friendship was born out of the friendship between two mothers. Roommates in college, Dunlap and Stotts reconnected years later with a new perspective on life that they both seemed to share. Dunlap jokes that writing the show "was the chance to work with perhaps the most brilliant person I have ever known, and writing songs about my feelings has been much cheaper and infinitely more fun than therapy. " Stotts has her own reason for penning the musical: "Julie made me. But joking aside, I couldn't agree more with her that mothers are craving to laugh at themselves and the absurdity of parenting. We are not given a playbook or an operators manual for kids. Every parent is different, yet the subject matter we sing about is universal and hits a funny bone for parents."
For both women, this is a show that touches on every situation, grooves to nearly every genre of music, and reaches out to every generation. "This is a show for humans who are, know, or have had mothers (and/or fathers, no uterus required)," the creators say. Both agree, however, that there is a special message within MotherFreakingHood! that goes out from one mother to another. "We hope every mom leaves with the understanding that she is not alone, and she's doing a fantastic job. And for those times when she may not feel like she's doing a fantastic job, we hope to provide a soundtrack to get her through."
MotherFreakingHood! (Maternal Discretion Advised) plays the following performance schedule at the Peter Jay Sharp Theater (416 W. 42nd St):
Tuesday, August 1, 2017 at 8:00 pm
Thursday, August 3, 2017 at 10:30 am
Friday, August 4, 2017 at 9:00 pm
Saturday, August 5, 2017 at 5:00 pm
Sunday, August 6, 2017 at 10:30 am
Sunday, August 6, 2017 at 2:00 pm
The run time is 1 hour 35 minutes, and the show is recommended for ages 16 and up. Terry Berliner directs. Tickets can be purchased by clicking here. Find more information about the show at www.motherfreakinghood.com.
The New York Musical Festival nurtures the creation, production, and public presentation of stylistically, thematically, and culturally diverse new musicals to ensure the future vitality of musical theater.
Now in its fourteenth year, the Festival is the premier musical theater event in the world. The preeminent site for launching new musicals and discovering new talent, the Festival provides an affordable platform for artists to mount professional productions that reach their peers, industry leaders, and musical theater fans. More than 90 Festival shows have gone on to productions on and Off-Broadway, in regional theaters in all 50 states and in more than 24 countries worldwide. Festival alumni have received a wide array of awards including the Tony Award and the Pulitzer Prize. In 2013, NYMF received a special Drama Desk Award in recognition of its work "creating and nurturing new musical theater, ensuring the future of this essential art form."
NYMF is the flagship program of National Music Theater Network, Inc., a 501(c) (3) not-for-profit organization. 2017 NYMF is sponsored by The City of New York Mayor's Office of Media and Entertainment, PRG, TheaterMania, Clear Channel Outdoor and the Village Voice, and is supported, in part, by an award from the National Endowment for the Arts and by public funds from the New York City Department of Cultural Affairs.
The NYMF PASS is a great way to experience The New York Musical Festival. With a NYMF PASS, you can get into the theater before individual ticket holders. Passes also offer the exclusive ability to book tickets before they go on sale to the public. Individual tickets are on sale now.
The 2017 New York Musical Festival will take place July 10 - August 6. For more information, visit www.nymf.org.