Mint Theater Company to Present the American Premiere of THE MOUNTAINS LOOK DIFFERENT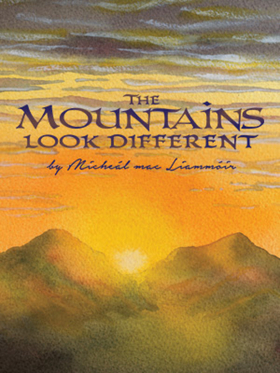 Mint Theater (Jonathan Bank, Producing Artistic Director) will present the American Premiere of The Mountains Look Different by Micheál mac Liammóir, hailed as "a courageous play in which there is no beating about the bush" by The Christian Science Monitor. Performances will begin May 30th and continue through July 14th only at Theatre Row (410 West 42nd Street). Opening Night is set for June 20th.
After a dozen hard years working the streets of London, Bairbre is returning home to Ireland. Three days ago, she married Tom who knows nothing of her past. They plan to settle with Tom's father on his farm and live a simple life, far from the temptations and torments of the sinful city. But it's not easy to escape your past, even among the rocks and ruins of the mountainside. The idea for The Mountains Look Different came to mac Liammóir after working on
Eugene O'Neill
's Anna Christie. He wondered what happened to Anna after the curtain came down: "I saw many plays over the years whose subject matter was young women who sold their bodies in order to live, and the end of every one of the plays was that the unfortunate woman married some simple innocent man who fell in love with her. But the curtain always came down before any of us in the audience knew anything about the life that was ahead of the couple." Mountains stoked controversy in conservative Dublin in 1948. One night, two men left their seats at intermission and asked the audience to join with them in leaving the theater. Shouts of "Sit down" and "If you don't like it leave" came from the audience; the ushers started towards the men, and the orchestra began to play and drowned out the protest. A handful of theatergoers left and the next day, every paper in Dublin told the story. The play continued without interruption and received an enthusiastic ovation, including calls for the author. mac Liammóir himself played the role of Tom, so of course he heard the protest, but he said nothing. Later, he told the Irish Independent "that he believed the men who made the protest were sincere, but that it was a pity they had not waited to hear what the play had to say in the final act."
Aidan Redmond
directs a cast that features
Ciaran Byrne
,
Liam Forde
, McKenna Harrington,
Con Horgan
,
Cynthia Mace
,
Daniel Marconi
,
Brenda Meaney
,
Paul O'Brien
, and
Jesse Pennington
. The Mountains Look Different will have scenic design by
Vicki R. Davis
; costume design by
Andrea Varga
; lighting design by
Christian DeAngelis
; sound design by
M. Florian Staab
; and prop design by
Chris Fields
. Casting is by
Stephanie Klapper
, CSA.
Amy Stoller
will serve as Dialect & Dramaturgy consultant. An artist of extravagant talents and flamboyant character, Micheál mac Liammóir (1899-1978) played a medley of roles at Dublin's legendary Gate Theater, which he co-founded with partner
Hilton Edwards
in 1928. Described as "the dominant figure in the Irish theatrical world for almost half a century," mac Liammoir spellbound audiences in Dublin and around the world as actor, dramatist, raconteur, painter, and stage designer. Only years after his death did an astonishing secret emerge: the "quintessential Irishman" (in the words of
Simon Callow
) had been the romantic invention of the Englishman Alfred Willmore, who willed the persona of Micheál mac Liammóir into the role of a lifetime. Willmore was born on October 15, 1899 in Kensal Green, London, where his father worked as a corn merchant. Bullied at school for his "girliness," he later recorded (in the fictional memoir, Enter A Goldfish) his feelings of displacement in the city of his birth: "It seemed to him he would always be looking out of a window at grey monotonous streets, looking out and dreaming of somewhere else, of somebody else. But of where? Of whom?" At the age of ten, the stage-struck boy was invited to audition for the actor-manager Sir Herbert Beerbohm Tree. He quickly rose as one of London's most in-demand child actors, appearing onstage with the young Noël Coward inPeter Pan and in the title role of Oliver Twist. Ageing out of his child stardom, Willmore enrolled at the Willesden Polytechnic; with the help of a patron, he moved on to the prestigious Slade School of Art. At the Slade School, Willmore met Máire O'Keefe, who intensified an infatuation with Irish language, culture and folklore first awakened by
The
Abbey Theatre
's London visits, as well as by the mythic nationalism of
W.B. Yeats
. "Ireland and the Arts was the name of the (Yeats) essay, and I believe it changed my life," he later wrote. Studying Irish at the Gaelic League, Willmore changed his name to Micheál mac Liammóir, and in 1917, he relocated with O'Keefe to her mother's seaside home in Howth, outside Dublin. Here, he started to mythologize a new life as a Cork-born Irishman while working primarily as a painter and illustrator. Devastated by O'Keefe's death from tuberculosis in 1927, mac Liammóir returned to the theater, touring the Irish countryside with Anew MacMaster's Company. On tour, mac Liammóir encountered actor-director
Hilton Edwards
, who became his professional and romantic partner. In 1928, "the Boys" revolutionized the Irish stage with the foundation of
The
Gate Theatre
-and presided discreetly as one of Dublin's few visibly gay couples. Opening with a season that included
Oscar Wilde
's Salome, the Gate complemented the legendary national
Abbey Theatre
with the Gate's cosmopolitan ethos and modernist stagecraft. The company introduced Dublin theatergoers to important works by European and American dramatists, as well as new plays by Irish dramatists such as Hazel Ellis,
Denis Johnston
, and Mary Manning. The Gate also launched the careers of
Orson Welles
(traveling through Ireland),
James Mason
, and-in the 1960s-playwright
Brian Friel
. Over the course of five decades, mac Liammóir captivated Dubliners and global audiences with his prolific work as an actor-playwright-designer. Marrying modern settings with mythic stories and themes, mac Liammóir's plays included the fantasies Where Stars Walk (1940) and Ill Met by Moonlight(1946), drawing upon the folkloric motif of the changeling, as well as The Mountains Look Different (1948) and the autobiographical Prelude in Kazbek Street (1973). He also gave a memorable performance as Iago in Welles's 1952 film adaptation of Othello; narrated the 1963 film
Tom Jones
; and enjoyed international success with his 1960 one-man show about the Irish-born Wilde: The Importance of Being Oscar. Receiving such honors as Dublin's Seal of the Freedom of the City, Micheál mac Liammóir died in Dublin on March 6, 1978, his earlier identity as Alfred Willmore still a well-kept secret. At his funeral, the artist was mourned by hundreds of friends and admirers, including President Dr. Patrick Hillery of Ireland. Writer Terence de Vere Smith commented, "No Irish actor, no political figure of our time, was so loved." Only in 1990, with the publication of Mícheál Ó hAodha's biography The Importance of Being Micheál, was the stunning and complex story of Alfred Willmore's transformation revealed. By then, the chameleonic Micheál mac Liammóir had become a national institution for his (in the words of Desmond Rushe) "remarkably fertile and diverse range of talents," which he devoted passionately and with complete sincerity to the Irish theatre. Performances for The Mountains Look Different will be Tuesday, Thursday through Saturday evenings at 7:30pm with matinees Wednesday, Saturday & Sunday at 2pm. No Wednesday evening performances except Wednesday June 19th at 7:30pm. No performance on June 21st. All performances will take place at Theater Row (410 West 42nd Street between 9th and Dyer Avenues). Tickets for The Mountains Look Different will be $65.00 (including the $2.25 Theatre Row restoration fee) and can be purchased online at Telecharge.com, by phone at 212-239-6200 or in person at the Theatre Row Box Office. Mint was awarded an OBIE for "combining the excitement of discovery with the richness of tradition" and a special Drama Desk Award for "unearthing, presenting and preserving forgotten plays of merit." For more information, including photos and videos of Mint productions, visit
minttheater.org
.