Michael Esper, Jeff Biehl And Jeanine Serralles to Lead Of CATCH AS CATCH CAN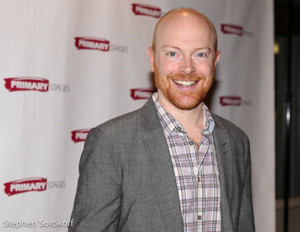 Page 73 announces complete casting for the first production in its 20th Anniversary Season, Catch as Catch Can, written by Mia Chung (You For Me For You) and directed by Ken Rus Schmoll (Judy, Grounded). Performances begin on Monday, October 22 at the New Ohio Theatre for a limited run through Saturday, November 17. Opening night will be Wednesday, October 31. Tickets are available now at page73.org.
The cast for Catch as Catch Can includes Jeff Biehl (Machinal) as Robbie/Roberta, Michael Esper (Lazarus) as Tim/Theresa and Jeanine Serralles (Don't You F***ing Say A Word) as Lon/Daniela.
The Phelans and the Lavecchias grew up together in working class New England, weathering good times and bad. But Tim Phelan's homecoming this winter sets off a spiraling crisis that strains their hold on each other-and themselves. In Mia Chung's Catch as Catch Can, six characters are brought to life by three actors playing across gender and generation, capturing father/daughter and mother/son in a family drama that doubles as a theatrical tour de force.
General admission tickets for Catch as Catch Can are $25, while reserved seating is available for $40. Performances are Mondays through Saturdays at 7:30pm. Exceptions: There will be additional 2:00pm performances on Saturday, November 3; Saturday, November 10; and Saturday, November 17. There will be an additional 3:00pm performance on Friday, November 16. There will be no 7:30pm performance on Saturday, November 17.
Page 73 is now in its 20th year producing and supporting the most talented early-career playwrights and introducing them to New York audiences by producing their professional debuts in the city. Past premieres include the work of Pulitzer Prize-winner Quiara Alegría Hudes, Sam Hunter, Clare Barron, and Leah Nanako Winkler among many more. Page 73's 2017-18 season included the world premiere of Susan Soon He Stanton's Today Is My Birthday directed by Kip Fagan. Their season also supported a three-week workshop of A Strange Loop, in association with Musical Theatre Factory, and fostered the work of John J. Caswell, Jr. and C. A. Johnson through the prestigious P73 Playwriting Fellowship, now in its 15th year of singling out exceptional talent.
Prior Page 73 seasons have included world and New York premieres of Leah Nanako Winkler's Kentucky, directed by Morgan Gould; Max Posner's Judy, directed by two-time Obie Award winner Ken Rus Schmoll; Clare Barron's critically acclaimed You Got Older, which was recognized at the 2015 Obies with awards for Playwright, Performance (Brooke Bloom), and Direction (Anne Kauffman) - each artist was also nominated for a Drama Desk Award, along with co-star and Tony Award winner Reed Birney; the first New York City production of George Brant's critically acclaimed Grounded, directed by Ken Rus Schmoll and starring Drama Desk nominee Hannah Cabell; and Cori Thomas's When January Feels Like Summer, directed by Daniella Topol. They have co-produced from time to time with such renowned new play theaters as Soho Rep, Rattlestick Playwrights Theatre, and Ensemble Studio Theatre.
Today, Page 73 annually serves twelve to fifteen early career playwrights through its productions and development programs. Each year, Page 73 produces New York City or world premieres by early-career playwrights and offers a slate of new play development programs: the P73 Playwriting Fellowship, the Interstate 73 writers group, and a week-long Summer Residency.
Close to two-thirds of the over 100 playwrights they've supported have enjoyed New York or regional theatre productions after receiving a Page 73 premiere or development support. These include, among others, writers whose professional debuts in New York City were produced by Page 73, such as Samuel D. Hunter (2015 MacArthur "Genius" Grant), Quiara Alegría Hudes (2012 Pulitzer Prize), Dan LeFranc (2010 New York Times Outstanding Playwright Award), Heidi Schreck (2014 Tow Playwright in Residence at Playwrights Horizons), and Clare Barron (2015 Obie Award).
FOR MORE INFORMATION
Photo Credit: Stephen Sorokoff