Larry Owens Stars In LIZA '79 Conceived And Directed By Ben Rimalower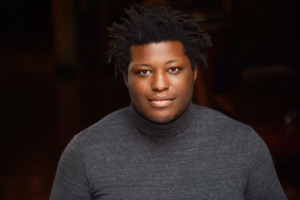 Producers Zach Laks, Sarah Galli, and Joseph Lucius in association with Form Theatricals announce the world-premiere of Larry Owens in LIZA '79, conceived and directed by Ben Rimalower, for five unforgettable performances at Joe's Pub (425 Lafayette Street) June 11, 17, 18, 24, AND July 2 (9:30 PM).
For the first time since his groundbreaking Joe's Pub production of Leslie Kritzer Is Patti LuPone At Les Mouches, Ben Rimalower utilizes an evocative moment in time, Liza Minnelli's legendary 1979 run at Carnegie Hall, as the blueprint for an exciting, original immersive theater experience. Larry Owens-one of the most sought after multi-hyphenate young artists in theater, comedy, and musicals today-will bring his inimitable stamp to the songs, dances, and, perhaps most deliciously, the between-song banter of Minnelli's concert. He will not be "playing" Liza; this is neither drag nor impression, but something wholly fresh and transporting. By simply and satisfyingly assuming the position of the diva, front and center, Larry Owens in LIZA '79 offers a provocative parody of pop culture then and now.
LIZA '79 will feature music direction and arrangements by Matt Aument, and choreography by Jason Wise.
Zach Laks, Sarah Galli, and Joseph Lucius in association with Form Theatricals produce.
Performances for LIZA '79 at Joe's Pub (425 Lafayette Street) in NYC are Monday, June 11; Sunday, June 17; Monday, June 18; Sunday, June 24; and Monday, July 2. All performances are at 9:30 PM and tickets are $25. For tickets call (212) 539-8778 or visit: www.LIZA79.com or joespub.publictheater.org.
Larry Owens is a performer, writer, director, and comedian residing in New York City. He is a staff writer on upcoming TruTV show "Paid Off," where the winner of each show will receive full student loan debt relief. Larry recently completed his first feature film, To Dust, opposite Matthew Broderick. Named one of TimeOutNY's "comedians we're obsessed with" Larry studied drama and improvisation at the School at Steppenwolf.
Ben Rimalower is the author and star of Off-Off-Broadway's long-running solo plays Bad with Money (The Advocate's #1 of 2014) and Patti Issues (New York Time Critics Pick, M.A.C. and Bistro Awards, Official Selection: Adelaide Cabaret Festival and Eugene O'Neill Theater Center Summer Conference), both of which he continues to perform around the world, while simultaneous productions pop up with other actors "playing" Ben Rimalower, including two-time Tony nominee Robin De Jesus in New York. Ben's double audiobook recording of Patti Issues and Bad with Money is a Roven Records bestseller on iTunes, Audible and Amazon. His "Do You Have Patti Issues?" PSA with Alan Cumming and Patti LuPone was a homepage selection on FunnyOrDie. He is a regular contributor to Vulture, Playbill, Out, Time Out New York, Decider and New Now Next and his short story, "Little Old Sam," was included in the book My Dog, My Friend. A sought after Master of Ceremonies, Ben's personal appearances have graced nearly every nightclub, cabaret and comedy stage in Manhattan and Brooklyn. As an actor, he has been seen as both Patti LuPone and Elaine Stritch in You Like Me and as a literally flaming Jack Nicholson in The Witches of East Village at the Gramercy Theatre with Coco Peru and Chad Michaels. Television appearances include Bravo's "Real Housewives of New York," "Real Housewives of New Jersey," "Watch What Happens Live," ABC's "Extreme Makeover" and Billy Eichner and Rachel Dratch's "Halloween Adventure." Ben directed and produced the Off-Broadway plays Joy (Actors Playhouse, Out Magazine: "Top Ten Theatre") and The Fabulous Life of a Size Zero (Daryl Roth/DR2 Theatre), as well as numerous off Off-Broadway plays, readings, benefits and concerts. He earned the title the "Midas of Cabaret" (The Advocate) helming a slew of solo shows for artists ranging from Our Lady J to the Countess Luann, most notably conceiving and directing Leslie Kritzer is Patti LuPone at Les Mouches (Time Out New York Award) and subsequently producing Sh-K-Boom/Ghostlight Records' long- awaited recording, Patti LuPone at Les Mouches. Follow @benrimalower on Twitter, Facebook, Instagram and YouTube and visit benrimalower.com.
Zach Laks (Producer) New York-based theatre producer and general manager, co-founder of Form Theatricals. Recent projects include the triumphant run five month run of Drew Droege's Bright Colors And Bold Patterns, directed by Michael Urie (Soho Playhouse, Barrow Street Theatre, available on BroadwayHD this summer) and Broadway Dance Lab. Currently developing: Fairy Tale Theatre: 18 & Over, Cops and Friends of Cops, Pageant Play. Venue management of The Gym at Judson and 64E4. www.zacharylaks.com
Sarah Galli (Producer) is a writer and producer based in NYC. As an events consultant, she has produced successful small and large-scale events for non-profit, private, and commercial entities. As a theatre and podcast producer, she has collaborated with hundreds of artists, performers, and TV entertainers. Her work has been featured by "The Today Show," "Fox News," the Roosevelt Institute, and the New York Post, among others.Sarah is the Founder & Executive Producer of Born for Broadway, the charity cabaret, and is also the co-creator and host of the podcast "Andy's Girls," devoted to all things Real Housewives. www.sarahgalli.com
Joseph Lucius (Producer) has produced live events for the fashion, beauty, and luxury sectors for the past 10 years where he specialized in creative concept development and entertainment. His success conceptualizing immersive environments with live event entertainment elements has allowed him to leverage a combined passion for theater and sensorial experiences. Joseph recently joined Tom Ford Beauty as Global Director of Events where he leads the strategy, creative development, and execution of brand events and experiences worldwide.
More Hot Stories For You