Kate Solomon-Tilley Wins Second Annual Matthew Nardozzi Award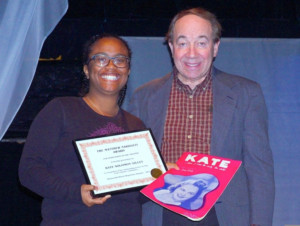 In an awards ceremony at the 13th Street Repertory Theater, veteran stage/screen/television actor Michael Townsend Wright has presented the second annual "Matthew Nardozzi Award"--the only award celebrating reliability and dependability in theater--to Kate Solomon-Tilley.
In addition to presenting Solomon-Tilley with a plaque, Wright also presented her with a rare piece of Irving Berlin sheet music--a little-known Berlin song titled "Kate."
Currently working as a stage manager for a production of "Hairspray" in Maine, "Kate Solomon-Tilley," Wright commented, "---has done seemingly every possible backstage job in the theater. Her numerous credits include work as a director, stage manager, house manager, lighting designer, board operator, box-office treasurer, and more.
She's worked as a child-wrangler for 'The Lion King' on Broadway and as an assistant to one of the stars of 'Aladdin.' She's worked on numerous shows at the 13th Street Rep, in various jobs, acquiring a reputation for usually being the very first to arrive at the theater and the very last to leave."
Wright--whose many credits include the films "The Rat Pack" and "Lansky"; such television shows as "The Uncle Floyd Show," "The Naked Brothers Band," and "Emergency"; and such stage productions as "Yankee Doodle Boy" and "The Seven Little Foys"--noted that he'd worked on shows with both Nardozzi and Solomon-Tilley, and was honored to be connected with both. Townsend worked with Nardozzi on "The Seven Little Foys" and "Irving Berlin's America" (for which Nardozzi won the "Young Entertainer's Award" in Hollywood). Nardozzi--a Broadway and Hollywood pro who is currently in California and could not attend the award ceremony in person--offered congratulations by phone. The first annual Matthew Nardozzi Award was presented by Nardozzi himself to actor Benjamin Grier.
Writer/director Chip Deffaa, a stakeholder at the 13th Street Repertory Theater, also offered congratulations to Kate Solomon-Tilley, saying, "I've worked with Kate on many shows, and she's a rock. And everybody loves Kate. She can do any job in the theater. She's served as both stage manager and lighting designer on my latest show, 'Irving Berlin: In Person.' I have a hunch she'll be running her own theater company someday. She'd certainly be well qualified!"