GOLDSTEIN Announces New 'Goldstein' Ticket Promotion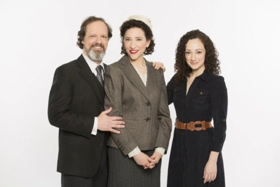 GOLDSTEIN, a new musical about family with music and lyrics by Michael Roberts (Golf: The Musical) and a book byCharlie Schulman (The Kitchen), announced today a new ticket promotion. From now through May 27, Goldstein will be offering buy-one-get-one tickets at the box office for patrons with the last name "Goldstein," - or patrons with a last name that includes a "Gold" or a "Stein" - with a photo ID. In lieu of a photo ID, they will happily accept a well-crafted, convincing argument.
Tickets are available by visiting the box office, or purchasing online by visiting www.goldsteinmusical.com.
GOLDSTEIN is currently playing at the Actors Temple Theatre (339 West 47 St -between 8th and 9th Avenues). Directed by Brad Rouse (Hit The Body Alarm) and choreographed by Sarah O'Gleby (Associate Choreographer, Disney's Frozen), Goldstein is currently enjoying an open-ended run.
The cast includes Megan McGinnis (Daddy Long Legs), Julie Benko (Fiddler on the Roof), Amie Bermowitz (Ruthless), Blair Alexis Brown (A Scythe of Time), Ben Cherry (Fiddler on the Roof), Aaron Galligan-Stierle (The Phantom of the Opera), Zal Owen (Fiddler on the Roof), Sarah Beth Pfeifer (The Lightning Thief) and Jim Stanek (Fun Home). For performances now through May 16, Farah Alvin will be playing the role of "Sherri;" Megan McGinnis returns to the cast on May 17.
Louis Goldstein has written a tell-all family memoir. While it is a best-seller, his family claims that it isn't true. This uplifting and heartwarming, multi-generational musical explores the challenges and triumphs of three generations of an immigrant Jewish American family. This original musical reminds us that families are complicated, the truth is never clear, and forgiveness is our best hope.
The scenic design is by Alexander Woodward, with costume design by Maureen Freedman, lighting design by Andrew F. Griffin, and sound design by Ray Shilke. Sinai Tabak is the music director with casting by Michael Cassara. C. Renee Alexander and Alex Elmaleh serve as stage managers.
The playing schedule for Goldstein is as follows: Mondays through Thursdays at 7:30PM, Saturdays at 8PM with matinees on Wednesdays, Saturdays and Sundays at 3PM. Tickets are $79 and are available by visiting www.goldsteinmusical.com or calling (212) 239-6200.
Photo Credit: Jeremy Daniel